Margie Greene Boasts She And Bannon Would Have 'Won' On January 6
@next2godwin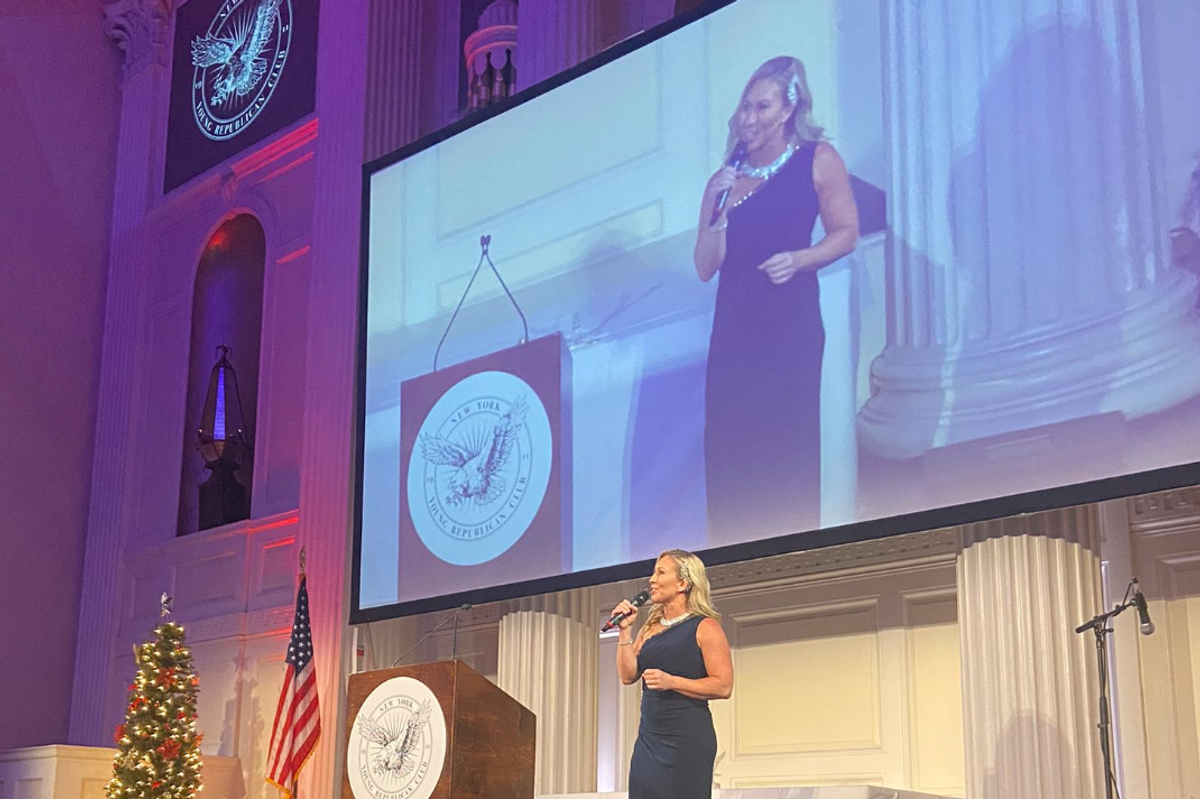 Twitter image
Far-right agitator Rep. Marjorie Taylor Greene (R-GA) suggested on Saturday evening that the January 6, 2021 coup attempt would have succeeded if she and indicted ex-Trump adviser Steve Bannon had organized the mob of Trump supporters who stormed the halls of Congress.
"I want to tell you something, if Steve Bannon and I had organized that, we would have won," Greene said, delighting a crowd of young right-wingers at the annual dinner of the New York Young Republican Club. "Not to mention, we would've been armed."
Greene, an outspoken backer of former President Trump's spurious Big Lie, uttered the audacious remark — first published by the New York Post — to troll the left, contemptibly making light of a tragedy that led to the loss of five lives.
Greene's jeering speech at the right-wing confab starkly contrasted with her remarks in early January at a media briefing, stating that the attack on the Capitol had made her "very upset," as the rioters had "completely interrupted" the GOP's effort to overturn then-President-Elect Joe Biden's victory.
A conspiracy theorist and believer in QAnon fabrications and Jewish space lasers, Greene had falsely fingered "Antifa" as the ringleaders behind the violence at the Capitol — an attempt to overthrow democracy that she later likened to the Declaration of Independence.
Having joined efforts to challenge Electoral College votes for Biden, Green stood accused in March by a contingent of Georgian voters of facilitating the Capitol attack, which they told a federal judge was grounds for her disqualification from re-election under the Fourteenth Amendment's disqualification clause. The judge dismissed the legal action.
"The leaders of this insurrection, of whom there were a number, were among us — on Facebook, Twitter, and corners of social media that would make your stomach hurt. The evidence will show that Marjorie Taylor Greene was one of them," an attorney for the voters said in court.
Two anonymous organizers of Trump's "Stop the Steal" rally at the Ellipse, which preceded the insurrection, recalled working with Greene in statements to Rolling Stone. "I remember Marjorie Taylor Greene specifically," an organizer told the publication.
In communications retrieved from former White House chief of staff Mark Meadows, Greene was caught advocating for martial law in a last-ditch attempt to keep then-lame-duck Trump in power.
In her winding speech at the conservative dinner, Greene vaunted her efforts to block every "single penny" of U.S. aid to Ukraine and celebrated "voting no, solemnly," on every bill put forth by Democrats, including the Respect for Marriage Act that enshrines protections for same-sex marriages.
"They care about a country called Ukraine whose borders are far away and most of you couldn't find it on a map," Greene said, according to the Post's Zach Williams.
Greene later directed the crowd's attention to "dildos, butt plugs, and lube," which she claimed are available on shelves at "Target and CVS nowadays" — eliciting laughter from the crowd and a mumble of "gay marriage." She didn't explain how she knows that those chains carry sex toys, but her own colorful personal life, including her pending divorce, has drawn attention in gossip columns.
Among Greene's talking points were Rep. Alexandria Ocasio-Cortez (D-NY), whose security detail she mocked; her proposed ban on gender-affirming care under 18, which she egregiously branded "genital mutilation"; and the GOP's meager 222-seat majority in the forthcoming 118th Congress, which she said would put an end to the "misery under Nancy Pelosi and the Democrats."
Several other hard-right provocateurs attended the Young Republicans event, including Bannon, disgraced former Trump lawyer Rudy Giuliani, Nazi-adjacent conspiracy theorist Jack Posobiec, and Donald Trump Jr., whom a prominent Democratic commentator said looked "high as a fucking kite."

"Holy shit … if that was my laptop, I'd be in trouble," Trump Jr. said of the Republican hubbub around Hunter Biden's lost laptop.
The Trump spawn also encouraged the crowd to amp up extremist rhetoric online to trigger the left, especially on the pro-Republican Elon Musk-led Twitter, where such divisive trolling is now lionized as "free speech."