Bannon, Trump, Greene Blast 'Enemy' Republicans Over Spending Deal
@next2godwin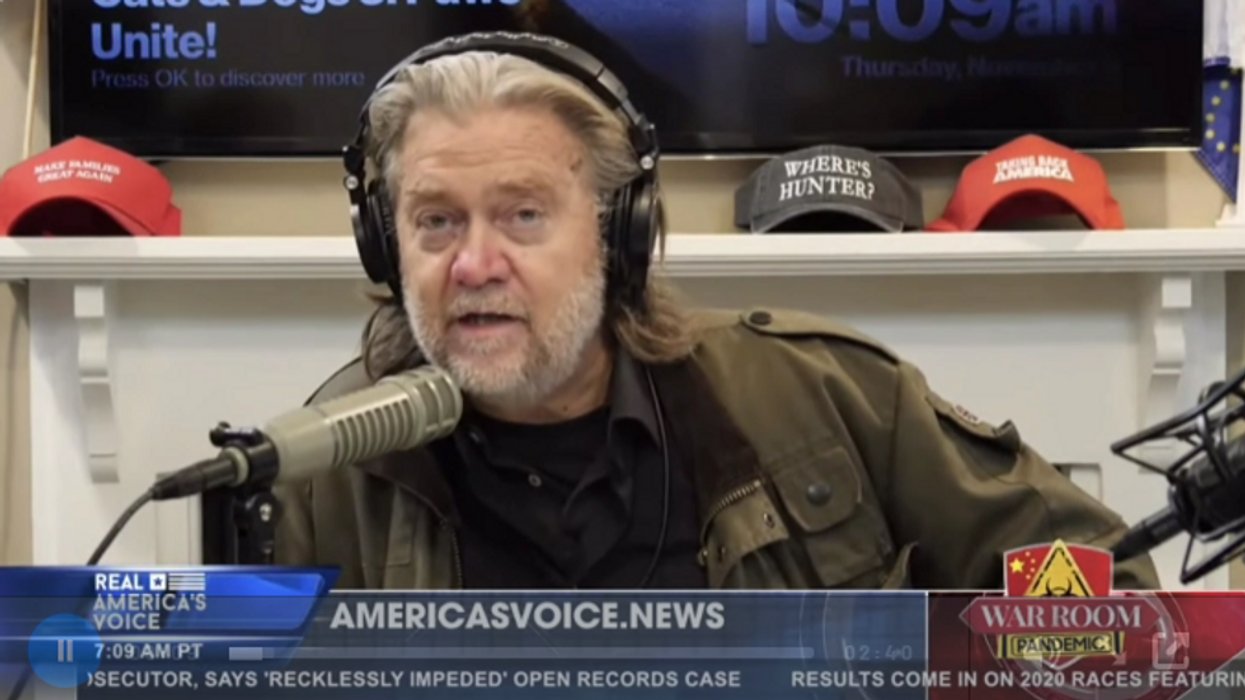 Ex-Trump adviser Steve Bannon hopped on his "War Room" podcast Wednesday to blast Republican lawmakers working with Democrats on a nearly $1.7 trillion spending package, which the Senate passed on Thursday with a bipartisan 68 - 29 vote.
Bannon joined other voices of the often-seething far-right falsely branding the omnibus package — which would stave off a partial government shutdown and fund federal agencies until September 2023 — a wishlist of Democrat pet projects and demanding a stay on all long-term spending until the GOP-led House of the 118th Congress is seated.
"You're giving Nancy Pelosi another year. Didn't the American people just vote on that?" Bannon demanded mid-rant. "Isn't that what democracy is — we gave you a democracy, got 4 million more votes and flipped the House."
As both Republicans and Democrats will struggle to deliver on promises in the next Congress — given its GOP House and Democratic Senate makeup — the hefty bill, which comprises $858 billion to fund the military and $772 billion in domestic spending, provided red and blue senators a last-ditch opportunity to push through their legislative priorities.
Also included in the bill, per the New York Times, are billions in aid to Ukraine, which wartime hero Volodymyr Zelensky, the president of Ukraine, appealed for in his surprise visit to Washington this week.
"It's not simply the spending, which is going to crush everybody," Bannon said, according to Newsweek. "It's about leverage."
"Now we're sitting here, and this is just up in your face, and anyone who voted for this is your enemy politically," he added, taking aim at the Republican senators who worked on the bill.
So crucial was the spending package to Senate lawmakers, though, that even some Biden critics, including Sens. Tom Cotton (R-AR), John Cornyn (R-TX), and Todd Young (R-IN), voted in favor of the bill, incurring the wrath of far-right House Republicans and former president Trump.
The bipartisan support for the bill, which is on its way to House for approval and then to President Biden's desk for his signature, unhinged the conspiratorial anti-Ukraine arm of the House GOP.
Rep. Marjorie Taylor "Jewish Space Lasers" Greene (R-GA) assailed the "TRAITORS" in Senate who voted to pass "omnimonster to send YOUR money to defend Ukraine's border but NOT America's border!"
\u201c18 Republican TRAITORS who voted for the $1.7 TRILLION omnimonster to send YOUR money to defend Ukraine\u2019s border but NOT America\u2019s border!\n\nBlunt\nBoozman\nCapito\nCollins\nCornyn\nCotton\nGraham\nInhofe\nMitch McConnell\nMoran\nMurkowski\nPortman\nRomney\nRounds\nShelby\nThune\nWicker\nYoung\u201d

— Rep. Marjorie Taylor Greene\ud83c\uddfa\ud83c\uddf8 (@Rep. Marjorie Taylor Greene\ud83c\uddfa\ud83c\uddf8) 1671750054
In a video posted to Truth Social on Thursday, Trump lambasted "radical Democrats" for what he said was an ill-intended crusade to "ram through this monstrosity in the dark of night when no one has even had a chance to read its over 4,000 pages," reported the Hill.

"Every single Republican should vote no on the ludicrous, unacceptable $1.7 trillion omnibus spending bill. It's a disaster for our country, and it also happens to be a disaster for the Republican Party because they could stop it," the coup-plotting ex-president declared in the video.
Trump alleged that the bill was "crammed with left-wing disasters" and "Washington betrayals" and accused Senate Minority Leader Mitch McConnell (R-KY) of being "more of a Democrat than a Republican."
\u201cTrump calls on Republicans to vote \u201cNo\u201d on the $1.7 Trillion omnibus bill \u201ccrammed with Left Wing disasters, Washington betrayals\u201d and calls out money given to foreign countries while prohibiting funding of U.S. border security.\u201d

— ALX \ud83c\uddfa\ud83c\uddf8 (@ALX \ud83c\uddfa\ud83c\uddf8) 1671730169
[Tweet]