Far Right Disgraced In Meltdown Over Ukraine President's Historic Visit
@next2godwin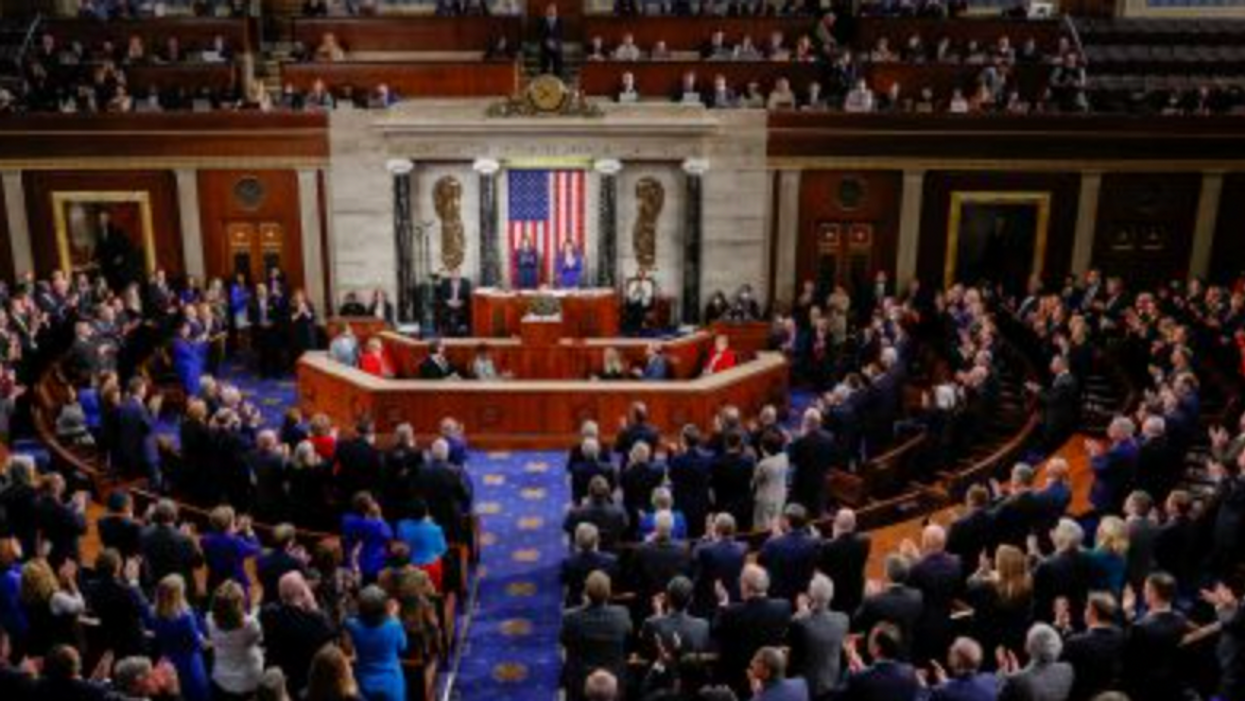 Fresh off a historic midterm face-plant, some Republicans seemed to believe that trolling Ukraine President Volodymyr Zelensky's U.S. visit would improve their standing, in a deranged attempt to "own the libs "— and they were dragged for it, badly.
Zelensky's historic visit to Washington on Wednesday — his first trip outside Ukraine since an unprovoked Russia unjustly invaded his country — was met with a rousing welcome, highlighted by the wartime hero's vocal appreciation to Americans for helping his country weather Russia's brutal offensive, and capped with an emotional appeal to a joint Congressional session to approve a new round of crucial aid to Ukraine.
"Your money is not charity," Zelensky said, seeking to reassure Americans that his cause is ours. "It's an investment in the global security and democracy that we handle in the most responsible way."
Despite a cascade of new reporting on brutal Russian war crimes in Ukraine, a contingent of Republican figures ignored Zelensky's speech — or blew it off altogether — while other prominent right-wing luminaries took to attacking the visiting president.
According to the New York Times, Reps. Ralph Norman (R-SC) and Marjorie Taylor Greene (R-GA), both of whom privately lobbied the former administration to impose "Marshall" law to keep then-lame-duck President Trump in power, skipped the speech, as did Sen. Rand Paul (R-KY) and insurrectionist Sen. Josh Hawley (R-MO).
"Never Kevin" lawmaker Rep. Matt Gaetz (R-FL) and Reps. Lauren Boebert (R-CO), Jim Jordan (R-OH), Tim Burchett (R-TN), and Andrew Clyde (R-GA) pointedly sat out several standing ovations for Zelensky, according to several reports.
But that was not all the GOP-inflicted embarrassment that Americans had to endure on Wednesday. In his most humiliating diatribe yet, Fox News star Tucker Carlson launched unhinged attacks on Zelensky during his late-night show, complaining about the wartime leader's attire and comparing him to disgraced FTX founder Sam Bankman Fried.
"As far as we know, no one's ever addressed the United States Congress in a sweatshirt before, but they love him much more than they love you," Carlson told his viewers.
Then, courting further disgrace, Carlson compared the American super-majority supporting the Zelensky-led Ukraine's stand against a bullying oppressor to Bankman-Fried's fanboys.
"The media, Congress, the White House all love this weird little guy called Bankman-Fried. Remember that? We were reminded of that," he said.
Recent polling found that most Americans — from both sides of the political spectrum — support continued aid to Ukraine, but on Wednesday night, Carlson likened such support to "fawn[ing] over the Ukrainian strip club manager" and falsely accused Zelensky of "anti-Christian[ity]."
"It is hard — in fact, it may be impossible — to imagine a more humiliating scenario for the greatest country on Earth," he added.
But that was still not the nadir of right-wing depravity the nation had to endure last night. While MAGA lawmakers were sulking on the Hill and far-right pundits ranted on TV over Zelensky's visit, prominent Republican social media trolls were putting up a show of shame on Elon Musk's Twitter.
Donald Trump Jr. — whose coup-plotting father dodged the military draft several times and paid zero federal income tax in 2020 while profiting off the federal government — attacked Zelensky with the decades-old, conservative-coined "welfare queen" slur.
Greene, a conspiracy theorist and serial peddler of Russian propaganda, echoed Trump Jr.'s deranged attacks, branding Zelensky a "shadow president" and labeling his supporters "so naive & ignorant they think my views are extreme but are totally blind and stupid."

Appalled by this far-right rubbish, the American public for whom Greene purported to speak, promptly dragged her and Trump Jr., as well as other Ukraine-hating Republicans, on Twitter for their baseless attacks and hypocrisy.
[Tweet]