Surprise! Margie's Press Flack Is No Saner Than His Boss
@wallein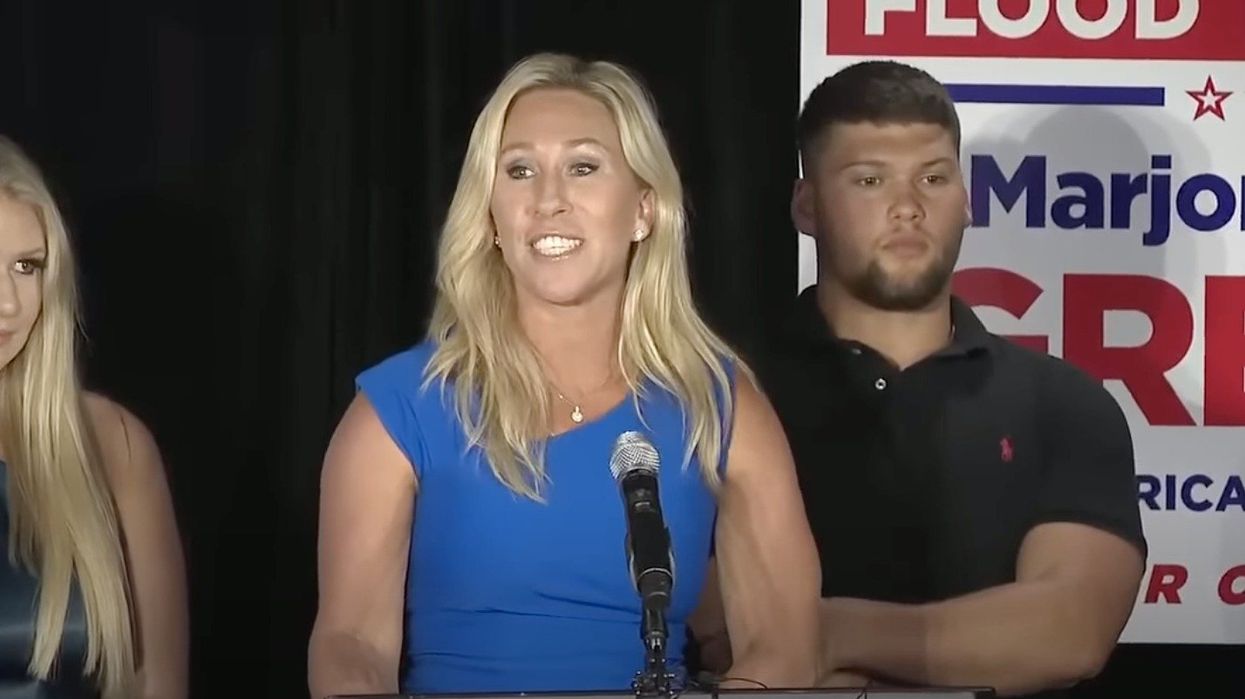 On Tuesday, Rep. Marjorie Taylor Greene tweeted out a video of testimony from the U.S. House Committee on Homeland Security. The clip showed Rebecca Kiessling, a mother from Michigan, whose sons Caleb, 20, and Kyler, 18, along with a friend Sophia Harris, 17, died of accidental fentanyl overdoses in July of 2020. The two young men and teen girl believed they were taking Percocet pills, but those pills ended up being laced with fentanyl.
In Greene's tweet, she wrote, "Listen to this mother, who lost two children to fentanyl poisoning, tell the truth about both of her son's murders because of the Biden administrations refusal to secure our border and stop the Cartel's from murdering Americans every day by Chinese fentanyl." It's hard to follow even the general conspiracy theory here—Chinese fentanyl is being brought in by people on the southern border of our country because of Joe Biden.*
But as many people pointed out, regardless of what you believe about how secure our border is, and no matter your opinion on "war on drugs" policies, President Joe Biden wasn't even a Senator in 2019, when this poor woman lost her children to overdose. In 2019 the Senate and the Presidency were controlled by Marjorie Taylor Greene's party.
The internet and reporters brought up this fact (even Twitter's dubious moderation team had to flag her tweet), and the MTG team's response was wild.
Before getting into the response, the reason that Rep. Greene wanted to showcase Rebecca Kiessling is that Ms. Kiessling has become a conservative activist on the fentanyl subject. She believes that the problem with fentanyl in the country is an issue of immigration. She also believes that the COVID-19 stimulus package, which provided financial relief to millions of families and children needing financial assistance during the pandemic, is to blame for her children having the money to buy drugs, and subsequently, tragically dying from overdose.
This story is not about arguing whether or not her thoughts on the matter make sense or are true, or are an actionable policy plan for mending our public health crisis in the field of addiction. Ms. Kiessling has suffered the kind of brutal loss that millions of Americans have suffered. It can only be an unimaginable amount of pain to endure. How she manages her grief is not something I'm interested in discussing here.
However, Marjorie Taylor Greene is interested in using Kiessling's grief as an emotional prop to score political points. The moment she chose to blame President Biden, instead of simply pushing for her decades-tested (and failed) "war on drugs" policies, she helped cheapen Ms. Kiessling's grief in the public sphere. She turned the deaths of these three young people into a crass and truly ignorant political statement.
Daniel Dale is a senior reporter for CNN who runs fact-checks on the president and other high-profile political figures. On Wednesday morning, he wrote, "I asked Greene's office last night about her tweet blaming the Biden administration for these deaths in 2020 under Trump. Spokesman Nick Dyer responded by saying lots of people have died from drugs under Biden and 'do you think they give a fuck about your bullshit fact checking?'"
But that's not all from the classy organization of civility in discourse that is Marjorie Taylor Greene and her staff, with Dale writing: "I also gave Greene congressional spokesman Nick Dyer an opportunity to comment regarding Greene's multiple false claims yesterday about the 2020 election, such as the lies that Trump won Georgia and that there were thousands of dead voters there. His response: 'Fuck off.'"
Dyer has been promoted to Rep. Greene's deputy chief of staff. Before that, he was Greene's communications director, and managing communications with the press is the number-one job he has—supposedly.
Reprinted with permission from Daily Kos.