Trump: I'll Have The Loser Combo Plate And A Diet Coke, Please
@LucianKTruscott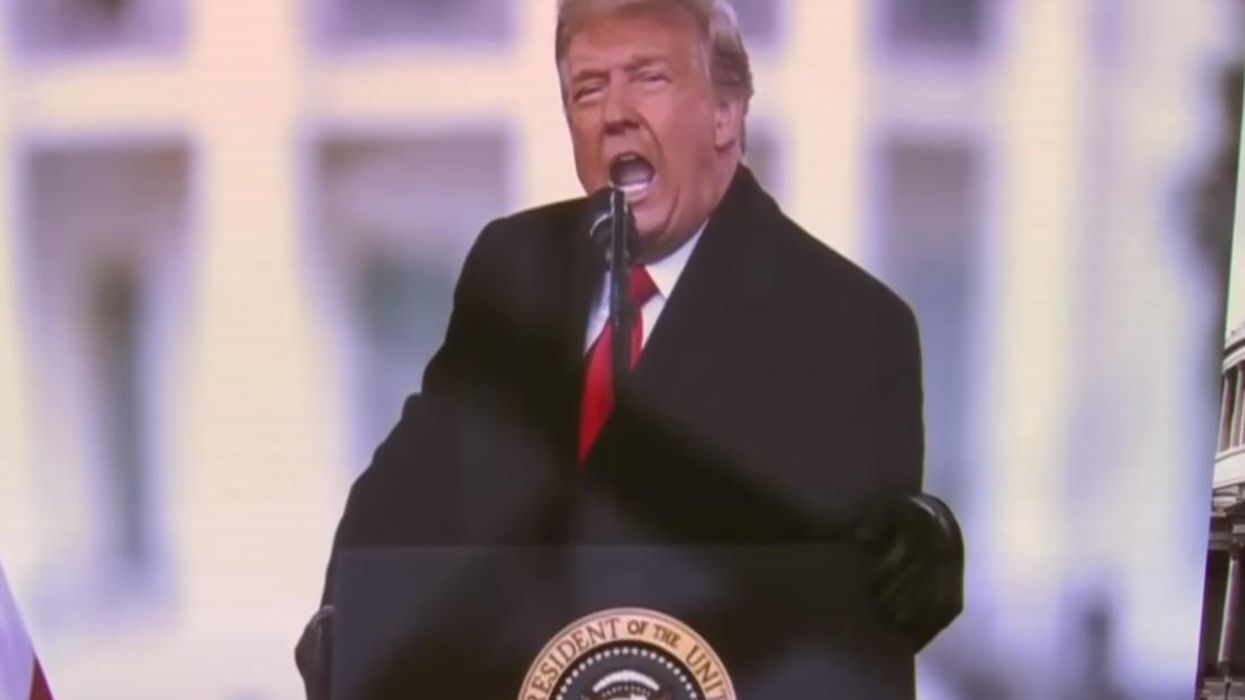 Youtube Screenshot
What follows is my umpteenth-plus report on the Trump stolen documents case. To continue following my peregrinations through the courts covering this nonsense, please consider becoming a paid Substack subscriber and help me find my way.
This is what it sounds like when a Circuit Court of Appeals slams the door on you: "The law is clear. We cannot write a rule that allows any subject of a search warrant to block government investigations after the execution of the warrant. Nor can we write a rule that allows only former presidents to do so."
The decision that came down on Thursday night against Donald Trump by the 11th Circuit was unanimous. Before the court's recent decisions against him, Trump would have described the two judges on the panel he had appointed to the bench as "mine," the same way he described as "mine" the hundreds of classified documents he had squirreled away in a dank basement of Mar-a-Lago and in a drawer of his own desk. In its 21-page decision, the 11th Circuit all but told him, no they're not, and no we're not.
I've been down the various rabbit holes the DOJ and the 11th Circuit have wandered through because a single federal judge in Florida, the execrable Eileen Cannon, took it upon herself to step out of her judicial robes and take on what is constitutionally the job of the executive branch, namely, making decisions about whether to undertake an investigation of a citizen for committing a federal crime. Cannon figured she knew better than the attorney general of the United States, whose job it is to investigate federal crimes, so she threw a series of roadblocks in front of the Department of Justice, which was attempting to determine why in God's name Donald Trump had taken some 22,000 documents owned by the federal government to his home and office in Palm Beach, Florida, and what he did with them.
Judge Cannon put a hold on the DOJ's use of the documents, all 22,000 of them, as evidence in its investigation, and turned them over to a special master in Brooklyn, of all places, to review the whole lot of them to see if any were subject to either attorney-client or executive privilege protections.
The DOJ quickly got the 11th Circuit to step in and remove from the special master review the hundreds of classified documents found in the possession of the former president by pointing out the obvious: They have markings on them bearing several levels of classification by the federal government which clearly labeled them as property of the government. The DOJ's second appeal, asking that the entire process of the special master review be halted and all of the documents returned to its investigation, is the one which the 11th Circuit ruled on Thursday night. To put it mildly, it wasn't a good night for Judge Cannon. The 11th Circuit found she lacked jurisdiction and basically said that her entire "theory of the case" was laughable on its face.
Trump has already been to the Supreme Court once, asking that they overrule the 11th Circuit's first decision on the classified documents. The Supreme Court refused to hear that appeal with no dissents, strongly indicating that it will do the same thing again if Trump appeals the circuit court's latest decision.
It's been quite a month for the former president. "His" election-denying candidates, almost every one of them, lost their races for various offices around the land on Election Day. Later in November, Attorney General Merrick Garland appointed a former U. S. attorney, Jack Smith, as special counsel to run both investigations of Trump – one into his attempts to overturn the election of 2020 and his incitement of the attack on the Capitol, and the other into his theft and mishandling of classified documents after he left office. Smith has been serving as chief prosecutor at the International Court of Justice at the Hague in the Netherlands. The prospect of having Jack Smith look into the crimes he is alleged to have committed is not a welcome one for the former president.
And then last week, Trump decided he would invite a notorious anti-semite and apologist for Adolph Hitler over for dinner at his club in Palm Beach. His dinner guest, the rapper and former multi-billionaire Ye, brought along a friend of his, Nick Fuentes, another notorious anti-semite, Holocaust denier, and admirer of Hitler. Fuentes, you will recall, was one of those who marched around Charlottesville, Virginia back in 2017, carrying tiki torches and shouting "Jews will not replace us."
Trump was still dealing with the blow-back from that dinner when it became known that his former chief of staff, the oily and unctuous Mark Meadows, has been ordered to testify before the special grand jury in Fulton County, Georgia, which is looking into, among other things, Trump's phone call with Georgia Secretary of State Brad Raffensperger, when he asked the man in charge of the state's elections to "find 11,780 votes, which is one more than we have," so that he would be declared winner of the presidential election in Georgia. Meadows, it turns out, placed the phone call to the Georgia secretary of state, and once he got him on the line, handed the phone to his boss, Donald Trump. So, he was involved in the clearly illegal call (election tampering), he had obviously discussed it beforehand with Trump, and he doubtless has more to tell the Georgia grand jury than has come out so far.
Then "his" justices on the Supreme Court ruled that the House Ways and Means Committee can have access to a whole slew of Trump's tax returns that will show that he has never, ever paid any federal taxes.
Meanwhile, back in Washington, the grand jury now being supervised by Jack Smith has been very busy. Former Trump aide Stephen Miller testified before that grand jury this past week – the one investigating January 6 and the efforts made by Trump to overturn the election of 2020. Later in the week, a federal judge ordered two former White House lawyers, Pat Cipollone and his deputy, Patrick Philbin, to testify before the same grand jury. Cipollone and Philbin testified in September, but refused to answer some questions, citing executive privilege. Trump sued in federal court asserting executive privilege in an attempt to prevent his two lawyers from being forced to testify and answer the questions they refused last time. The legal proceedings have gone on behind closed doors with the judge overseeing the grand jury in Washington. He has previously ordered other witnesses to testify when they tried to assert executive privilege, and it appears that is the case with these two very key witnesses.
Speaking of witnesses, we are, beginning today, witness to The Whole Thing Coming Apart at the Seams for Donald Trump. Nothing has been going right for the man. He announced his candidacy for president at mid-month in November and has not done a thing as a candidate yet. No rallies. No announcements of endorsements. No big statements on World Affairs. In fact, the only major public statement he's made was a video he taped for something called the Patriot Freedom Project, a far-right extremist group raising money for the families of indicted and convicted 1/6 insurrectionists. "People have been treated unconstitutionally, in my opinion, and very, very unfairly, and we're going to get to the bottom of it," Trump said in the video. "The country is going communist."
Trump hasn't acted like a candidate or spoken like a candidate or looked like a candidate. Oh, wait a minute. I forgot that he got on his Truth Social account one night recently and spread right-wing, white supremacist, and QAnon conspiracy theories for hours. The sole positive thing that has happened for him, if it can be called that, is having his Twitter account restored by the odious Elon Musk. That would be the social media network on which hate speech has skyrocketed since Musk took it over, according to a report in the New York Times this morning.
We have wondered for six years when something like this would happen. He's being forced to give a deposition in E. Jean Carroll's rape lawsuit. His closest aides are spending half their time with their own lawyers and the other half being questioned by lawyers before grand juries. A court to which he appointed two judges has ruled against him unanimously not once but twice in a case involving the search of his residence and office by the FBI at Mar-a-Lago. The search was legal, the court said. Former presidents are subject to the same laws everyone else must obey.
And Trump himself? Well, he's out there posting hate and cozying up to Nazis and whining about being victimized as he watches the transactional sycophants in his party inch away from him not because he's an awful person who spreads hate and tells lies and breaks the law, but because he's a loser.
Lucian K. Truscott IV, a graduate of West Point, has had a 50-year career as a journalist, novelist, and screenwriter. He has covered Watergate, the Stonewall riots, and wars in Lebanon, Iraq, and Afghanistan. He is also the author of five bestselling novels. You can subscribe to his daily columns at luciantruscott.substack.com and follow him on Twitter @LucianKTruscott and on Facebook at Lucian K. Truscott IV.
Please consider subscribing to Lucian Truscott Newsletter, from which this column is reprinted with permission.