Ukraine Officials Invite 'Former Officer' DeSantis To Visit War-Torn Nation
@next2godwin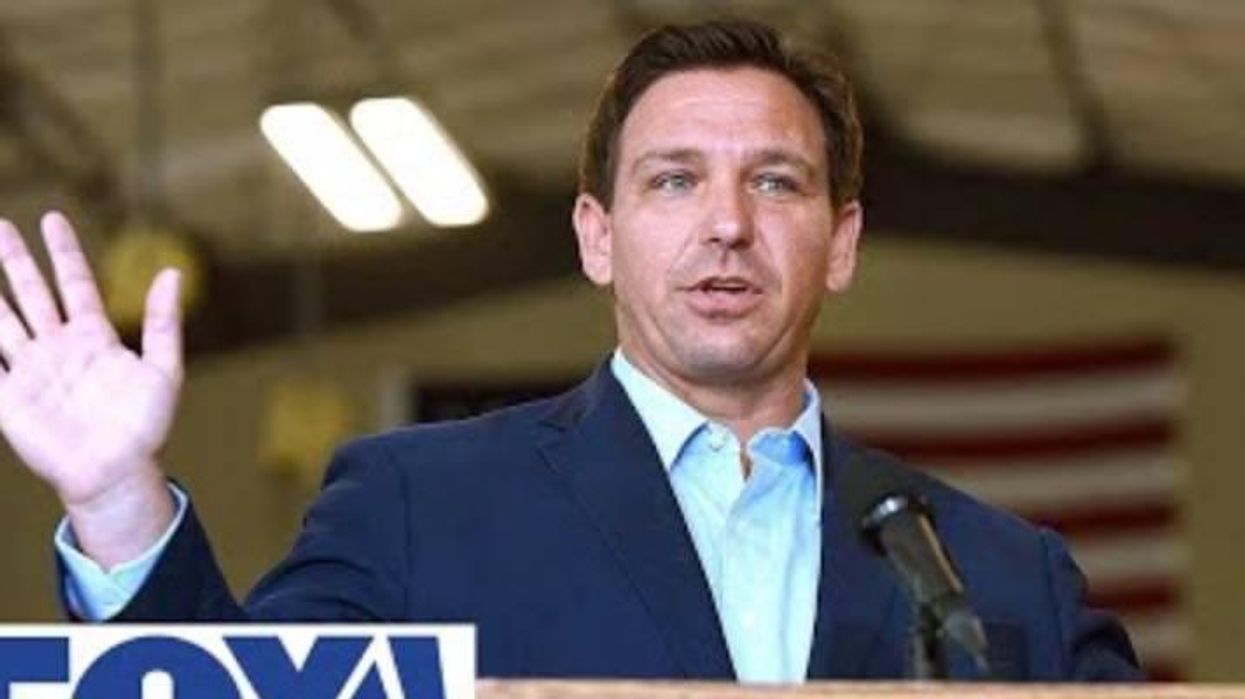 Ukraine has invited Florida Governor Ron DeSantis to visit the war-torn country after the Republican branded Russia's unprovoked invasion a "territorial dispute" not amongst the U.S.'s "many vital national interests."
A spokesperson for Ukraine's Foreign Ministry, Oleg Nikolenko, extended the invitation via Twitter on Tuesday evening, writing that DeSantis, a former serviceman, should be capable of distinguishing between disagreement and warfare.
"We are sure that as a former military officer deployed to a combat zone, Governor @RonDeSantisFL knows the difference between a 'dispute' and war. We invite him to visit Ukraine to get a deeper understanding of Russia's full-scale invasion and the threats it poses to US interests," Nikolenko tweeted.
The invitation came amid a cascade of criticism that followed DeSantis's remarks characterizing U.S. support for Ukraine as the Biden Administration's decision to back "virtual 'blank check' funding" of an "escalating foreign war over the defense of our own homeland."
The Republican governor was responding to a questionnaire about the war in Ukraine that Fox News's Tucker Carlson sent to several current and potential contenders for the 2024 Republican presidential nominee ticket, including former President Donald Trump.
In his response, DeSantis also opined that continued aid to Ukraine would "greatly increase the stakes of the conflict, making the use of nuclear weapons more likely," signaling that he would tamp down on Ukraine aid — or kill it completely — if elected president.
"While the U.S. has many vital national interests – securing our borders, addressing the crisis of readiness within our military, achieving energy security and independence, and checking the economic, cultural, and military power of the Chinese Communist Party – becoming further entangled in a territorial dispute between Ukraine and Russia is not one of them," DeSantis said.
The governor's stance on the matter, which mirrored Trump's and those of the isolationist, MAGA arm of the GOP, drew a swift rebuke from other prominent Republicans.
In an interview Wednesday with New Hampshire Today, a morning radio show, former Vice President Mike Pence pushed back against DeSantis' claims. He called Russia's military efforts in Ukraine not a "territorial dispute" but "an unprovoked war of aggression."
"Russia is attempting to redraw international lines by force," said Pence, who is reportedly mulling a 2024 presidential bid. "I strongly support continuing to provide the Ukrainian military the resources necessary to repel that Russian invasion."
Nikki Haley, who launched her 2024 presidential bid in mid-February, also disagreed with DeSantis in her response to Carlson's questionnaire.
"America is far better off with a Ukrainian victory than a Russian victory, including avoiding a wider war," Haley wrote, according to Fox News. "If Russia wins, there is no reason to believe it will stop at Ukraine. And if Russia wins, then its closest allies, China and Iran, will become more aggressive."
Senate Republicans, several of whom have sought support for Ukraine within their ranks, got in on the act, too — in support of the embattled U.S. ally.
"To those who believe that Russia's unprovoked and barbaric invasion of Ukraine is not a priority for the United States – you are missing a lot," Sen. Lindsay Graham (R-SC) tweeted on Tuesday.
Sen. Marco Rubio (R-FL), ranking Republican on the Senate Intelligence Committee, rejected DeSantis' sentiment that the Russia-Ukraine war was merely a "territorial dispute" of no interest to the U.S.
"Well, it's not a territorial dispute in the sense that any more than it would be a territorial dispute if the United States decided that it wanted to invade Canada or take over the Bahamas," Rubio told conservative radio host Hugh Hewitt on Tuesday.
Sen John. Cornyn (R-TX), another Republican on the Senate Intelligence Committee, told Politico that DeSantis' remarks had "disturbed" him.
"I'm disturbed by it. I think [DeSantis is] a smart guy… I hope he feels like he doesn't need to take that Tucker Carlson line to be competitive in the primary," Cornyn told the paper. "It's important for us to continue to support Ukrainians for our own security."
In recent remarks, Sen. John Thune (R-SD), the Senate Republican whip, distanced himself from DeSantis's position on the Russian invasion, telling reporters, "The majority opinion among Sen. Republicans is the U.S. has a vital national security interest... That's certainly the view I have."
[Tweet]