Putin Diminished: Comparing This Week In Ukraine To One Year Ago
@LucianKTruscott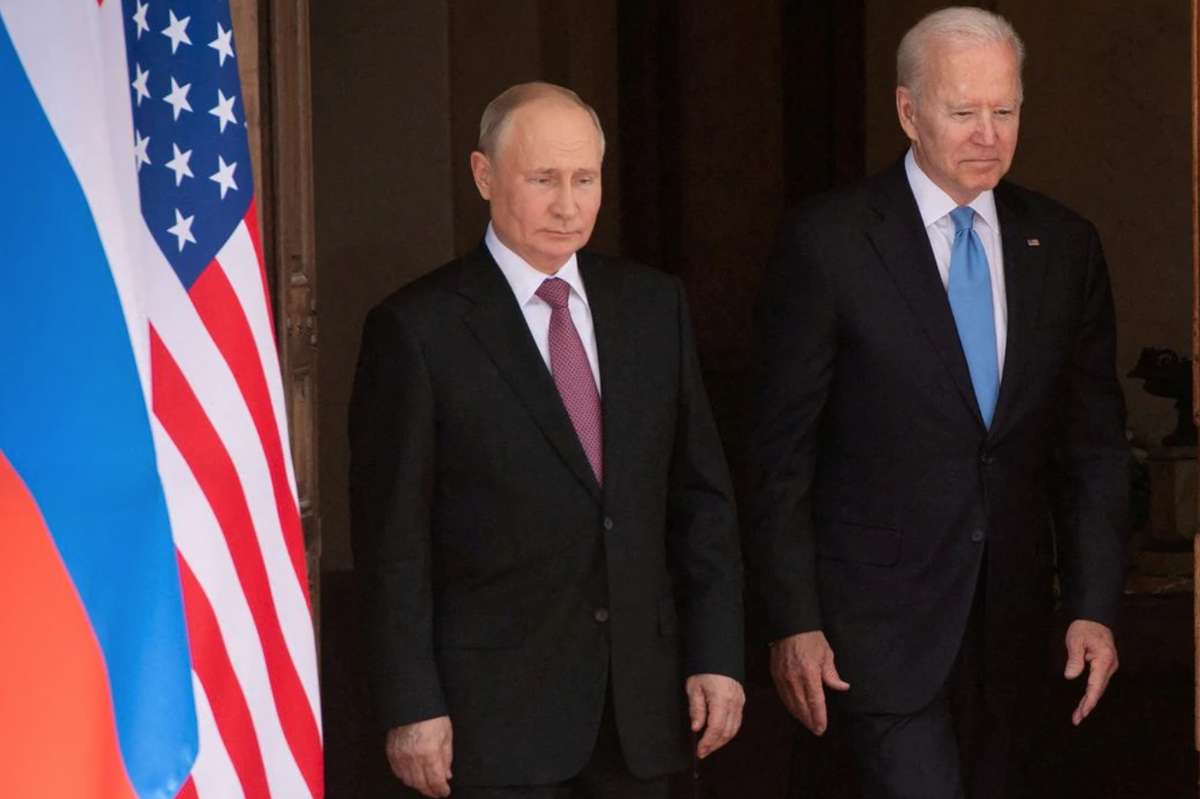 Yep, another Ukraine war column. I will be writing columns on the war this time next year, if that's what it takes. You can help out the cause with a paid subscription.
There have been lots of headlines this week as we approach the anniversary of Russia's invasion of Ukraine. Most of them have focused on the 600-mile front line that runs from the Russian border near Kupyansk in Ukraine's north to Kherson in the south. Last September, a Ukrainian offensive took a 3,000 square mile area in the Kharkiv region, including the strategic towns of Izyum and Lyman, where Russia had established its army operations headquarters and resupply depots. In November, Russia pulled its forces out of the port town of Kherson in the south. The front line has been static since then, with Russia claiming it has taken the town of Bakhmut in the north and Ukraine countering that its troops still hold the city.
Everyone is asking how much longer the war will go on, and there were at least three stories this week talking about how Republicans are fighting over support for Ukraine. The Hill pointed out today how Biden's visit to Kyiv "exposes GOP fault lines." Bloomberg this morning said "Republicans are painting themselves into a corner over Ukraine." CNN headlined "Republican leaders wrestle over GOP splinter over Ukraine aid."
I would like to suggest we take a step back and take a look at the stark contrast between what was happening at this exact time a year ago and what happened this week.
Vladimir Putin was having a very good week a year ago. The world was hanging on his every word about Ukraine. In a completely unhinged speech, he claimed that Ukraine had been part of Russia "forever." There were photographs and maps all over the place showing Russian forces arrayed across the top of Ukraine's border, all the way from Belarus in the west to battalion after battalion waiting in the east as Putin claimed he wasn't going to attack Ukraine. He had over 150,000 soldiers and countless tanks, artillery pieces and rocket launchers lined up in hastily constructed motor pools all along the Ukrainian border.
Russia was still referred to by many foreign policy experts as one of the "great powers" in the world. NATO allies in Europe were still standing guard against the terrible power of the Russian military they faced to their east. Nobody believed Putin's protestations that he had no plans to attack. Of course he would, military experts were saying. He was Putin! He had the fearsome Russian army, air force and navy on patrol blockading Ukrainian ports in the Black Sea.
The week before the invasion of Ukraine, Putin had to have been sitting at his incredibly long table in the basement of the Kremlin with his generals – remember those photos? – making plans for a victory march to the Mariinsky Palace in Kyiv, imagining TV cameras catching sight of Zelensky on his way out of the city in defeat. Putin's generals and his intelligence services had assured him that Kyiv would fall in five days.
Then it was February 24, 2022. Putin's army attacked across the entire Ukrainian border. Its biggest push came from Belarus and the Russian border north of Chernihiv, a city to the north and east of Kyiv. It was designed to be what the military calls a pincer movement, intended to trap Ukrainian forces defending Kyiv from two directions, northwest and northeast of the city.
And then came the famous satellite photos of the 40 mile long convoy stuck northeast of Kyiv bumper to bumper on a road. They were getting hit from every direction by Ukrainians on foot armed with RPG-7 shoulder-fired rocket launchers and small arms, and they had nowhere to go because the fields and tree lines and forests around them were muddy and they would get stuck.
Kyiv didn't fall in five days. By late March, the Russian army was in retreat all the way back to the Belarus and Russian borders. There were photographs of the mass graves of Ukrainian civilians murdered by Russian soldiers in towns around Kyiv – war crimes committed by an army in retreat.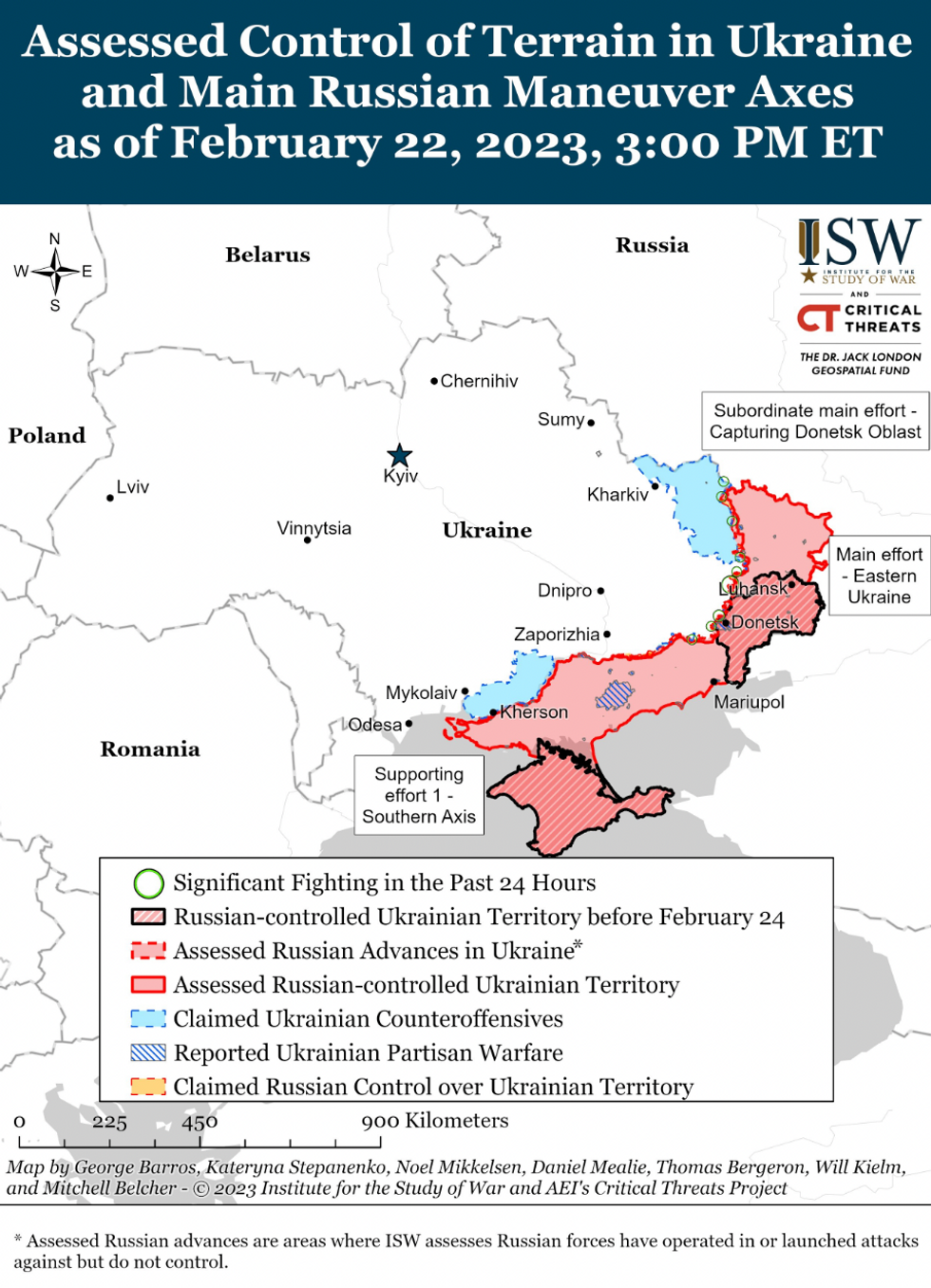 In the south, in the port city of Mariupol, Ukrainians fought valiantly against an army far larger than theirs and shelling that came from the east and from Russian naval vessels in the Sea of Azov. There were more photos of Russian war crimes: A missile strike on a theater where civilians were sheltering killed hundreds. There were stories of mass deportations of Ukrainian civilians to what amounted to concentration camps in Russia. In April, the Ukrainians sunk the Moskva, the flagship of the Russian navy, in waters off Odessa, causing the entire Russian fleet to pull back further into the Black Sea and out of Ukrainian waters.
By early summer, the fearsome Russian military that had been prepping its attack on Ukraine for months was stymied. There was now a front line stretching from Kharkiv in the north to Kherson in the south. There was not much movement until Ukraine surprised Russia in September with its offensive in the Kharkiv region that pushed the Russian army back dozens of miles and took some of the major cities they had been holding in the east.
In the meantime, Putin's army suffered such heavy losses – British intelligence is saying they took 200,000 casualties, with 60,000 of those killed – that Putin had to impose a draft, forcing 300,000 civilians into the Russian army. Putin's draft was followed by stories and photographs of up to a million Russians fleeing their country. Russian draftees sent quickly to the front with only a few weeks training started sending text messages home saying they had not even been issued weapons and their uniforms were inadequate with winter coming. Famously, one recruit reported that a sergeant had told him to take his wife's tampons with him to Ukraine so he could use them to stanch the bleeding if he was wounded.
In November, Ukraine retook Kherson in the south and has held its own in the northeast and east, creating the 600-mile front line now described in every story as static.
President Biden surprised the world over the weekend by traveling to Kyiv and meeting with Ukrainian President Zelensky, who is very much still in command of his government and his army. Biden upstaged Putin's big speech on Monday that was advertised in advance as a "state of the nation" address. Biden upstaged him again with a speech in Warsaw on Tuesday that amounted to the second red flag he had waved in Putin's face in three days. "One year later, Kyiv stands and Ukraine stands. Democracy stands. The Americans stand with you, and the world stands with you," Biden assured the Ukrainians from the capital of a NATO country.
How would you like to be Vladimir Putin today? He woke up to aNew York Times headline yesterday about his pal, Yevgeny Prigozhin, who everyone used to call "Putin's chef" from days when the two men were buddies in St. Petersburg, accusing his military commanders – the chief of the general staff and the minister of defense – of treason for failing to support his Wagner Group fighters in the battle for Bakmhut. Prigozhin posted photos of himself with Apti Alaudinov, who commands Chechen paramilitary fighters in Ukraine. Ramzan Kadyrov, the so-called strongman of Chechya, has been harshly critical of Russian army generals in Ukraine.
Just between you and me, it's never a good sign when your allies and military commanders are accusing one another of incompetence and treason. But that's where Putin is today, with only 24 hours to go before the first anniversary of his invasion of Ukraine, the invasion that was supposed to be over in five days. Putin had plans to be walking through the same palace in Kyiv around this time last year that Joe Biden strode through with Ukraine's president on Sunday.
What are Putin's options? His army is bogged down along that 600-mile front line in Ukraine. There are reports of shortages of artillery shells and other ammunition. Yesterday, news came that Putin is getting ready to impose another draft, once again forcing hundreds of thousands of Russian civilians into serving on the front lines of his meatgrinder war.
Military strategists say that the way you win a war is by applying overwhelming force on the enemy's weak points until you drive the enemy back, take his lands, and force a surrender. There is no overwhelming force on either side of the front lines in this war. We may have a Republican Party that is squabbling among itself over support for Ukraine, but we're not going to stop, and NATO nations are not going to stop sending weapons and ammunition to Ukraine.
Even though the world has now seen what a paper tiger Putin is and what a Potemkin army his forces turned out to be, Russia is still armed with nuclear weapons, and Putin has something of an alliance with China, another nation that is not friends with the West. Putin met yesterday with China's foreign minister Wang Yi and is now making noises about an upcoming meeting with Xi Jingping, amid speculation that China is considering supplying Russia with offensive weapons for its war against Ukraine.
Putin has long thought of himself as one of the world's strongmen, the leader of a great power comparable with the U.S. and China, and both things have now been proven untrue. He may be a strongman in his own country, but Russia is not anywhere close to being the great power he dreams of. In a very bad week for the Russian leader, Putin is pissed off and he is dangerous.
Lucian K. Truscott IV, a graduate of West Point, has had a 50-year career as a journalist, novelist, and screenwriter. He has covered Watergate, the Stonewall riots, and wars in Lebanon, Iraq, and Afghanistan. He is also the author of five bestselling novels. You can subscribe to his daily columns at luciantruscott.substack.com and follow him on Twitter @LucianKTruscott and on Facebook at Lucian K. Truscott IV.
Please consider subscribing to Lucian Truscott Newsletter, from which this is reprinted with permission.