While Biden Made Perilous Visit To Kyiv, Republicans Kept On Whining
@LucianKTruscott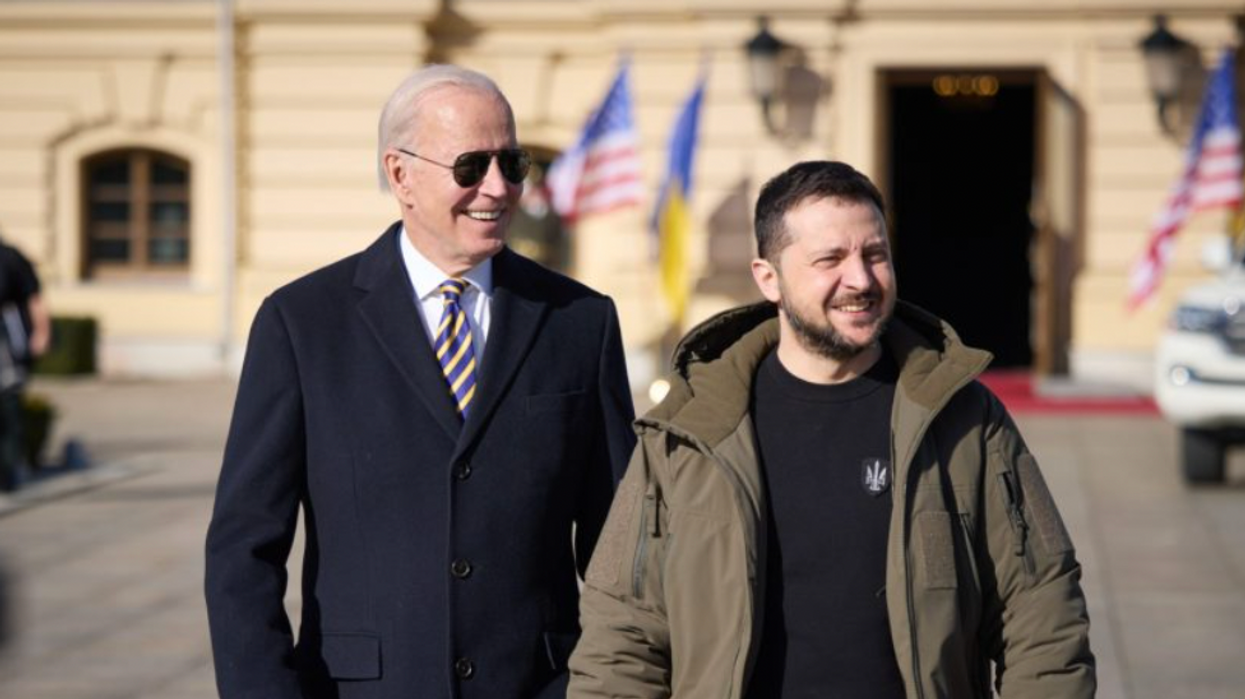 I've been writing analysis of the war in Ukraine for nearly a year now. I'm going to continue for as long as it takes. If you would like to receive my columns in your email inbox nearly every day, subscribe here. A paid subscription will help my efforts and be greatly appreciated.
It will be a while, if indeed it happens at all, before we get any details about how the U.S. military was able to sneak President Joe Biden into and out of Ukraine. His trip, and those taken by presidents Bush and Obama and Trump to Iraq, take weeks if not months to plan even if the on-the-ground visit itself lasts only hours. In Ukraine, the war is being fought not only with bullets and artillery rounds, but with ground-to-ground missiles, air-launched cruise missiles, and armed drones that threaten not just the war's front lines in the east and south of Ukraine, but every city within its borders. In Ukraine, because we don't have troops on the ground and do not control the airspace, the danger is even greater. Every place is on the front lines.
Getting a U.S. president into and out of an active war zone is not for the faint of heart. You are carrying the person who is arguably the most important leader in the world into a country where no place is safe. GPS-guided cruise missiles can be launched from Russian soil and hit a spot as small as a children's playground in Kyiv, as they already have. Russian intelligence has the targeting grid coordinates of the Mariinsky Palace and St. Michaels Golden-Domed Cathedral, both of which Biden visited with President Volodymyr Zelensky earlier today. Biden also visited with the U.S. Ambassador Bridget A. Brink and her staff.
Let's stop right here and consider what we're talking about. Biden flew by Air Force One to Poland. It's not known where the plane landed, but for the sake of security, it couldn't have been very close to Poland's border with Ukraine. Let's assume he flew from Washington D.C. to the capital of Poland. The flight from Washington to Warsaw is about 10 hours. Then he had to travel 250 miles, by helicopter to the border with Ukraine. That's at least another hour and a half, depending on at what altitude the helicopter flew. (American military helicopters like the Blackhawk are pressurized and can fly at high altitudes, but it takes them quite a while to get up there, extending the point-to-point time of flight.) Then Biden had to be transported by ground from where his helicopter landed in western Poland, probably close to Lviv, the main rail hub in western Ukraine.
From there, the trip by train – probably in less than luxurious conditions in order that the train appear as if it was making an ordinary trip to Kyiv – took at least nine hours. Biden spent five hours meeting with Zelensky and American diplomats and returned to the Polish border by train. Let's assume Biden was able to get some sleep in the presidential cabin on Air Force One. Even if that was true, from the time he left Air Force One in Poland to the time he returned to the Polish capital of Warsaw, he had to have gone at least 26 hours without sleep, not counting for transfers from one form of transportation to another.
Now imagine you're making that trip, and you are 81 years old, and the entire time you are on Ukrainian soil – a least 23 hours – you are under threat of attack by Russian cruise missiles or drones or whatever else they've got that can reach into central Ukraine from either Russia or Belarus.
Biden's national security adviser, Jake Sullivan, told the press that the White House had notified Russia before Biden departed Washington that the trip was taking place "for deconfliction purposes," between the two nuclear armed powers. But would you depend on the good will of Vladimir Putin to insure your health and well-being while in Ukraine, especially given what is known about Russia's military, not exactly famous for its command and control from Moscow down into the lower ranks where the weapons systems buttons are pushed?
While in Kyiv, Biden strengthened this country's commitment to the Ukrainian war effort, telling Zelensky, "Ukraine stands. Democracy stands. The Americans stand with you, and the world stands with you." Biden's trip, and his statements while in Ukraine, are bound to inflame tensions not only between the U.S. and Russia, but between the West and Russia in general. "Putin's war of conquest is failing," Biden said, standing next to Zelensky in Kyiv. Putin is due to make a so-called "state of the nation" speech tomorrow in Moscow. He is expected to describe his aggression against Ukraine as a war against "Nazism" and the West, a war of survival, as if it was Russia that was attacked, not Ukraine.
The New York Times reported today that U.S. intelligence has picked up indications that Putin is preparing another mobilization, calling-up hundreds of thousands more Russian citizens to serve in the military and fight his war for him. The last Russian forcible draft caused millions to flee the country, including much of the country's educated elite with jobs in technology industries that Russia will need if it is to continue its war effort. New York Times columnist Tom Friedman was on one of the Sunday shows and called the developing conflict between Russia and the West "a third world war," even if no country other than Ukraine is engaged in an armed conflict with Russia.
While Biden was in Ukraine, what do you think the usual Republican suspects were up to? I would leave that to your imagination if their actual statements were not so reprehensible.
Marjorie Taylor Greene, now a member of the Republican leadership in the House, called for red states to secede from the Union: "We need a national divorce. We need to separate by red states and blue states and shrink the federal government," Greene tweeted today, the Presidents Day holiday. "Everyone I talk to says this. From the sick and disgusting woke culture issues shoved down our throats to the Democrat's [sic] traitorous America Last policies, we are done." That wasn't enough for her, however. "The U.S. support for war in Ukraine has been like a U.S. proxy war with Russia," she tweeted. "But now it's becoming more like a U.S.- China war through the Ukraine-Russia war. End it now!"
Rep. Matt Gaetz, who learned last week that he will not be indicted by the Justice Department for child trafficking, tweeted while Biden was in harm's way in Kyiv that he should stay there: "When Ohio burns with toxic chemicals, Biden's admin says everything is fine. So on Presidents' Day, I'm not surprised that Biden is ditching America for Ukraine. He ditched America's interests since the start of his presidency. They can keep him!"
Rep. Greg Murphy of North Carolina went further in a tweet, appearing to accuse President Biden of starting the war in Ukraine: "So it takes two years for Joe Biden @POTUS to visit the war zone he created at our southern border, but then he goes to see another war zone he created in Ukraine."
Republicans have not only ditched democracy, but they have also ditched patriotism. We fought a Civil War more than 160 years ago to maintain the Union. The Republican Party, which used to tell leftist Democrats to love it or leave it, now seems to counsel its own members to stay here and destroy it.
With the likes of these Republicans as our fellow Americans, here's hoping we'll still be celebrating Presidents Day as an undivided nation next year.
I've been writing analysis of the war in Ukraine for nearly a year now. I'm going to continue for as long as it takes. If you would like to receive my columns in your email inbox nearly every day, subscribe here. A paid subscription will help my efforts and be greatly appreciated.
Lucian K. Truscott IV, a graduate of West Point, has had a 50-year career as a journalist, novelist, and screenwriter. He has covered Watergate, the Stonewall riots, and wars in Lebanon, Iraq, and Afghanistan. He is also the author of five bestselling novels. You can subscribe to his daily columns at luciantruscott.substack.com and follow him on Twitter @LucianKTruscott and on Facebook at Lucian K. Truscott IV.
Please consider subscribing to Lucian Truscott Newsletter, from which this is reprinted with permission.