Ukraine Or Vietnam: This Is What Losing A War Looks Like
@LucianKTruscott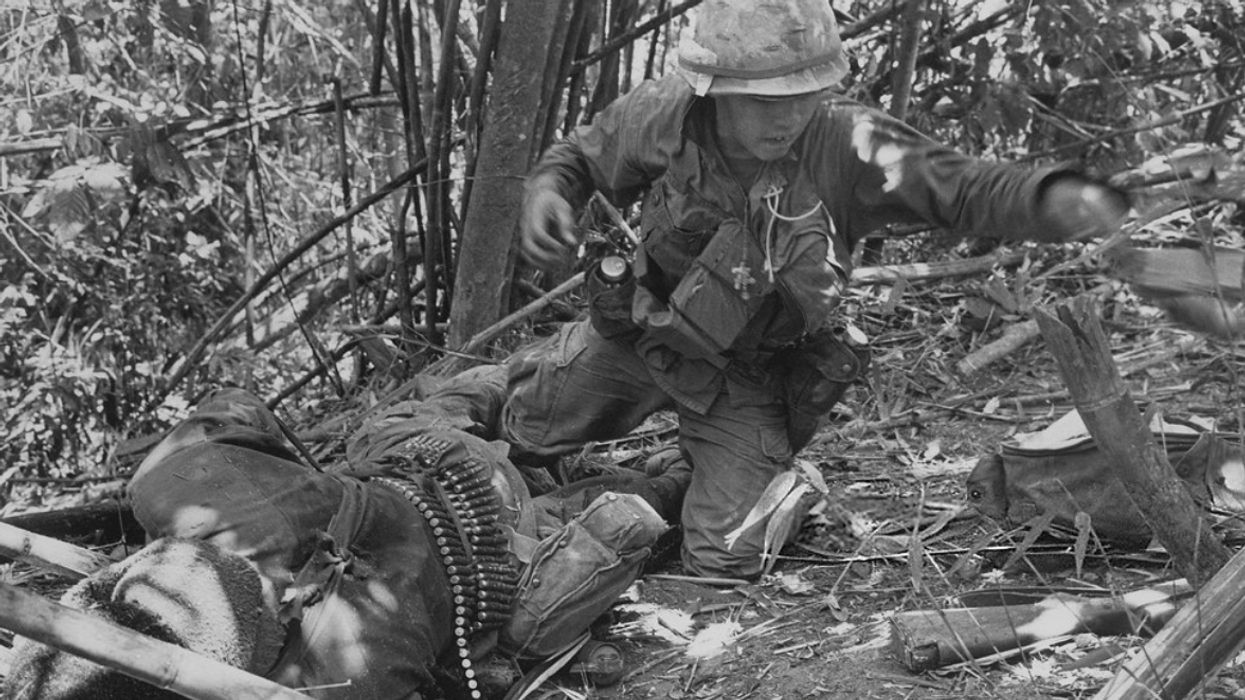 Image by Flickr
For more columns like this one, and to support my work writing about politics, war, and the culture, you can buy a subscription right here. It will be much appreciated.
Writing about the madness of war reminded me of my first months as a second lieutenant in the Army. I was stationed at Fort Benning, the "Home of the Infantry," to attend the Infantry School, a beginner course for lieutenants destined for platoon commands.
If you drove onto the post, located on the edge of Columbus, Georgia, you wouldn't know anything was wrong. The first thing you saw was a gigantic wooden thermometer with its red indicator almost to the top, indicating 99 percent participation in the United Way fund drive on the post. Then came immaculately groomed grass along the sides of the road and sidewalks lined with white painted rocks and headquarters buildings with American flags flapping atop white flagpoles and platoons of trainees in fatigues and spit-shined combat boots marching in formation along the roadsides.
Looking at Fort Benning's obsessive neatness and the discipline of the troops and the neatly lined-up vehicles in the motor pools, you would be forgiven if you forgot that the war in Vietnam was raging thousands of miles away across half a continent and the Pacific Ocean.
Beneath the placid surface of things at Fort Benning and outside its gates, however, things were coming apart. In June, Life magazine had published its ground-breaking cover story, "The Faces of the American Dead in Vietnam: One Week's Toll." Inside were 10 pages of the photographs and names of 242 American soldiers who had been killed in a single week in Vietnam. Local papers around the country had been publishing photos of the boys from the small towns who had been killed as the deaths were announced, but this was the first time photographs of the war dead had been collected in a single place, and it was stunning.
It was as if the editors at Time-Life in New York City had finally decided to take a stand against the war. The dead were 19 years old, or 25, a few were in their 30's, but their faces looked impossibly young. In the coming months and years, the Life cover with the faces of the dead would mark a turning point in support for the war. Richard Nixon, who had run for president saying he had a "secret plan" to end the war, had been in office only a few months, but even by then it was obvious there was no plan. We were losing the war in Vietnam, and more people were realizing that nearly every day.
On the post at Fort Benning, life went on as normal. At the Infantry School, we marched to and from classrooms and training areas with student platoon leaders marching alongside their platoons calling out the defiant cadence of the young and the doomed:
If I die in a combat zone
Box me up and ship me home
Tell my girl I done my best!
Lay my medals across my chest
Lay my body six foot down
Until you hear it touch the ground!
We rode in deuce-and-a-half trucks to the firing range; we spent rainy nights soaked to the skin on training maneuvers; we studied how to formulate mission statements and ops orders in classrooms in old World War II-era wooden buildings; we ate C-rations in the field and cold sandwiches and Cokes from food trucks on the post. Nobody talked about Vietnam. Nobody had orders yet; soldiers would be sent to brief stateside assignments, and then they'd get orders. It was far away in the future, the war, months away at least.
We read in the papers that in May, a great victory had been won at Hamburger Hill in Vietnam. A battalion from the 101st Airborne Division had driven a large unit of the North Vietnamese Army from a hilltop in the A Sau Valley near the border with Laos. The battle was part of the famed, or infamous, "search and destroy" tactics in the war, where U.S. army units basically went out into the boonies until they encountered the enemy and fought them. The battle of Hamburger Hill was supposed to interdict North Vietnamese supply routes into Vietnam from the Ho Chi Minh trail.
Back home, there were hints, rumblings that all was not well. Just before we graduated West Point in June, the Academy administration did something it had never done before. They brought a group of young officers back from the war, straight to West Point, and put on a panel in an auditorium to talk to my entire class about what it was like to be a young officer in combat.
During questions after their presentation, which could charitably be described as dispirited, someone I was sitting near asked about stories in the paper about drug use among soldiers over there. One of the older officers, I think he was a captain or a major, said the stories were false, liberal propaganda against the war. When the panel was over, one of the second lieutenants came down the steps from the stage straight over to where the questioner was sitting. A bunch of us gathered around as he said they had been ordered to deny stories of drug use, but it was a lie. Drug use was rampant in Vietnam he told us, sotto voce. Believe the papers, not the army.
One day at Fort Benning, I ran into a classmate at the PX and we stopped to talk. He told me something strange had happened recently. He was sharing an apartment off-post with another lieutenant he had found advertising for a roommate on a bulletin board somewhere. A few days before as he and his roommate were getting ready to drive onto the post, his roommate had been arrested by the MP's and taken away. He didn't know what for, and he hadn't seen his roommate since. I asked him what the guy's name was. "Rusty Calley," he answered. I forgot about it, writing it off as some goof who was probably picked up for coming on to a colonel's wife at a bar and run out of the army.
It wouldn't be until November that Seymour Hersh's stories about the massacre at My Lai hit the press. We were gone from Fort Benning by then.
There were rumblings in my student company at the Infantry School as well. A few weeks into the course, they started putting pressure on us to contribute to the United Fund drive. The battalion commander was demanding 100 percent participation. Just for the hell of it, a friend and I drove down to the United Fund offices after getting off that afternoon. We asked to see something that told us how the United Fund money was being used in the Columbus community. They gave us a list of organizations – Boys and Girls Clubs, Boy Scouts, Girl Scouts, a small community theater group, that sort of thing.
We checked the United Fund documents we were given and saw that four Boy Scout troops were getting funds, a thousand dollars or something like that. We found the number for the local Boy Scouts office and learned that there were eight scout troops in the town. We went back to the United Fund and asked why four Boy Scout troops were getting United Fund money, but four weren't. Unabashed, they told us those were the Black scout troops. We looked a little further into what the United Fund supported and what it didn't and found that no Black organizations in Columbus received United Fund support.
The next day, we got our student company commander, who was Black, to announce to the whole company at morning formation that no money from the United Fund was going to Black organizations in Columbus. The United Fund was nakedly racist. He said he wasn't contributing to the United Fund. We spread the word that we weren't either. A few days later, the battalion commander came down and said only one guy in the company had contributed to the United Fund. Our lunch hour was canceled and we were marched over to an old World War II-era movie theater.
We were all seated when a major walked out on the stage and announced that Lt. Col. Weldon Honeycutt, the hero of Hamburger Hill, would be addressing us on why we should contribute to the United Fund. He was on some kind of tour giving speeches around the country to counter the bad reviews the battle of Hamburger Hill was getting in the press. With that, Honeycutt, a rather squat figure with a crewcut and thick neck in starched fatigues, strode across the stage into the spotlight. He made some short remarks about the big win at Hamburger Hill and then launched into a speech about discipline and morale and good order and how an army wasn't an army unless everyone was on the same page, and on he went with boilerplate we had all heard a dozen times at West Point. And then he ended by banging on the podium and telling us that we wouldn't be able to be good combat commanders unless we followed orders and gave to the United Fund!
The place erupted in applause. Honeycutt took it as applause for him and his speech, but the major who had introduced him got it that we were applauding for another reason. He signaled to Honeycutt from the wings to cut it short, but Honeycutt ignored the major and growled, "Questions, gentlemen?" There was a long silence, and then the guy sitting next to me, Strosher, got to his feet.
Strosher was a former sergeant who had been given a battlefield commission to first lieutenant two months previously in Vietnam because he had been the only guy in the 25th Infantry Division to blow an ambush in a year. Yes, that means exactly what you think it does. Soldiers had basically stopped fighting the war by the summer of 1969, and when they were sent out on night ambush patrols, they would just sit there. They wanted to stay alive more than they wanted to fight the VC.
Strosher said the ambush he commanded had been blown when one of his soldiers fell asleep and his head accidentally fell onto the trigger for a Claymore mine and set it off. A VC patrol happened to be walking past their position, and the rest of the patrol started firing and blowing their claymores and they killed a dozen enemy, and Strosher was a hero. He didn't want to be promoted. He was happy as a sergeant, he told me, but the division commander insisted he take the commission, and he was sent back to the states to attend the Infantry School.
Strosher, who despite the silver bar on his collar, still looked and sounded like a sergeant and had the cocky attitude of a guy with 10 years in the service and two tours in Vietnam under his belt, knew the answer to the question he would ask Honeycutt before he asked it. He paused a moment and then introduced himself. "Sir, First Lieutenant Strosher. Can I ask where you were during the battle of Hamburger Hill?" He remained standing.
Honeycutt looked confused, as if he hadn't been asked that question before. "Uh, I was in my C&C ship at my assigned altitude." Honeycutt was referring to his command and control helicopter. Thinking to himself, doing a mental calculation, Honeycutt continued: "Uh, 2,500 feet as I recall."
Strosher lifted a hand in a little wave and said, "Thank you, sir. That's all I needed to know." The place erupted in laughter. Honeycutt had done what we would today call saying the quiet part out loud. While 72 of his men were killed 2,500 feet below him, and 372 were wounded, he was circling the battlefield in a helicopter wearing a headset and microphone giving orders.
Wars aren't lost on the battlefield alone. They're lost in the countries that wage them with politics and posturing and lies and sending out puffed-up buffoons like Honeycutt to transform tragedy into heroism, loss into victory. Wars are lost by exercising racist policies and permitting, even rewarding, racist behavior and expecting no one to notice. Wars are lost by mistaking technology for genius, tactics for strategy, means for ends. If we take this hill and that town and kill that number of enemy soldiers and blow-up apartments and destroy hospitals and explode power stations and burn villages and kill civilians and damage and poison crops and call it a victory, then it will be, or so they think.
One year after I was at Fort Benning, I went back there to cover the trial of Lieutenant William Laws "Rusty" Calley for The Village Voice. He was charged with the premeditated murder of 109 civilians in the hamlet of My Lai in 1968. Calley put up the classic defense that he was just following orders. I was in the courtroom on the day that he testified. As I sat there, I heard whole paragraphs of the Infantry Manual come out of his mouth as he described the "standing assault" he and his platoon conducted that day.
Lieutenant Calley was a product of his times. He had been drafted into the army during Project 100,000, a program instituted by Robert McNamara to induct substandard men into the service at a time when they weren't getting enough recruits and too many young men were dodging the draft. They lowered the IQ level necessary to serve, did away with the requirement for a high school diploma, and gave anyone serving less than two years in jail for minor offenses the opportunity to get out early if they would sign up for the army. Calley, who had dropped out of junior college, was one of the more stellar recruits and was sent to Officer Training School and became a second lieutenant in the Infantry.
This is what Calley told the jury in answer to a question from his own attorney on the day I was in the courtroom: "Well, I was ordered to go in there and destroy the enemy. That was my job on that day. That was the mission I was given. I did not sit down and think in terms of men, women, and children. They were all classified the same, and that was the classification that we dealt with, just as enemy soldiers. I felt then and I still do that I acted as I was directed, and I carried out the orders that I was given, and I do not feel wrong in doing so, sir."
This is what losing looks like. This is Hamburger Hill. This is My Lai. This is Bucha. This is Mariupol. This is Kyiv. This is Odessa. This is Lviv.
This is the United States of America. This is the Russian Federation. This is war. There are no winners. Only the dead, and memory, if you can keep it.
Lucian K. Truscott IV, a graduate of West Point, has had a 50-year career as a journalist, novelist, and screenwriter. He has covered Watergate, the Stonewall riots, and wars in Lebanon, Iraq, and Afghanistan. He is also the author of five bestselling novels. You can subscribe to his daily columns at luciantruscott.substack.com and follow him on Twitter @LucianKTruscott and on Facebook at Lucian K. Truscott IV.
Please consider subscribing to Lucian Truscott Newsletter, from which this is reprinted with permission.