Trump Defends Putin (Again) As Biden Visits Ukraine And Poland
@next2godwin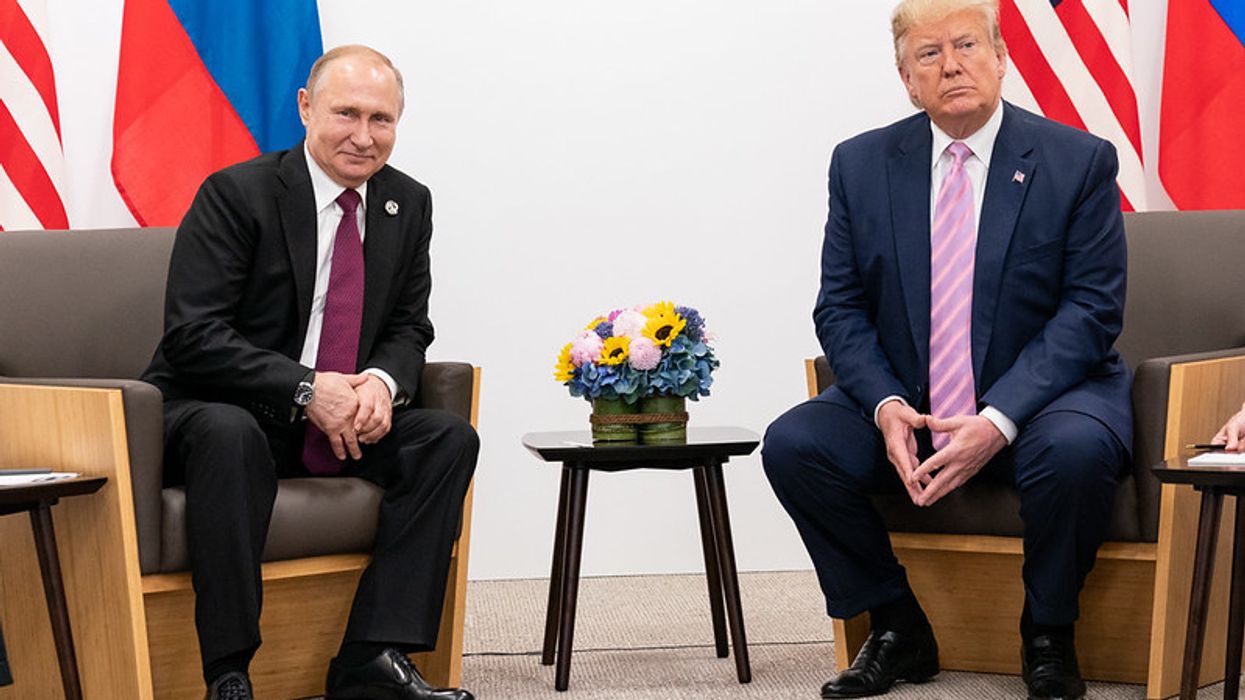 Pro-Putin Media Outlets Promote 'Election Fraud' Claims
Former President Donald Trump is still touting his relationship with Russian President Vladimir Putin and defended his past decision to trust the autocrat over the United States intelligence community.
The remarks came Monday night to a crowd of supporters at a Club45 event in West Palm Beach, Florida — one of the Republican's first speaking engagements in the Sunshine State since he launched his 2024 presidential campaign.
The ex-president's meandering tirade at the event ranged over conspiracy theories, baseless allegations, immigration fear-mongering, and attacks on usual far-right targets — the media, Biden, "radical left maniacs," Fox News, RINOs, and the "deep state" — among others.
"Putin never, ever would have gone into Ukraine if I were president," Trump claimed, according to Rolling Stone. "I actually had a very good relationship [with Putin]." He claimed he could broker a deal between Putin and Ukrainian President Volodymyr Zelensky in 24 hours.
Further lauding the Russian despot, Trump reminded his cheering audience of the moment when he told news reporters — and Americans throughout the country — that he believed Putin over his intelligence agencies.
"Remember when [a news reporter] hit me with a question: 'Who do you trust … your intelligence people, Comey, McCabe, Strzok, Lisa Page, Or Putin?' And I said you know, that could be the toughest question I've ever been asked as a politician. And then when I really didn't give them a very good answer in terms of exactness … all hell broke loose. But that's okay, you know, that's okay. And it turned out I was right. I was right about that, too," Trump said.
The question at issue came at a news conference in Helsinki, Finland, in July 2018, after Trump, the then-U.S. president, had a two-hour-long meeting with Putin. Trump was asked if he believed his intelligence agencies or Putin on allegations of Russian interference in the 2016 elections.
"President Putin says it's not Russia. I don't see any reason why it would be," Trump responded at the time. His refusal to criticize Russia for meddling in the 2016 election drew widespread bipartisan condemnation.
Trump falsely asserted to the Florida rally crowd that "121 nations [are] dropping people in our country, and we have no idea who the hell they are." Then, the ex-president alleged without evidence that "the various dictators" of the world were "emptying out their mental institutions into the United States."
Pivoting to the 2024 presidential election, Trump said that former South Carolina Gov. Nicki Haley, who announced her 2024 campaign for the Republican presidential nomination last week, had "no percent" in GOP polls, reported the Independent.
Florida Gov. Ron DeSantis, a prospective 2024 presidential candidate and target of recent Trump rants, also got a mention. "I did get 1.2 million more votes [in Florida] "than Ron — 1.2 million more votes!" the former president said.
Trump's latest pro-Russian plaudits came on the same day that President Joe Biden paid a surprise visit to Kyiv, the Ukrainian capital, ahead of the one-year anniversary of the war in Ukraine.
"One year later, Kyiv stands," Biden said in a speech, declaring the U.S.'s support for Ukraine. "And Ukraine stands. Democracy stands. The Americans stand with you, and the world stands with you."