Arkansas Governor Condemns Trump Meeting With Neo-Nazi Fuentes
@CynicalBrandon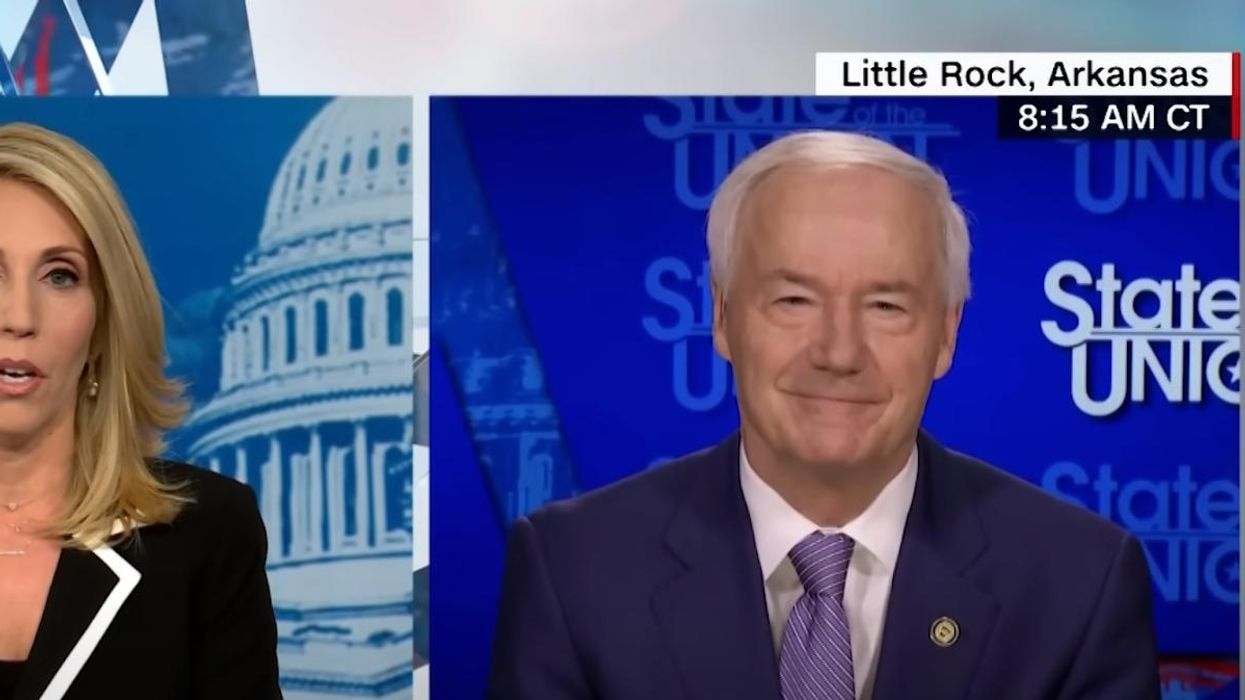 Youtube Screenshot
Republican Governor Asa Hutchinson of Arkansas admonished former President Donald Trump's Tuesday, November 22nd meeting with avowed white supremacist podcaster Nick Fuentes at Mar-a-Lago on Sunday's edition of State of the Union. Trump hosted a dinner that night at his Florida compound for disgraced rapper and possible 2024 presidential candidate Kanye West along with Fuentes to shore up support for his own White House run, which he formally declared on Tuesday, November 15th.
Host Dana Bash asked Hutchinson to comment on Trump's political schmoozing of Holocaust deniers such as Fuentes:
You personally prosecuted white supremacist groups. What's your reaction to seeing a former US president associate with someone like that?
Hutchinson:
Well I hope someday we won't have to be responding to what former President Trump has said or done. In this instance, it's important to respond. And, as you mentioned, the last time I met with a white supremacist, it was in an armed standoff. I had a bulletproof vest on. We arrested them, prosecuted them, sent them to prison. And so, no, I don't think it's a good idea for a leader that is setting an example for the country or the party to meet with an avowed racist or antisemite. And so it's very troubling, and it shouldn't happen. And we need to avoid those kinds of empowering the extremes. And when you meet with people, you empower. And that's what you have to avoid. You want to diminish their strength, not empower them. Stay away from them.
Bash noted that "Trump has released multiple statements. What he's doing is, he's denying knowing Nick Fuentes. But he's not condemning his views, let alone condemning Kanye West's history of antisemitic comments, recent history. So it's a pattern."
Hutchinson agreed:
Well, I mean, you could have accidental meetings. Things like that happen. This was not an accidental meeting. It was a setup dinner with Kanye. And so this happened. But you certainly have every occasion that the question of white supremacy or neo-Nazism, or denying the Holocaust comes up. You have got to be absolutely clear in your communication that this is not acceptable dogma, it's not acceptable conversation, it's not acceptable history, and you have to disavow it. It is as simple as that. And I'm very proud of the Republican Jewish Coalition. The former ambassador, US ambassador in the Trump Administration to Israel, has condemned this.
And so what Donald Trump did and his failure to condemn it is really the minority of the party. It's an extreme side of it. And that's what you have got to distance yourself from. And he failed to do that.
Watch below or at this link.
\u201cArkansas Gov. Asa Hutchinson (R) on CNN on Trump dining with a Nazi: "I hope someday we won't have to be responding to what former President Trump has said or done ... this was not an accidental meeting."\u201d

— Aaron Rupar (@Aaron Rupar) 1669559099
Reprinted with permission from Alternet.