Instagram Permits Nick Fuentes' 'Groypers' To Promote Neo-Nazism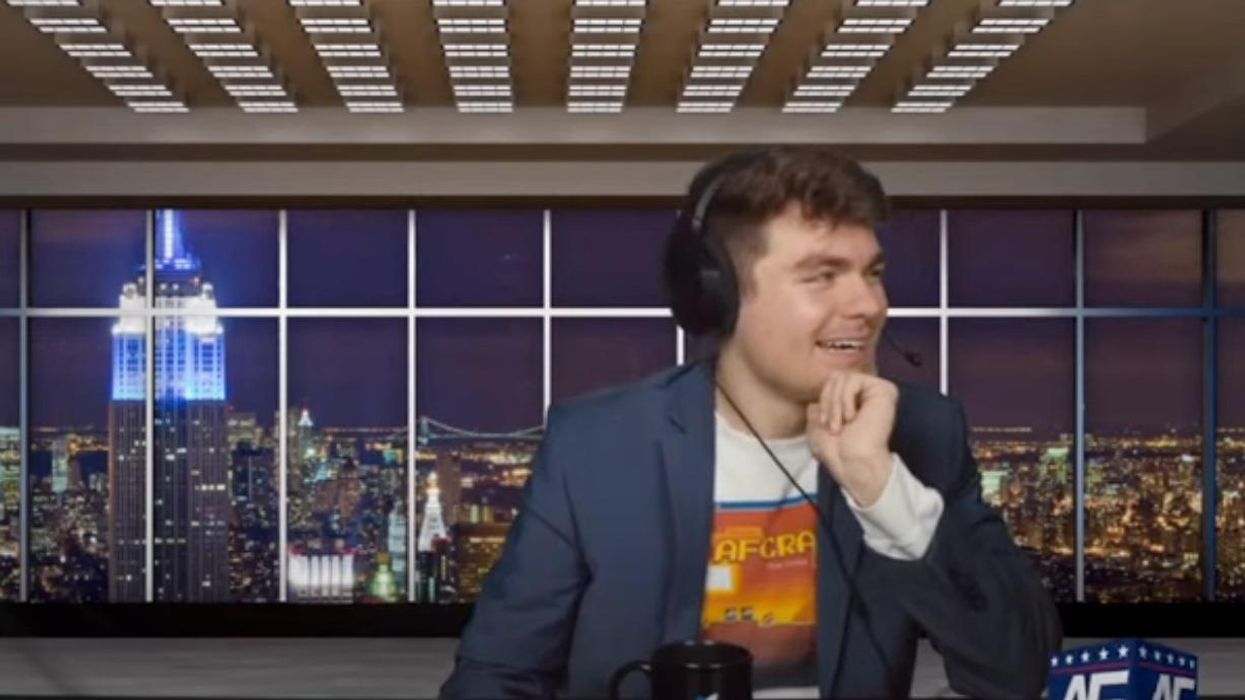 Youtube Screenshot
Instagram is allowing groypers, followers of white nationalist Nick Fuentes, to promote Fuentes' white Christian nationalist ideology on its platform, despite policies that seemingly prohibit such content.

Media Matters has identified at least 18 Instagram accounts associated with Fuentes or the groypers, along with at least 29 additional accounts that promote Fuentes and his America First groyper movement by sharing memes, clips, and links. Many of these accounts feature references to "groypers" or "America First" in their handles, and some are exclusively dedicated to posting clips from groyper livestreams.
We also found that Fuentes' groypers often use Instagram's link sticker feature, which allows users to link to content off the platform, to direct their followers to Cozy.TV, as well as other platforms like Twitter or YouTube. Cozy.TV is a streaming platform that Fuentes launched in 2021, which he describes as "anti-gay, anti-woman, anti-Black, antisemitic." Fourteen of the accounts Media Matters identified link directly to Cozy.TV in their bios.
Fuentes is a 24-year-old streamer who advocates for the mainstream political right in the U.S. to embrace "white nationalist concerns within the shifting consensus that defines movement conservatism." He has openly expressed antisemitic, sexist, racist, and homophobic views. He also participated in the 2017 Charlottesville Unite the Right rally and was subpoenaed for his participation in the protests that led to the January 6 insurrection.
Fuentes and his groypers strategically use internet spaces to market their racist messages and coordinate harassment campaigns. They have also used social media to organize events that seek to radicalize conservatives into backing their far-right beliefs.
Fuentes says he has been removed from several mainstream social media platforms, including Instagram, and also claims to have been blacklisted from several banks, airlines, payment processors, and Airbnb. Twitter banned Fuentes from its platform in 2021 — long after many other platforms had removed him. Fuentes repeatedly tried to evade the ban and return to Twitter, including shortly after Elon Musk took over, but on January 24, Fuentes' original Twitter account was seemingly reinstated. Fuentes' grievances about being blacklisted from mainstream institutions have recently helped him gain traction among more mainstream figures on the right, even though he has also praised Twitter in the past for helping him stay connected with his audience. At the time of publication, Fuentes does not appear to have an Instagram account that he identifies as his.
Meta, which owns Instagram, explicitly prohibits "praise, support and representation of white nationalism and white separatism on Facebook and Instagram." Under the company's dangerous individuals and organizations policy, Meta claims to ban such content and remove individuals and organizations that ascribe to those hateful ideologies.
One of the accounts identified by Media Matters claims to be the official account of Fuentes' Cozy.TV, and it promotes new streamers, special events, donation requests, and merchandise.
Kai Schwemmer, a 20-year-old groyper influencer, currently has over 12,000 followers on Instagram. Schwemmer uses stylized editing and memes to make his far-right content appeal to younger audiences. Schwemmer also maintains active accounts on other mainstream social media platforms and gained traction on TikTok as a member of the Republican Hype House. Schwemmer also has a notable offline presence, speaking at college campuses and conservative events, which he often promotes on his Instagram account.
Paul Escandon, who recently produced a movie about Fuentes, uses his Instagram to promote Fuentes and America First content. Escandon also hosts a show streamed on Cozy.TV, which also has an Instagram account.
Many of the groyper accounts Media Matters identified also use Instagram to post content that seemingly violates the platform's hate speech policy. While some posts explicitly promote racist content, Nazi imagery, and antisemitic rhetoric, others use coded language and dog whistles to send signals to an in-group audience — a phenomenon Media Matters has previously documented.
Reprinted with permission from Media Matters.