'I Call Them Americans': Alabama Senator Defends White Nationalists In Military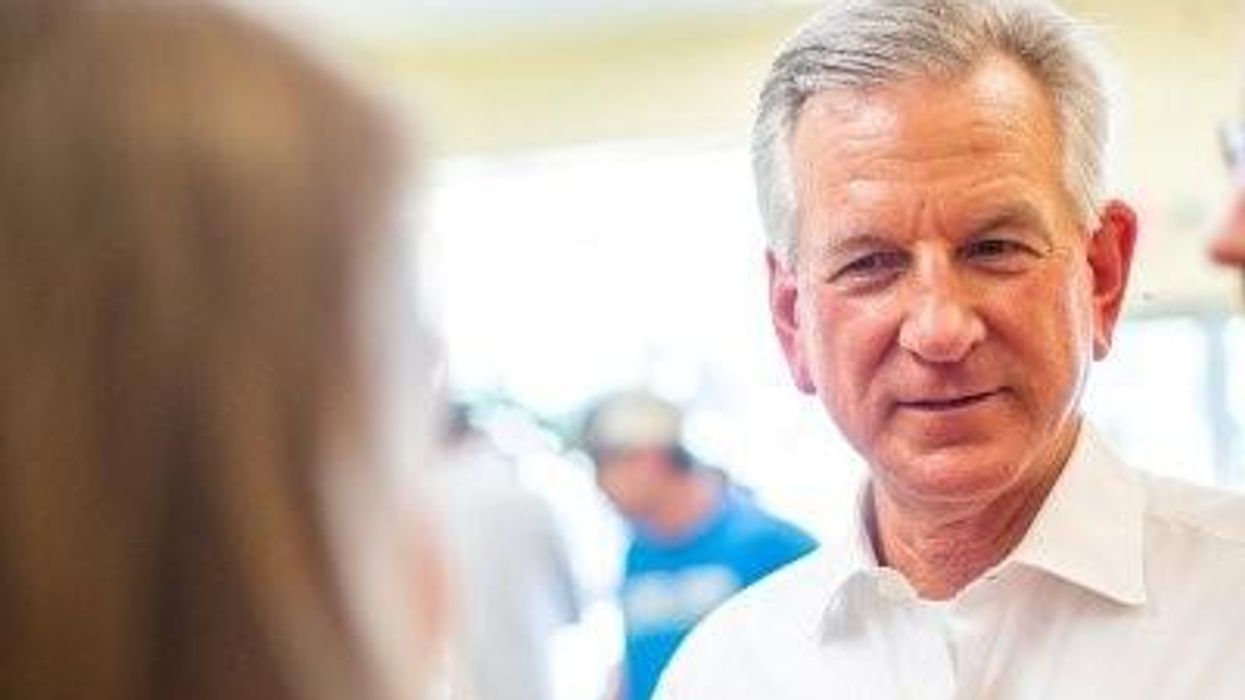 Far-right Republican U.S. Senator Tommy Tuberville of Alabama, already under fire this week for blocking 184 top U.S. Armed Forces nominations and promotions to protest the Biden administration's support of women in the military accessing abortion, is drawing more outrage after declaring support for white nationalists in the U.S. military.
"Democrats are attacking our military, saying we need to get out the white extremists or white nationalists, people that don't believe in our agenda," Sen. Tuberville told Alabama Public Radio WBHM, as AL.com reports. "We cannot start putting rules in there for one type and one group and make different factions in the military because that is the most important institution in the United States of America and [to] our allies is a strong hard-nosed killing machine, which is called our military."
WBHM's Richard Banks asked Tuberville, "You mentioned the Biden administration trying to prevent white nationalists from being in the military. Do you believe they should allow white nationalists in the military?"
"Well," Tuberville replied, "they call them that. I call them Americans."
During the 5-minute WBHM interview, Tuberville also attacked transgender women playing women's sports.
"Given all the initiatives you're working on in the Senate, why put so much focus on this topic? Compared to other issues that affect Alabamians?" asked Banks.
Tuberville first won in 2020 with the endorsement of Donald Trump, defeating Democratic U.S. Senator Doug Jones. He is an election denier who minimized the January 6, 2021 insurrection, and who voted to oppose certifying the election for President Joe Biden.
Also Monday, Tuberville claimed the entire nation is affected by transgender women and girls playing sports.
"It's gonna affect everybody all over the country and the problem they're having in the next couple of weeks is Joe Biden has, he's legislating from the White House and he's basically doesn't care about women's sports and timeline," Tuberville falsely claimed, apparently unaware that as President, Biden has the constitutional authority to mandate how and under what requirements federal dollars are spent.
"He's gonna take a sledgehammer to it because this next couple of weeks, he's going to executive order any school in 2023, starting this year, if you do not abide by his law in terms of males playing against women in sports, you will lose your federal funding."
WBHM added several fact-checks to Tuberville's false statement, including one for his claim about white nationalists in the military.
Although Tuberville apparently supports white nationalists in the military, WBHM reports: "Concerns about white nationalists in military ranks extend before Joe Biden won the 2020 presidential election. For instance, an October 2020 Pentagon report to Congress detailed the military's efforts to keep extremists, particularly fascists, out of the military."
Last fall, just before the election, at a Trump rally in Nevada, Tuberville made racist remarks.
"The Democratic Party, they have the majority, they could stop this crime today. They said, some people say 'well, they're soft on crime.' No, they're not soft on crime, their program, they want crime. They want crime because they want to take over what you got. They want to control what you have. They want reparations because they think the people that do the crime are owed that. Bullsh*t," he said. "They are not owed that."
On Tuesday, after news of Donald Trump being found liable for sexual assault and defamation, among other allegations, in a civil court trial that also ordered him to pay $5 million to E. Jean Carroll, Tuberville defended the ex-president.
HuffPost senior politics reporter Igor Bobic had tweeted, "GOP Sen. Tuberville says the NY verdict against Trump 'makes me want to vote for him twice.'"
The Alabama Senator responded with a simple tweet suggesting he is all-in on Donald Trump:
"100% #MAGA," Tuberville wrote.
Reprinted with permission from Alternet.