GOP Blames SVB Crash On Biden, But Trump Rolled Back Bank Regulations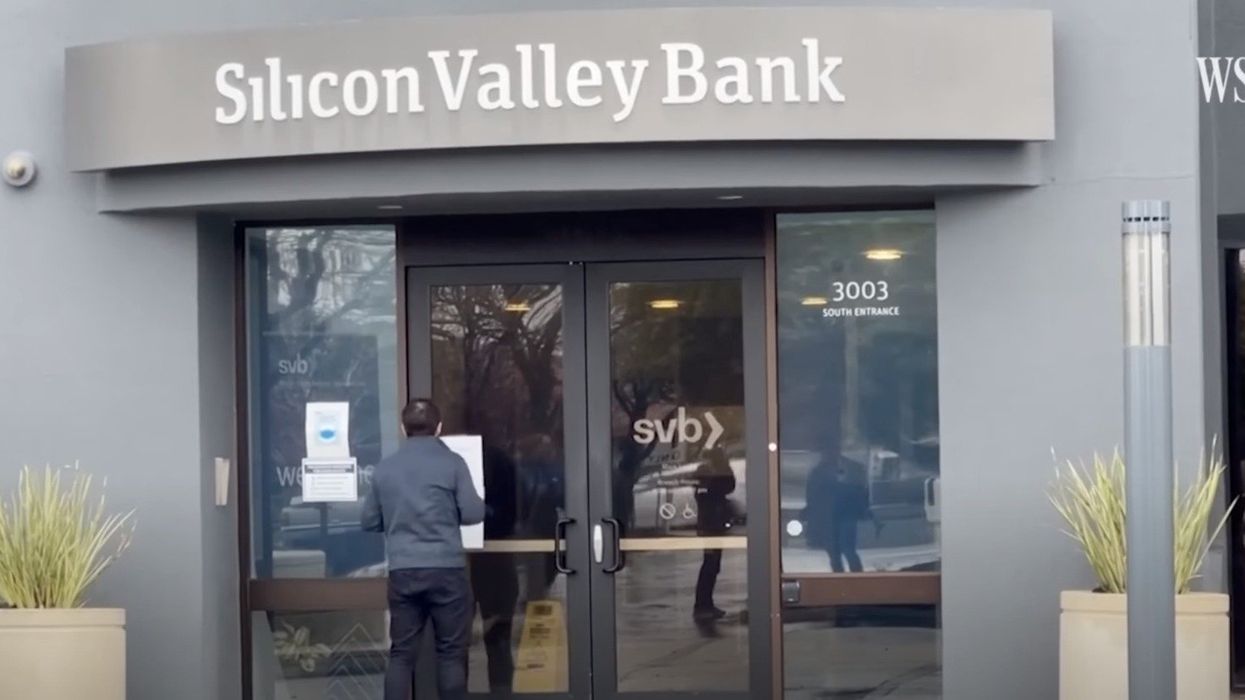 Prominent Democrats pointed fingers at a Trump-era law that weakened oversight over banks like SVB.
Republicans are blaming the collapse of Silicon Valley Bank on Democratic policies and "woke" politics, using the crisis as a political cudgel against President Joe Biden and his party.
Experts say that SVB, based in Santa Clara, California, failed because of poor decision-making by bank leadership and bad investments. But that hasn't stopped Republicans from making baseless accusations and false statements about the situation. Democrats, meanwhile, have pointed out that it was former President Donald Trump who was responsible for loosening oversight of banks like SVB.
Rather than "woke" politics, reports say the bank invested in too many low-interest rate bonds, and when it tried to solve the problem, it spooked investors, who responded by trying to take their money out of the bank all at once, leaving it without enough money to give customers and ultimately taking the bank down. Republicans, meanwhile, are using cliched rhetoric around inflation, immigration, and diversity efforts to attack the administration over the bank's collapse.
"Banks are failing, groceries are unaffordable, cartels control our border & fentanyl is flooding our streets," Rep. Mary Miller (R-IL) tweeted on Sunday. "Joe Biden has led a drastic decline by putting AMERICA LAST. How much more damage will he do in the next 2 years? He should be IMPEACHED over the border alone!"
Rep. Clay Higgins (R-LA) made similar comments.
"Biden & his leftist policies are crashing banks, evaporating wealth, crippling us w/ debt, settling into WWIII, crime is rampant, & cartels control our border," he tweeted on Sunday. "But hey, they've established gender diversity in our schools, they're fixing climate change and our military is woke."
And Rep. William Timmons (R-SC) blamed Democrats for inflation that is "now bringing down banks."
Donald Trump Jr., Trump's eldest child, falsely said banks didn't fail during his father's tenure.
"I don't remember banks collapsing under Trump," he tweeted. "But don't worry guys it's only a matter of time till Biden/media blames him for that too. It has nothing to do with high interest rates / fed rate hikes necessitated by record inflation caused by his out of control spending."
In fact, 15 banks failed while Trump was in office, according to the Federal Deposit Insurance Corporation (FDIC), in Nebraska, Kansas, Illinois, Texas, Kentucky, Ohio, New Jersey, West Virginia, Utah, Louisiana, Wisconsin, and Florida.
Democrats are blaming the collapse of SVB and the ensuing closure by regulators of Signature Bank in New York on a law signed in 2018 by Trump that rolled back oversight of small and midsize banks like SVB. The rollback raised the dollar amount banks had to be responsible for in order to be considered too big to fail and said banks that were not worth at least $250 billion did not need to submit to stress tests. SVB CEO Greg Becker had lobbied the then-Republican-held Congress to roll back the regulation.
Sen. Elizabeth Warren (D-MA), who warned in 2018 that weakening oversight of so-called small and midsize banks could lead to situations like the ones SVB and Signature are currently in, wrote in an op-ed published in the New York Times Monday that SVB "suffered from a toxic mix of risky management and weak supervision."
"Had Congress and the Federal Reserve not rolled back the stricter oversight, S.V.B. and Signature would have been subject to stronger liquidity and capital requirements to withstand financial shocks," Warren wrote. "They would have been required to conduct regular stress tests to expose their vulnerabilities and shore up their businesses. But because those requirements were repealed, when an old-fashioned bank run hit S.V.B., the bank couldn't withstand the pressure — and Signature's collapse was close behind."
Biden also blamed the Trump law in part for the SVB collapse during remarks at the White House on Monday morning:
During the Obama-Biden administration, we put in place tough requirements on banks like Silicon Valley Bank and Signature Bank, including the Dodd-Frank Law, to make sure the crisis we saw in 2008 would not happen again.
Unfortunately, the last administration rolled back some of these requirements. I'm going to ask Congress and the banking regulators to strengthen the rules for banks to make it less likely that this kind of bank failure will happen again and to protect American jobs and small businesses.

Reprinted with permission from American Independent.