Failed Banks, Greedy Republicans, And Painfully Preppy Bowties
@LucianKTruscott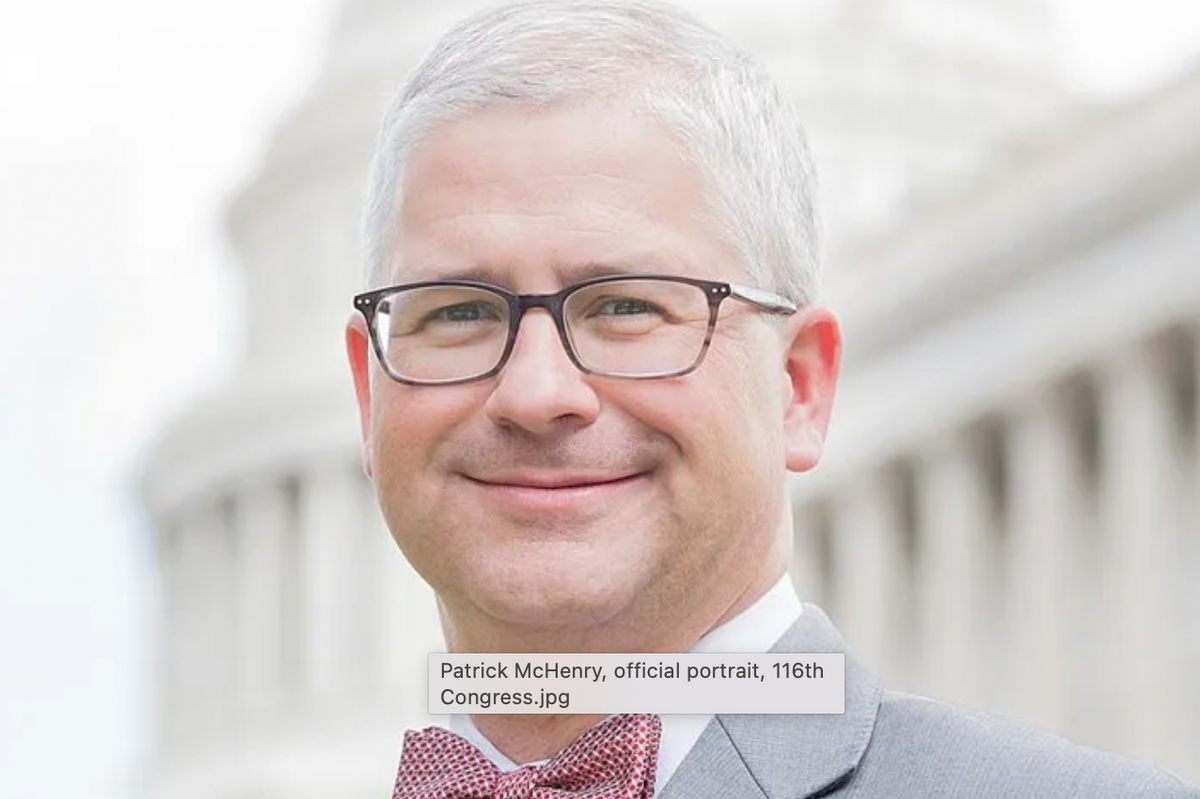 I'm going to stay on jerks like this guy for the long haul. To contribute to the cause, please buy a Substack subscription.
Here's one for the record books: Republican Congressman Patrick McHenry of North Carolina has decided that he is going to return tens of thousands of dollars he received at a campaign fundraiser recently. Who is Patrick McHenry, you might ask? Well, take a look at his picture above, which, depending on your mood today, might tell you a little about him:
Other than wearing painfully preppy bowties and showing signs of being enormously pleased with himself, McHenry spends his time these days as the Chairman of the House Financial Services Committee. And why am I writing about him? The campaign donations that McHenry uncharacteristically decided to return this week came from a fundraiser held for him at the Fifth Avenue headquarters of Signature Bank, hosted by the bank's now-disgraced chairman and co-founder Scott Shay.
Why is Scott Shay disgraced, and why did McHenry decide that it would be a good idea to return all that money raised for his congressional campaign, his "Innovation" PAC, and the National Congressional Campaign Committee? Well, the fundraiser happened to be held just ten days before the state of New York seized Signature Bank on March 12 and turned it over to the Federal Deposit Insurance Corporation for liquidation or sale.
Get this: the fundraiser for McHenry was held in the bank's boardroom at the bank headquarters. Invitations that went out for the event informed potential donors that they could attend the event for $1,000, be listed as a "sponsor" for $2,900, or they could be one of the event "hosts" for the low-low sum of $5,800. McHenry, by the way, has received more than $188,000 from Signature Bank employees since 2017.
You may be wondering why regulators found it necessary to seize Signature Bank right now. To answer this question, we will turn to a one-time director of the bank, former New York Sen. Alphonse D'Amato: "Their downfall came when they got into this crypto business," D'Amato told Bloomberg after the bank's collapse. The bank had suffered what Bloomberg described as a "torrent" of withdrawals on Friday, March 10, amounting to more than $10 billion. Earlier on Friday, Silicon Valley Bank had been seized in what became the third largest bank failure in U.S. history.
Signature Bank had ties to Trump son-in-law Jared Kushner, and before that, to (then) Trump lawyer Michael Cohen, who held an interest in a company that had bought up Taxi medallions in New York City when they cost up to $1 million each, and was left holding a bag of worthless metal when Uber and Lyft hit the New York Market and the taxi medallion business collapsed. Signature Bank was a big lender to landlords in the city, of which Kushner was only one, and regularly made the New York Public Advocate's "Worst Landlord's List" for all the loans it had made to slumlords in the city.
Shortly after the bank's downfall, it was revealed that Signature Bank had been under investigation by the Department of Justice and the Securities and Exchange Commission for failing to have taken adequate steps to detect money laundering by its clients, particularly its accounts with cryptocurrency markets. Global Coinbase Inc., a crypto exchange, and Circle Internet Financial Ltd., which was the main issuer of a so-called "stablecoin" called USDC, were both depositors at Signature Bank, as were Cameron and Tyler Winklevoss, who ran Gemini Trust, one of the first cryptocurrency exchanges.
Crypto businesses that issue imaginary currency like bitcoins and so-called stablecoins and function as exchanges for various forms of cryptocurrency have generally had a hard time getting accounts with major banks like J.P. Morgan Chase and Bank of America, which shied away from the high-flying crypto market. Bloomberg reported that Signature Bank held "as much as $10 billion in deposits from digital asset clients" at the time of the collapse of FTX, the giant crypto exchange, last November. The failure of FTX sent the value of cryptocurrency plunging. When holders of cryptocurrency began wanting to exchange their various forms of crypto back into dollars, those dollars in many cases were sitting in accounts of Signature Bank, putting downward pressure on the bank's cash reserves when the money began to flow back into the hands of the former crypto holders.
Republican Rep. McHenry is investigating the recent bank collapses with his Financial Services Committee. Uhhh…that would include the collapse of Signature Bank, which has been so generous to him both in the past and lately. Asked by reporters for NBC News if he intended to recuse himself from the investigation into the failure of Signature Bank, McHenry said he "could not be influenced by campaign cash."
"When people contribute to me, it's an endorsement of my agenda — not the other way around," McHenry told NBC in off-camera remarks at a Republican retreat yesteday in Orlando, Florida. "In this circumstance, we had not processed the contributions and we returned them all."
The failed Silicon Valley Bank has given more than $10,000 to McHenry in four separate contributions since 2015, according to NBC.
It is unknown whether McHenry intends to return Silicon Valley Bank's contributions to his campaigns.
If you were wondering why regulations on middle-sized banks like Silicon Valley Bank and Signature Bank are lax and clearly contributed to the failures of the banks, well, maybe McHenry will tell us at his hearings of the Financial Services Committee why he and his Republican colleagues voted for Trump's bill exempting those banks from the Dodd-Frank law that was passed after the last run of bank failures during the recession of 2008, and why he was taking money from both banks for his campaigns.
But don't hold your breath.
Lucian K. Truscott IV, a graduate of West Point, has had a 50-year career as a journalist, novelist, and screenwriter. He has covered Watergate, the Stonewall riots, and wars in Lebanon, Iraq, and Afghanistan. He is also the author of five bestselling novels. You can subscribe to his daily columns at luciantruscott.substack.com and follow him on Twitter @LucianKTruscott and on Facebook at Lucian K. Truscott IV.
Please consider subscribing to Lucian Truscott Newsletter, from which this is reprinted with permission.