No Comparison: The Biden And Trump Classified Documents Cases
@LucianKTruscott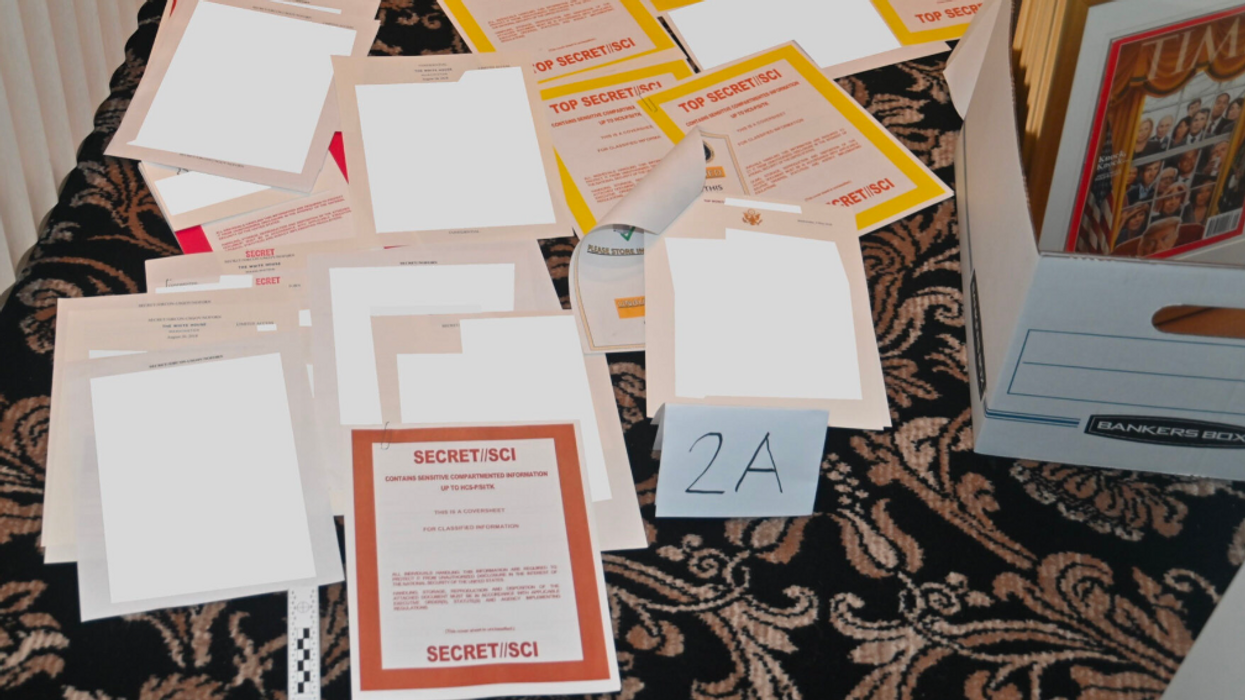 Stay tuned for more coverage of this and other political stories. Buying a subscription would certainly help out as I post more of these screeds.
I'm getting a creepy feeling this subject is going to be talked about all year and into the next, making it prime meat as a campaign issue against President Joe Biden if he decides to run for reelection. And there is more: Be forewarned that the fairness doctrine doesn't apply in politics.

Today, the Republican-led House Oversight Committee wrote to the White House and asked for the visitor logs for Biden's house in Wilmington, Delaware. "Without a list of individuals who have visited his residence, the American people will never know who had access to these highly sensitive documents," Rep. James Comer (R-KY) wrote to White House Chief of Staff Ron Klain.
Take a deep breath before you read the next sentence. No, the House Republican chairman of the Oversight Committee didn't send an equivalent letter to former president Donald Trump, asking for visitor logs for Mar-a-Lago. Can you imagine? They would have to send a box truck for the Mar-a-Lago logs, with all the weddings and fund raisers and Christmas and New Years celebrations held there every year.
As the New York Times proved in an excellent interactive photo piece a couple of months ago, there were not one, but two entrances to the Mar-a-Lago ballroom that had direct access to the stairway above it, at the top of which was Trump's office, from which many of the most sensitive classified documents were recovered by the FBI during their August search of the property. There would also have to be a list of the many, many employees of caterers and staff of Mar-a-Lago who had access not only to the ballroom, but to the storage room in the basement where the chairs for events in the ballroom were stored. As we know, Trump kept classified documents in the basement storage room where there was no lock until the Department of Justice demanded that one be installed in June of last year.
Asked on a CNN Sunday morning show why he hadn't requested visitor logs from Trump for his club/hotel/residence, Mar-a-Lago, Comer replied, "I don't feel like we need to spend a whole lot of time because the Democrats have done that for the past six years."
So, there you have it: This is the way what must now be referred to as the Trump/Biden classified documents cases will play out between now and November of 2024. Remember all the excuses the Trump people and Republicans made for the presence of hundreds of classified documents recovered by the FBI from Mar-a-Lago? Oh, the documents ended up there because of the chaotic packing-up of Trump's White House in the final days before January 20, 2021. It's just a simple disagreement with the National Archives. Trump wasn't aware of what was down there in some musty storage room in Mar-a-Lago! That was handled by underlings.
And of course, they argued that everybody did it, meaning that every president accidentally took classified documents from the White House when they left office.
That one stings a little, given the recent drip-drip-drip of stories about classified documents turning up in Biden's garage (locked, he pointed out the other day) stored alongside his vintage Corvette.
James Sauber, one of the White House counsels, announced last week that "a small number" of classified documents had been found among Biden's papers at the Penn Biden Center think tank in Washington. Then more classified documents were found at Biden's home in Delaware. On Saturday, the White House said that five more pages of classified documents were found at Biden's Delaware residence. In each case, the documents were reported to the National Archives (NARA), which sent people to retrieve them.
I hardly have to remind you what happened in the case of the Trump documents, but here it goes: NARA began to seek documents it thought had been taken by Trump from the White House back in mid-2021. Trump stiff-armed them until the NARA officials informed his lawyers that the agency was turning the case over to the Department of Justice. Suddenly, in January of 2022, Trump turned over 13 boxes of documents to the NARA, which found classified documents among them.
The DOJ stayed involved and sent a subpoena for classified documents to Trump in May. Trump's lawyers responded in June, turning over an envelope containing several classified documents to representatives of the DOJ at that time. They also had one of Trump's lawyers – who worked for his Super PAC – sign a statement saying the documents were recovered during a diligent search of Mar-a-Lago. It didn't amount to a sworn statement that they had turned over all the classified documents Trump had, but it was close.
The DOJ developed information, apparently from employees in Mar-a-Lago, that there were more documents stored there, and in August executed a search warrant. They recovered 13,000 more documents from the basement storage room. Among those and other documents from Trump's office were 113 more classified documents. The DOJ started calling Trump employees before a Washington D.C. grand jury. It turned out that several of those employees had lawyers paid for by organizations run by Trump, such as his Super PAC. Several of the Trump employees took the Fifth Amendment during their grand jury testimony.
Attorney General Merrick Garland appointed Jack Smith, who was serving as a war crimes prosecutor at the Court of International Justice at the Hague, as special prosecutor. He took over the documents investigation and has issued new subpoenas for more testimony about the documents case, as well as the investigation of Trump's efforts to overturn the results of the 2020 election.
Now a second special prosecutor, Robert Hur, has been appointed to investigate the Biden classified documents. Biden's lawyers have announced that they are fully cooperating with the investigation. In contrast, Trump filed suit in a Florida federal court last year to stop the use of the classified documents in the DOJ investigation, delaying the investigation for several months while the case wound its way not once, but twice, through the 11th Circuit Court of Appeals.
Finally, the 11th Circuit threw out Trump's lawsuit. The "special master" process that had been ordered to go through all 13,000 of the seized documents was ended and the documents – all of them, classified and unclassified – were returned to the DOJ for their investigation.
So, you get the picture: Trump took thousands of documents from the White House on purpose and fought tooth and nail for two years to keep them and to stymie both the NARA and the DOJ. Biden took a small number of classified documents with him when he left the vice presidency – we don't know the number, but it's more than ten – and immediately turned them over to the National Archives and is cooperating with the DOJ and the special prosecutor appointed to investigate the case.
You can depend on House Republicans to continue to make a big deal about the Biden classified documents while pooh-poohing what Trump did. What else is new? It's who they are, and it's who Trump is, but it's going to be a pain in the collective ass of the Democratic Party. House Republicans are writing letters and making requests now, but they will follow up with subpoenas – the same kind of subpoenas that multiple Trump witnesses either avoided or completely refused to comply with – Hi, Steve Bannon! – and we'll hear about every single one of them, no matter what they end up proving – Hi! Benghazi Committee!
I hate to say this but watch this space. We're only halfway through January. It's promising to be a very, very long year.
Lucian K. Truscott IV, a graduate of West Point, has had a 50-year career as a journalist, novelist, and screenwriter. He has covered Watergate, the Stonewall riots, and wars in Lebanon, Iraq, and Afghanistan. He is also the author of five bestselling novels. You can subscribe to his daily columns at luciantruscott.substack.com and follow him on Twitter @LucianKTruscott and on Facebook at Lucian K. Truscott IV.
Please consider subscribing to Lucian Truscott Newsletter, from which this is reprinted with permission.