Trump Attorney Offers Bizarre Excuse For Keeping 'Classified' Folder
@next2godwin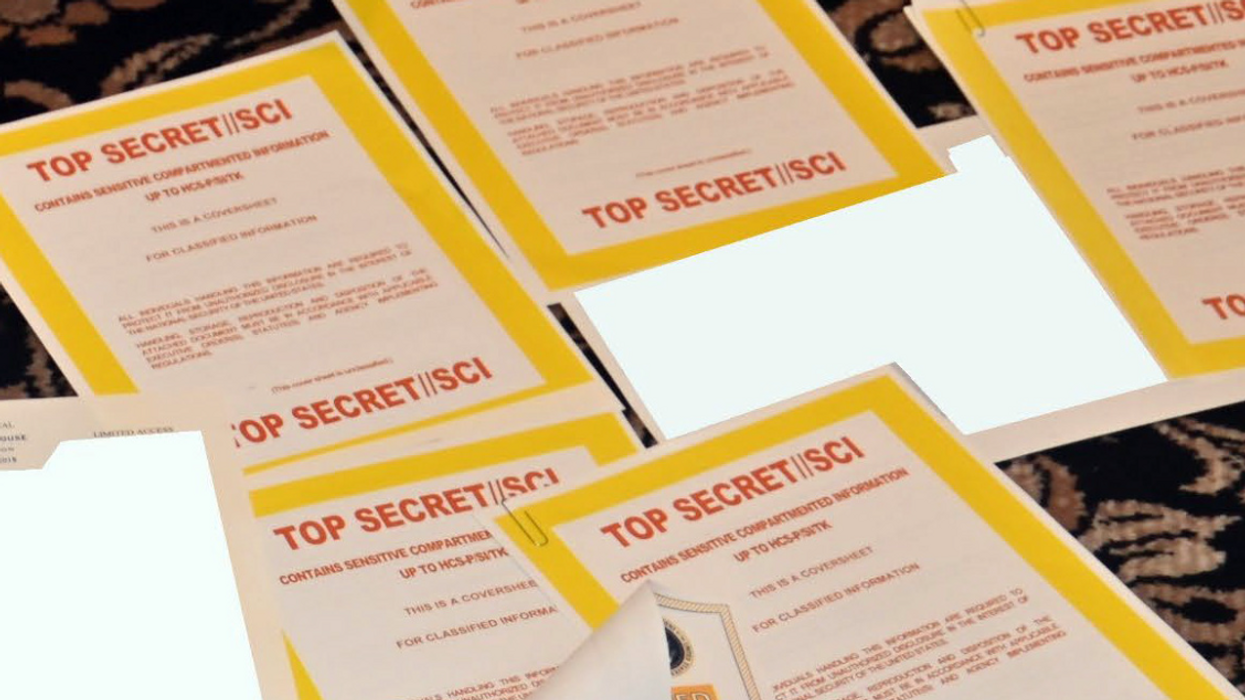 Fox Poll: Most Americans Say Trump Wrongly Took Government Documents
A Trump attorney has described public discourse on a recently discovered "classified" folder at Mar-a-Lago as much ado over nothing — because Trump used the folder only to block a light that kept him up at night.
"He has one of those landline telephones next to his bed, and it has a blue light on it, and it keeps him up at night. So he took the manilla folder and put it over so it would keep the light down so he could sleep at night," Trump lawyer Timothy Parlatore said in a CNN Interview on Sunday.
Parlatore quipped to the CNN anchor, Paula Reid, that the folder — labeled "classified evening summary" and found in Trump's bedroom — was "one of the more humorous aspects of this whole thing" and not classified despite its label containing the word.
"It is not a classification marking. It's not anything that is controlled in any way. There's nothing illegal about it. There's nothing in it," Parlatore said.
The claim was the latest in a Rolodex of bizarre explanations offered by Trump allies in defense of the ex-commander-in–chief from whom the Justice Department has, for months, sought to retrieve a horde of illegally kept and inadequately stored classified documents.
Parlatore, who represents Trump in the special counsel probe into the ex-president's handling of classified documents, said that the Justice Department "went crazy" when it learned about the folder.
"When DOJ found out about it, they went crazy. They gave me a subpoena to say, 'give us over this empty folder that means nothing.' Everything we have done as part of the search has been in the spirit of full cooperation and compliance," he told Reid.
"Now the president has to find a different way to keep the blue light out of his eyes," he added.
When Reid asked Parlatore why classified material kept turning up in Trump's possession, the attorney suggested his client was as much a victim of the White House's improper "procedures for handling classified information" as President Biden and ex-Vice President Mike Pence.
"What has happened here that you've seen here and also in the Biden and Pence investigations is that the White House does not have proper procedures for handling classified information.
"And these documents, when they get backed up and sent out when people leave office, they do keep showing up, if you will," he said.
[Tweet]
The folder was one of several items turned over to federal investigators between December and January, over four months after the FBI searched Trump's Florida home and retrieved reams of secret government records, over a hundred of which were marked classified.
Parlatore insisted Trump's legal team had mentioned the folder in its report to the DOJ and had alerted the agency to its presence. He also accused the DOJ of leaking the handover to the press.
"These were not turned over last week, although, you know, the DOJ leaked it last week. This was turned over back in December. And so, we have gone through, we've tried to work with the DOJ. We've tried to do searches of all the relevant places. And anytime we've found anything, we've immediately turned it over," he said.
From the onset, Trump and his allies have tried to downplay the findings as inconsequential with myriad excuses, from claiming that Trump had declassified the documents as president to falsely accusing Biden of weaponizing federal agencies against political opponents.
ABC News and CNN reported over the weekend that the formerly undisclosed tranche of handovers included a laptop onto which a Trump aide had copied several document pages with classified markings using a thumb drive.
The aide, several outlets reported, works for Trump's Save America political action committee, which is under investigation by a federal grand jury looking into the January 6, 2021, attack on the U.S. Capitol.
"She was working as an aide to the president. And this is a box that had all of his daily schedules from his time in office. And she scanned all of those as part of, you know, being available for future speeches or biographies or things like that," Parlatore said of the aide.
"And after we did the search in December and we found that within this box of thousands that there were a couple of pages that had a little marking at the bottom, which we turned over," he continued.
"After that, we found out that she had scanned the box so that it would be digitized. She had no idea that there were any classification markings on anything. And as soon as we found out about that, we called up DOJ to let them know. And immediately provided them access to it," he concluded.
A Trump spokesperson has since branded the classified documents probe "a targeted, politically motivated witch hunt against President Trump, concocted to try and prevent the American people from returning him to the White House," per ABC News.
"Just like all the other fake hoaxes thrown at President Trump, this corrupt effort will also fail," the spokesperson wrote.