Arizona GOP Candidate Mocks Opponent's Military Service — And Ailing McCain
@EricBoehlert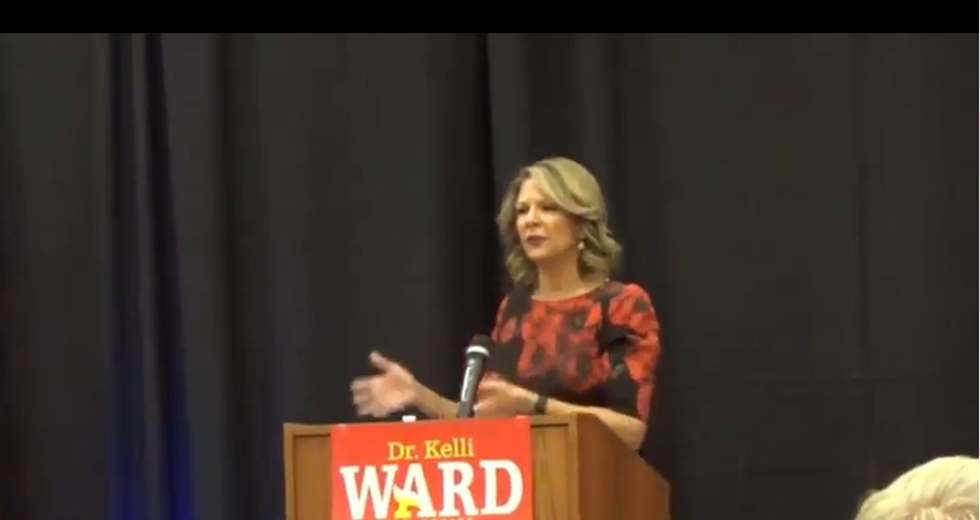 Reprinted with permission from Shareblue.com
Arizona Republican Senate candidate Kelli Ward took a nasty page out of Trump's playbook recently when she attacked her opponent's military service and Sen. John McCain's time as a prisoner of war in Vietnam.
At a campaign event with former Trump crony Sebastian Gorka, Ward first made fun of one of her primary opponents, Rep. Martha McSally. McSally often touts her time in the military, but Ward dismissed that as mere "fluff."
"We can't be fooled by those fluff ads that come in your mailbox, and the 30 seconds you see, because someone's a pilot, they'd make a good senator," Ward said. "We've seen that, we've seen that ad before."
"The last guy that was a pilot and became a senator in Arizona …" Ward continued, a clear reference to McCain.
McCain served as a Navy aviator during the Vietnam War. A surface-to-air missile took downMcCain's bomber. Enemy forces then captured him and held him as a prisoner of war for five years.
Trump himself crassly mocked McCain during the presidential campaign. He insisted McCain wasn't a war hero because heroes don't get captured.
In contrast to McCain, Trump used a claim of bone spurs to avoid serving in Vietnam. He got five deferments over the course of the draft — something McCain himself indirectly ripped.
Ward's snide attack on McCain came as he struggles through brain cancer treatment. And it is disturbingly reminiscent of Trump's brand of cruelty.
Indeed, in attacking and belittling those who serve in the military, Ward is following Trump's well-known playbook.
In addition to insulting prisoners of war, Trump has attacked two different Gold Star families. He has threatened to kick out troops based on gender identity or immigration status. And he proposed dissolving a program for homeless veterans.
Ward's mockery of military service and belittling of a gravely ill senator represents but one reason why Republican leaders are starting to panic about the Arizona race.
Fears are mounting that the three announced candidates — criminally racist Joe Arpaio, Trump enthusiast McSally, and conspiracy theorist Ward — are all so far to the right that they will create an opening for a Democratic victory in November.
The GOP is especially concerned about the fringe doings of Arpaio and Ward.
"Some Republicans have wondered whether the White House should intervene and hasten a showdown between McSally and Rep. Kyrsten Sinema, the Democratic recruit who is seen by Republicans as a real threat to win in November," the Washington Post reported on Monday.
Except for backing Bill Clinton in 1996, Arizona has been a dependably Republican state. And it has voted Republican in every other presidential election since 1952.
Yet the non-partisan Cook Report currently rates the open Arizona Senate race, prompted by Sen. Jeff Flake's retirement, as a toss-up.
The GOP may be seeing the Trump effect in Arizona. And they have only their own callous candidates to blame for it.