Arizona GOP Sues To Prevent Full Vote Count In Senate Race
@EricBoehlert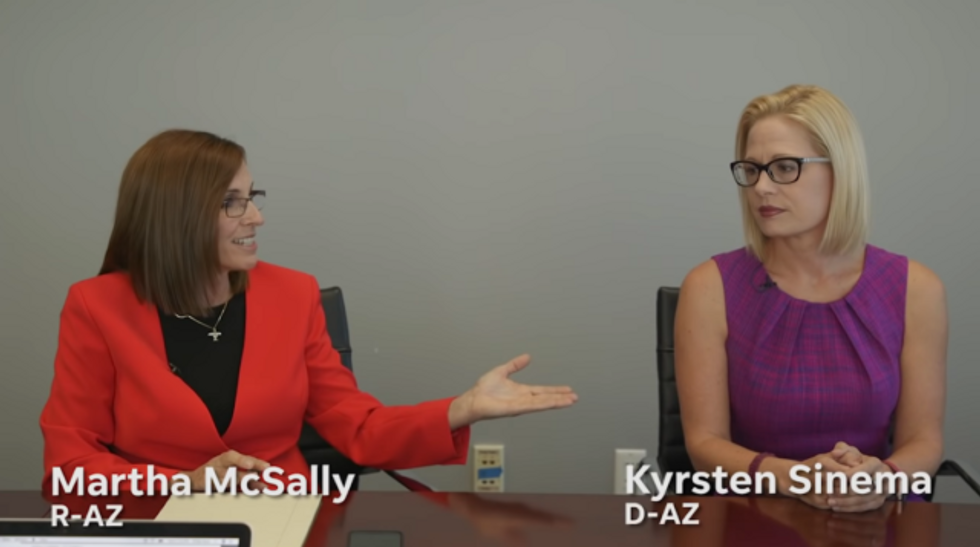 Reprinted with permission from Shareblue.
Republicans have gone to court to try to keep certain ballots from being counted in the Arizona Senate race, which is still too close to call and where an unfolding recount could take weeks to determine a winner.
Democrat Kyrsten Sinema and Republican Rep. Martha McSally remain separated by less than 20,000 votes, in a race where more than 600,000 ballots remain uncounted and nearly two million people voted.
Yet Republicans, always eager to suppress Democratic votes, are demanding that an entire category of mailed-in ballots be set aside — and they're singling out Arizona's two biggest urban counties, which just so happen to strongly favor Sinema, NBC News reports.
"The lawsuit seemed to signal Republicans' anxiety over Thursday's expected posting of additional results from Maricopa County, the most populous area of the state, where Sinema has dominated so far," the Arizona Republic notes.
At issue is the state's laborious mail-in voting process, and specifically what happens if officials suspect that the signature on a ballot does not match the one they have on file.
Some counties work under the presumption that they can contact voters after Election Day and allow them to verify their identity.
But Republicans insist in their lawsuit that officials are only allowed to contact voters prior to Election Day.
A Democratic election attorney, Andy Gordon, dismissed the claims as frivolous.
"There are counties all over the state who have been doing this forever," Gordon said. "We've got a really, really, really tight Senate race, suddenly the Republicans say, 'You shouldn't be doing this, we need to call it off.'"
Arizona hasn't elected a Democratic senator in two decades. The state has never elected a Democratic woman to the U.S. Senate.
McSally has spent her campaign constantly lying about her position on health care, especially when it comes to her previous eagerness to repeal Obamacare.
At one point while serving in the House, McSally was so excited to pass an Obamacare repeal bill that she reportedly told her colleagues, "Let's get this f–king thing done!"
That bill would have kicked millions of Americans off their health insurance, and allowed companies to jack up premiums on people with pre-existing conditions and price them out of the market entirely.
Yet on the campaign trail, McSally falsely portrayed herself as a champion of affordable health care and a guardian of those suffering from pre-existing conditions.
Now Republicans are scrambling to rig the system to make sure McSally isn't held accountable for her lies by the many Arizona residents who voted against her.
Published with permission of The American Independent.