Arnold Schwarzenegger: Climate Action Hero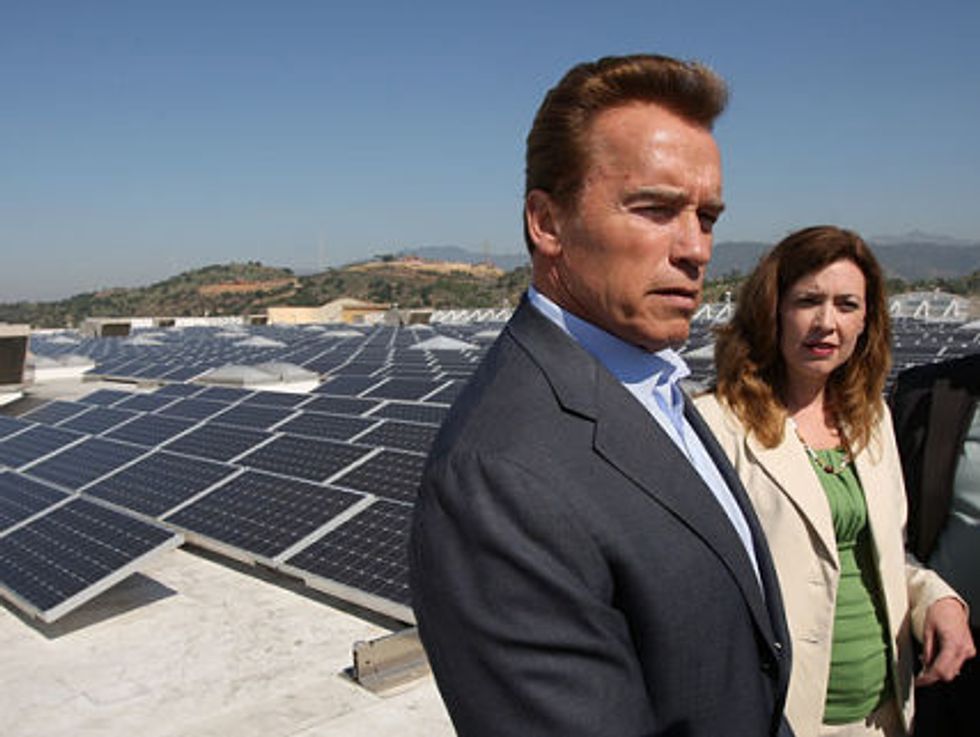 Arnold Schwarzenegger is turning into a climate action hero.
The Hollywood actor and former California governor recently launched the University of Southern California Schwarzenegger Institute for State and Global Policy, whose stated mission is "advancing post-partisanship, where leaders put people over political parties and work together to find the best ideas and solutions to benefit the people they serve."
One of the five policy areas the Institute focuses on is energy and the environment, and since one of their guiding principles is that "science and evidence have an important role to play in finding solutions," it makes sense that addressing climate change is high on the agenda.
In that spirit, Schwarzenegger recently returned to his native Austria for a conference on how subnational governments around the globe aren't waiting for climate action at the federal level when it comes to implementing the sustainable energy future. The former governor is founding chair of Regions of Climate Action (R20) and hosted the R20 conference in Vienna. He was joined by two prominent cabinet members in his administration who are now helping Schwarzenegger take climate action — former California Environmental Protection Agency secretary Terry Tamminen, who is the R20 founding chair's strategic advisor, and former Senior Advisor and California Secretary of Education Bonnie Reiss, who is currently the global director at the USC Schwarzenegger Institute.
In a phone interview with The National Memo, Reiss said Schwarzenegger considers himself a "Teddy Roosevelt Republican" (the 26th president was a conservationist and environmentalist who created the National Wildlife Refuge System).  Reiss checked off Schwarzenegger's list of environmental achievements while governor — signing the Global Warming Solutions Act of 2006 into law, establishing the Low-Carbon Fuel Standard Program by executive order, expanding and accelerating the state's Renewable Energy Portfolio Standard Program, and hosting three global climate summits.
"In California, because we have a Democratic-controlled legislature, Arnold, who cares about championing the environment and addressing climate issues, was able as governor to work very well across the aisle with Democrats," said Reiss.
Can Schwarzenegger help break the partisan gridlock in Washington at a time when his Republican Party has been taken over by ideologically rigid and reflexively anti-Obama right-wingers? Do moderate, bipartisan ideas have a place in today's GOP?
In an email response to The National Memo, Schwarzenegger sounded a lot like President Obama, saying "I always believed that elected leaders need to be 'the people's servants,' not the 'party's servants.' The people of California and the nation do not see the air as Republican air or Democrat air, they just want clean air. The people don't see Democrat schools or Republican schools, they just want good schools for their kids."
Photo credit: David McNew/Getty Images North America