Author And Poet Maya Angelou Dies At 86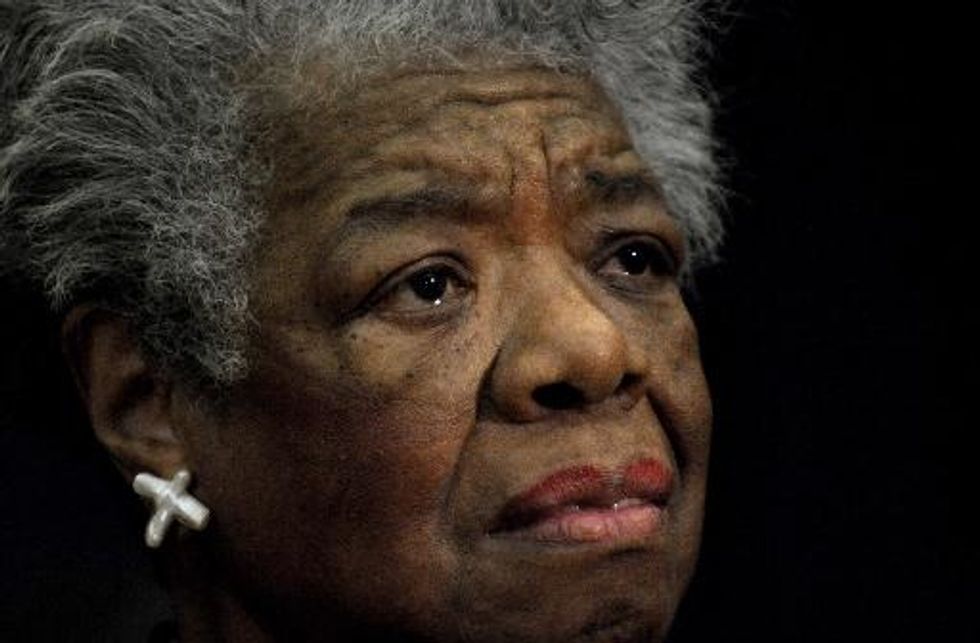 By Elizabeth Leland, The Charlotte Observer
"She was an extraordinary, charismatic person," Edwin Wilson, a former provost at Wake Forest University where Angelou taught, told The Charlotte Observer years ago. "She had a way of bringing an audience very much to within her grasp."
After Bill Clinton was elected president in 1992, he asked her to read a poem at his inauguration, the first poem at an inauguration in 32 years.
She called it "On the Pulse of the Morning," and in it she spoke of hope for the country's future, but also reminded listeners of two despairs from the past: the Trail of Tears and slavery.
History, despite its wrenching pain
Cannot be unlived, but if freed
With courage, need not be lived again.
Angelou was born Marguerite Johnson in 1928 in St. Louis. She was raised by her paternal grandmother in Stamps, Arkansas — "swollen-belly poor," she described it. At 16, she had her only child, son Guy Johnson. She married and divorced at least two times, but would never say how many.
She was a poet, dancer, actress, songwriter, civil rights activist, streetcar conductor, Creole cook, cocktail waitress, filmmaker, script writer. While touring as an entertainer in Europe and Africa in the 1950s, she assumed the name Maya Angelou.
In 1969, she emerged as an author. Her first book, "I Know Why the Caged Bird Sings," was a critical and commercial success. In it, she described being raped at age 7 by her mother's boyfriend.
"I had to make a decision that I would tell a truth which might liberate me, and might liberate others," she told the Observer in 1994. "I have a file in my office filled with letters from women and men, mostly women, who read 'Caged Bird' and somehow felt liberated enough to tell their mothers, or to confront their fathers or their uncles or their brothers, as grown women, and to say, 'This was cruel, what you did to me.' "
She dedicated the book to her son, Guy Johnson, and "all the strong black birds of promise who defy the odds and gods and sing their songs."
For six years after the rape, Angelou said, she rarely spoke, and only to her brother. That experience nurtured the writer in her.
"I spent six years as a mute," she told The Atlanta-Journal Constitution in 2002, "and so I had read everything." And I had memorized. I memorized 60 sonnets. And I memorized Paul Laurence Dunbar, James Welden Johnson, Countee Cullen and Edgar Allan Poe. I loved Poe so much I called him 'Eap' to myself."
Early in her writing career, she began renting hotel rooms where she would write. She would take a yellow pad, a dictionary, a thesaurus, a Bible and a bottle of sherry.
"I'm very fortunate, here in my town," she said, referring to Winston-Salem, N.C., "to have a hotel which I use. And everyone there, from the clerks, the counter people, the reservations people, the maids and the janitors and so forth, everyone says they don't know me.
"People call or come by and say, 'Is this the place where Maya Angelou is? And they say, 'Maya who?'"
Angelou moved to Winston-Salem in 1981 after being given a lifetime position as the first Reynolds Professor of American Studies at Wake Forest University.
"Not only was she a strong and active member of the faculty," said Wilson, the former provost. "She brought to the campus other people of distinction, especially African Americans. That added a kind of special strength and diversity to the Wake Forest community."
Angelou found herself at the center of controversy in December 2001 after she partnered with Hallmark Cards on a line of greeting cards and other products.
"I think it's preposterous," said Billy Collins, poet laureate of the United States. "It lowers the understanding of what poetry actually can do."
Angelou said she saw it as a literary challenge: to distill an inspiration into two sentences. "I have not reduced my value or respect for words or love of the language," she told the St. Louis Post Dispatch. "I have accepted the challenge to say what I mean succinctly and I'm having a ball. It was exactly what I needed after 'A Song Flung up to Heaven.'"
"A Song Flung up to Heaven" was the sixth and final volume of her autobiography, published in 2002 and including memories of motherhood, as well as the assassinations in the 1960s of her friends Malcolm X and the Rev. Dr. Martin Luther King Jr.
The last sentence of that volume is the same as the first sentence of the first:
"What are you looking at me for?" she wrote. "I didn't come to stay."
AFP Photo/Tim Sloan
Want more national news? Sign up for our daily email newsletter!