Betsy DeVos Brings Class War To Classrooms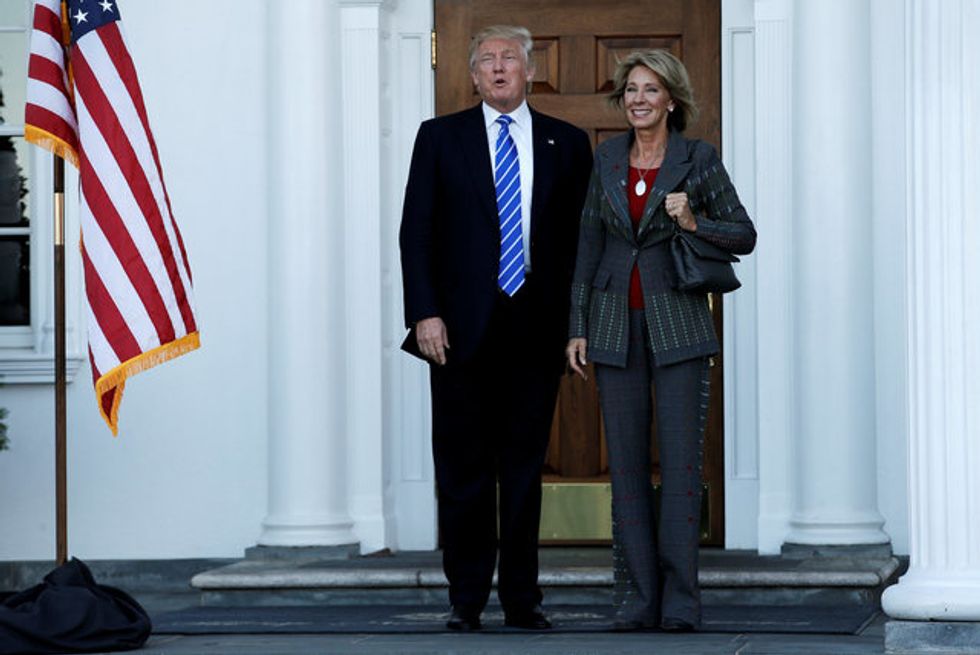 Reprinted with permission from Alternet.
President Trump is proposing a massive change in the federal government's role in education: the diversion of $10 billion from a host of student-friendly programs into federal programs to expand corporate charter schools and vouchers for private schools. As the Washington Post reports:
"Funding for college work-study programs would be cut in half, public-service loan forgiveness would end and hundreds of millions of dollars that public schools could use for mental health, advanced coursework and other services would vanish under a Trump administration plan to cut $10.6 billion from federal education initiatives, according to budget documents obtained by The Washington Post."
The budget proposal calls for a net $9.2 billion cut to department spending, or 13.6 percent of the spending level Congress approved last month. It is likely to meet resistance on Capitol Hill because of strong constituencies seeking to protect current funding, ideological opposition to vouchers and criticism of Education Secretary Betsy DeVos.
DeVos, a billionaire Republican donor, became a household name during a bruising Senate confirmation battle. With no experience in teaching or school administration, she has had a rocky start to her first government job.
In January, she was chased away from the first public school in Washington, D.C., that she visited (as seen in the photo above).
Last week she was booed by graduating students while giving a commencement address at Bethune-Cookman University.
DeVos' Priorities
The Trump budget proposal calls for the creation of a new $1 billion federal grant program under Title I of the Elementary and Secondary School Act (or ESSA, which has been rebranded as the Every Student Succeeds Act), which will allow students to take federal, state and local dollars to their public school of choice. That money would be added to the $15.9 billion that the Title I program will receive under the 2017 budget. Current funding is not "portable" to public schools of choice, according to Education Week.
Noelle Ellerson Ng, associate executive director of AASA, the School Superintendents Association, told Education Week that Congress rejected the idea of allowing Title I funds to follow students to the school of their choice when lawmakers passed the Every Student Succeeds Act in 2015. In general, she said she was deeply concerned about the message the budget proposal sends.
"This is the first direct threat on ESSA opportunity and ESSA success," she said. "President Trump is completely undermining federal funding to support key elements of the law that Congress passed less than two years ago."
While DeVos champions a school "choice" agenda, her proposal would actually create a federal program that would supersede state and local control of charter schools and voucher programs.
Colorado Rep. Jared Polis, the ranking Democrat on the House subcommittee for K-12, told Education Week the proposal clashed with the intent of Congress in reauthorizing ESSA. "We never set it up in a way so that those funds could be diverted to support private schools," he said.
Polis also slammed the budget proposal for shifting money away from schools with high levels of poverty to wealthier schools. And he said it would damage prospects for poor students and their families.
"I hope that it is dead on arrival in the House," Polis said. "Traditionally, presidents haven't had their way [with the budget]. I hope we keep with that tradition."
Sen. Patty Murray of Washington, the ranking Democrat on the Senate education committee, issued a statement saying, "This budget would weaken communities by eliminating funding for after-school programs, grant aid for struggling college students and teacher and principal training programs, and so much more—even Special Olympics education programs."
This article was made possible by the readers and supporters of AlterNet.