Boston Blank Tigers For 2-1 Lead
@AFP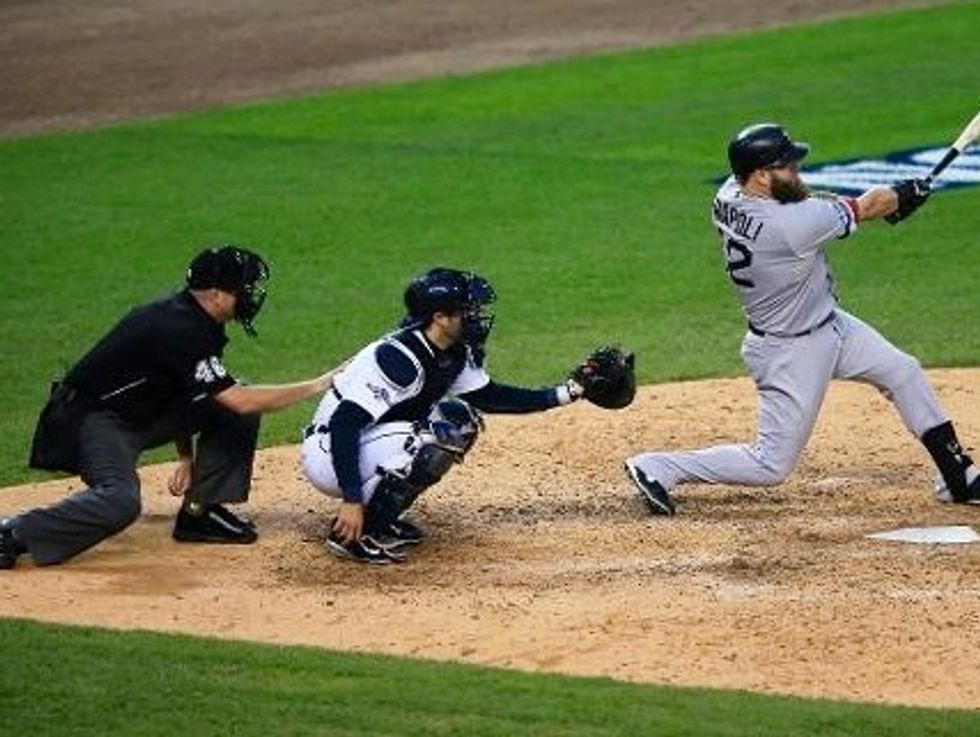 Detroit (AFP) – Mike Napoli's seventh-inning solo homer off Detroit ace Justin Verlander was the only run Boston needed to beat the Tigers 1-0 Tuesday and edge ahead in the American League Championship Series.
John Lackey and the Boston bullpen made the run stand up and the Red Sox took a 2-1 lead in the best-of-seven set that will send the winners to Major League Baseball's championship World Series.
Detroit will try to get back on even terms when they host game four on Wednesday. Detroit will send Doug Fister to the mound and the Red Sox will give the ball to Jake Peavy.
Boston managed only four hits and struck out 10 times in eight innings against Verlander, but shut down the potent Tigers lineup.
Detroit sluggers Miguel Cabrera and Prince Fielder both struck out with runners at first and third in the eighth inning.
The Tigers went 0-for-7 with runners in scoring position, in a game that was delayed for 17 minutes in the second inning because a power problem that saw the floodlights go out.
Lackey was superb in his 6 2/3 innings. He surrendered four hits and struck out eight without a walk.
"He just never gave in," said Red Sox catcher Jarrod Saltalamacchia of Lackey. "He got in some situations, first and third, and never gave in, never wanted to leave anything over the plate. Some big at-bats we were able to keep in our favor."
Three Red Sox relievers finished the shutout, with Japanese pitcher Koji Uehara getting the last four outs for the save.
Verlander kept Boston's bats at bay through the first six innings, giving up just two hits and a walk.
Lackey matched him, allowing only a double to Jhonny Peralta between the second and sixth.
David Ortiz, whose game-two grand slam sparked Boston's come-from-behind 6-5 game-two victory, grounded to short to open the seventh.
Verlander then got ahead in the count against Napoli, who launched a high fast ball into the bullpen behind left center field.
"He's tough," said Napoli, whose blast came on Verlander's 100th pitch of the game. "He was on his game tonight and he was keeping us all off balance. I got a 3-2 fastball and put a good swing on the pitch."
Boston's bullpen thwarted a Tigers' rally bid in the eighth after a walk to Austin Jackson and Torii Hunter's single off Junichi Tazawa put runners at first and third with one out.
Tazawa came up with a huge strikeout of AL batting champion Cabrera and Uehara struck out Fielder to preserve the one-run lead.
"The eighth inning, Taz, that was huge," Saltalamacchia said. "Cabrera's such a great hitter. One out, those are situations he thrives in. He gets in situations where he can get an RBI and it's tough to get him out, let alone strike him out."
Martinez led off the bottom of the ninth with a single, but Uehara induced Peralta to hit into a double play then struck out Avila to end it.
AFP Photo/Jamie Squire