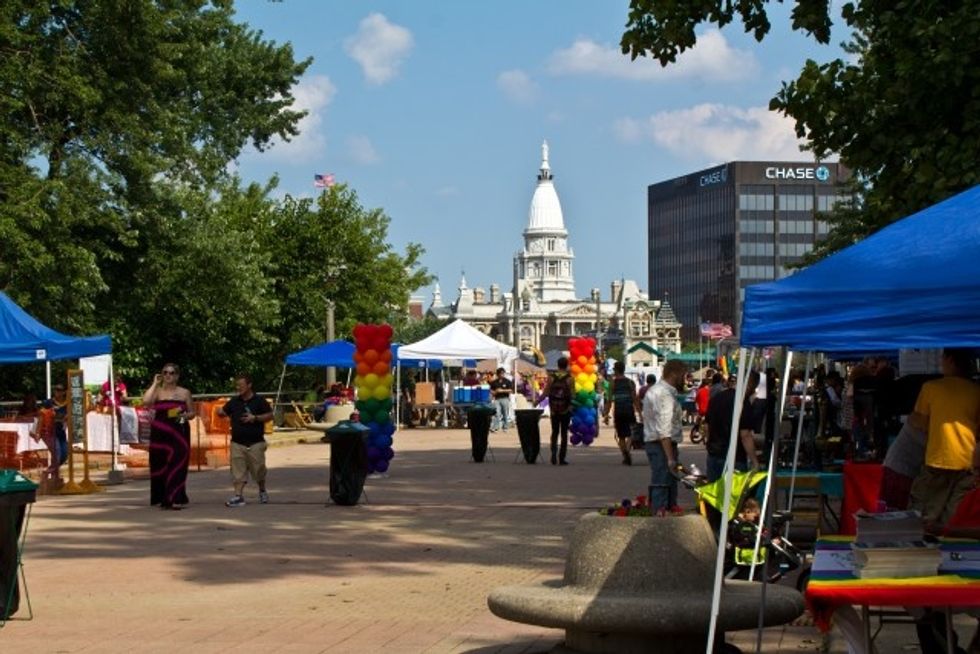 This week, in response to yet another heinous law meant to discriminate against LGBT fellow humans, Honey Maid tweeted, "We believe love is always welcome." And it illustrated it with a picture of graham crackers nibbled into the shape of Indiana.
This Buckeye sure did love that.
Now, the Teddy Grahams company has been up to this no-good kind of lovin' for a while. For a whole year, even.
Last March, the company launched an ad campaign titled "This Is Wholesome." The video — with 8,119,352 YouTube views as of 4:51 p.m. EDT on Wednesday — opened with a scene of two daddies cuddling their newborn. Before anyone could even scream "Emma Jean, get in here and look at this!" the screen segued to images of a biracial couple and their three gorgeous children. They were all smiling, too. We're talking coronary time for anyone who still thinks Jesus was as pale as the governor of Indiana, minus the snow-white hair.
Honey Maid was hit hard with angry tweets and hate letters. So the company printed all of them and hired two female artists — communists, probably — to do something pretty with them. The artists rolled the sheets of paper into cylinders and glue gunned them to spell the word "Love." Then they surrounded it with a giant cloud made from tubes of positive mail, which outnumbered the hate 10-to-1.
Honey Maid made a video of that, too, with 4,205,002 YouTube views, last time I checked.
I mention all of this because I can't believe no one in the Republican-controlled Indiana legislature remembered the Honey Maid thing. As an Ohioan and fellow Midwesterner who has visited many a Hoosier over the years, I know for a fact that graham crackers are as much a part of our mutual culinary tradition as beefsteak tomatoes and anything deep-fried at a county fair.
Surely, somebody had to know that pretending to pass a bill that would defend a religion in no need of defending while empowering bigots to refuse service to the LGBT community was going to end up as a tweet with graham crackers nibbled into the shape of their beloved Indiana.
Not to mention the national outrage and ridicule that shoved Indiana Gov. Mike Pence into a spotlight of his own making the minute he claimed this was all a misunderstanding and the media's fault.
"We've got a perception problem here," he said.
"This was a perception problem," he said again.
"I understand the perception of this has gone far afield of what the law really is."
And those journalists? Jesus help them, because Pence sure wants nothing to do with 'em.
"Ridiculous," he said. "Irresponsible." Even "sloppy," which, OK, having spent two decades in a newsroom, I'll give him that. But still.
On Tuesday, The Indianapolis Star — published in Indianapolis, I guess we should stress — ran a Page One editorial under a black-and-white banner reading, "FIX THIS NOW."
An excerpt: "The consequences will only get worse if our state leaders delay in fixing the deep mess created. Half steps will not be enough. Half steps will not undo the damage.
"Only bold action — action that sends an unmistakable message to the world that our state will not tolerate discrimination against any of its citizens — will be enough to reverse the damage.
"Gov. Mike Pence and the General Assembly need to enact a state law to prohibit discrimination in employment, housing, education and public accommodations on the basis of a person's sexual orientation or gender identity."
In the meantime, the number of companies, celebrities, and regular American citizens vowing to boycott Indiana grows with every day of delay.
I've been hearing from a number of readers who say it's not fair to punish businesses that would never dream of discriminating against customers for their sexual orientation. They object to attempts to depict all Hoosiers as anti-gay.
Lots of good people live in Indiana, they say.
My response: You're right. It's not fair.
How does it feel?
The only reason the LGBT community has been on the receiving end of so much unfair treatment for so long is that too many good people think fighting injustice is somebody else's job.
Pick up the phone, dear Hoosiers. Or sit down at your keyboards and write to your legislators and governor. Better yet, pull on your shoes and go make some noise.
Now, I know you don't need this Buckeye telling you what to do.
Prove it.
Connie Schultz is a Pulitzer Prize-winning columnist and an essayist for Parade magazine. She is the author of two books, including
…and His Lovely Wife, which chronicled the successful race of her husband, Sherrod Brown, for the U.S. Senate. To find out more about Connie Schultz (con.schultz@yahoo.com) and read her past columns, please visit the Creators Syndicate Web page at www.creators.com.
COPYRIGHT 2015 CREATORS.COM
Photo: OUTFest in Lafayette, Indiana (Rob Slaven/Flickr)