Can We Have A Sensible Immigration Policy?
@FromaHarrop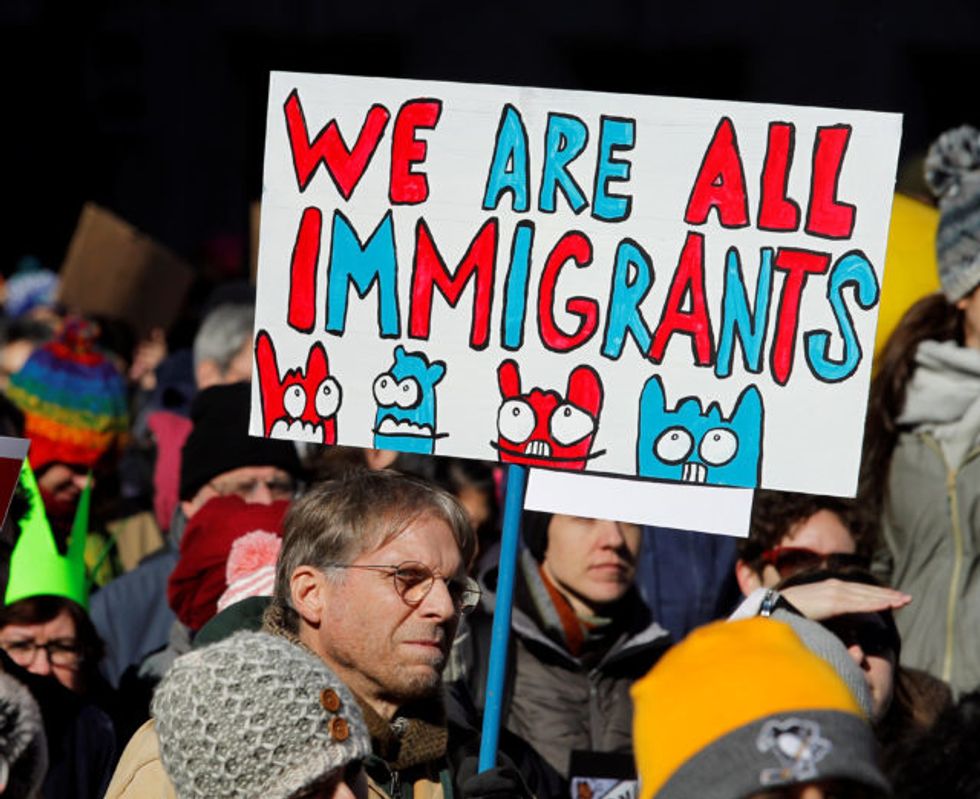 Reprinted with permission from Creators.
What would a sensible immigration policy look like? It would have three goals: be humane, enforce the laws and meet America's need for labor. This can happen only if our political fringes get out of the way.
Some on the far right simply don't like most of the immigrants, mainly because of their color. There's little room for discussion here. Today's immigrants come from everywhere. They are essential to our economy. And they're every bit as good as the people who came before.
It does not follow, however, that everyone who wants to come here should be allowed to stay. And that said, there's no excuse for treating impoverished people without papers in a cruel manner. The Trump administration policy of separating undocumented immigrant parents from their children is nothing less than barbaric.
The remedy for inhumane enforcement is humane enforcement, not no enforcement. Calls to abolish the U.S. Immigration and Customs Enforcement are grossly irresponsible. By taking that stance, Democratic Sens. Elizabeth Warren of Massachusetts and Kirsten Gillibrand of New York have justly hurt their prospects for higher office.
Fortunately, most liberals oppose such nonsense. One of the staunchest opponents of illegal immigration happens to be Sen. Bernie Sanders. He harkens to a time when controlling immigration was seen as key to protecting union members' jobs and pay.
"Chain migration" needs to be reconsidered. The New York Times recently told the story of Jagdish Patel, an engineer who immigrated to the U.S. from India. Patel sponsored his five sisters and a brother. They brought their families, and so on. As of last count, more than 90 people have become citizens off the entry of one immigrant.
From all reports, Patel and his family have become fine, productive Americans, but when one person's family can bring in so many relatives, then other fine families get frozen out. Our "family reunification" laws need to be more like Canada's.
Immigrants to Canada can sponsor a spouse (or conjugal partner) and dependent children. It's far harder to bring in brothers and sisters. With only a few exceptions, the siblings must be under 18 years of age, and the sponsor's parents must be dead. (Of course, any relative can apply for immigrant status through the normal channels.)
Thus, about two-thirds of the immigrants to the U.S. are family-sponsored, whereas in Canada, only about 26 percent are. Canada favors immigrants with valued skills.
Donald Trump seems to think that singling out Latinos for abuse counts as an immigration policy. His game playing about legalizing the status of those who entered the country illegally as children is truly ugly. And the wall with Mexico is more show business than enforcement.
Though Trump and fellow Republicans talk tough on illegal immigration, they avoid taking the one step that would really get at the problem: requiring all employers to use something like E-Verify for all new hires. E-Verify is a database that quickly tells them whether someone is authorized to work in this country. Republican leaders rarely mention it, probably because their business supporters want the labor.
The Democrats are actually better on this. In 2013, every Democrat in the Senate voted for an immigration overhaul bill that would have mandated the use of an E-Verify-type system to confirm a job applicant's right to work in the United States. (It also would have provided $40 billion for border security.)
Most Republicans voted against the bill, purportedly because it included an amnesty for many undocumented workers. Rather than legalize the status of otherwise law-abiding people who entered at a time of lax enforcement, they passed up a chance to enact serious enforcement going forward.
Will we ever have a rational immigration policy? We could, but first we need a rational discussion.
Follow Froma Harrop on Twitter @FromaHarrop. She can be reached at fharrop@gmail.com. To find out more about Froma Harrop and read features by other Creators writers and cartoonists, visit the Creators Web page at www.creators.com.