Cheer, Cheer For The Protesters Of Notre Dame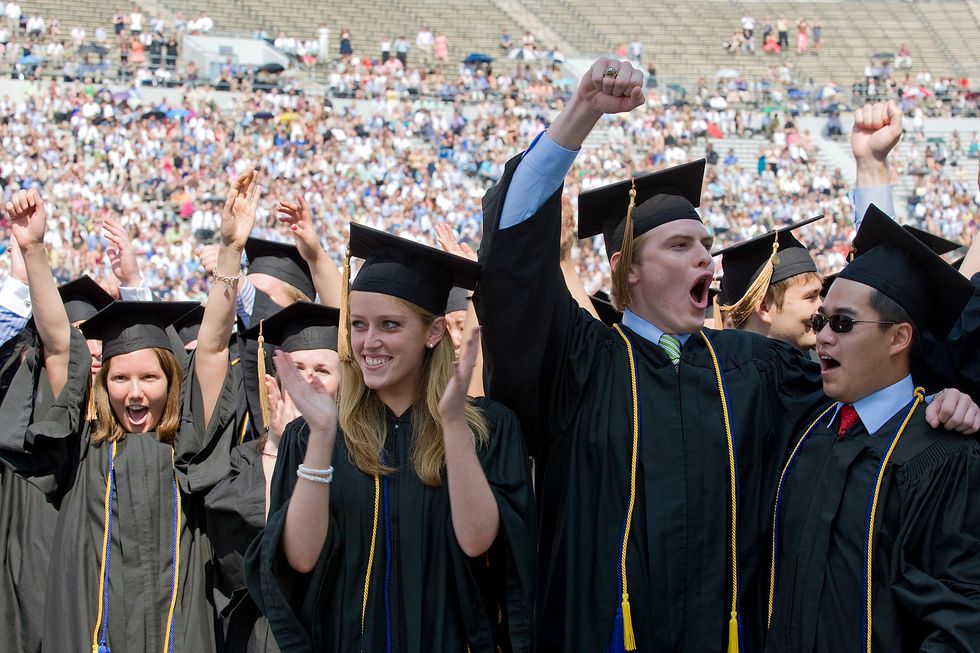 Reprinted with permission from Creators.
Before we get into the debate here over whether it's appropriate for graduating college students to protest their commencement speakers, I want to share my own observation about a growing trend in parental manners at these events.
In recent years, I've delivered a dozen or so commencement addresses and attended at least a dozen more for family and friends. With one exception, because of a scheduling snafu, I've sat through the entire ceremony. Increasingly, I have to remind myself to keep my jaw closed as I sit there onstage and watch one family after another bail as soon as their graduate walks across the stage.
Entire families just stand up and walk out. We're talking as many as a dozen people at once. Parents and grandparents, aunts and uncles, siblings and in-laws of every stripe — standing up in unison and jabbering away as they collect purses, flowers, jackets and babies and traipse right out of there. In the past couple of years, I've seen many of their graduates decide to join them, standing up on the floor and pointing at the exit where they'll meet them.
So, if we're going to talk about commencement etiquette, let's start there, shall we? Your graduate may be the center of your universe, but let's do try to remember there are a lot of other shooting stars in their orbit. Sit back and enjoy the constellation.
Now then, about Notre Dame.
Vice President Mike Pence was invited to deliver the commencement address at the Indiana university.
He came with some baggage.
Before Pence became Donald Trump's chief enabler, he was governor of the state of Indiana.
What a tenure that was.
In 2015, Pence signed the so-called Religious Freedom Restoration Act. This law allowed business owners who don't like same-sex couples — that includes Pence, who said same-sex marriage could cause "societal collapse" — to legally deny them services. The backlash was so fierce — and potentially damaging to Indiana's economy — that Pence signed a revised version of the law.
However, Americans who oppose this bigotry — hellooooo, millennials — aren't willing to let him off the hook.
So, there's that.
There's also this: In 2016, Gov. Pence signed one of the most restrictive abortion laws in the country. As NPR reported last year, "the law bans abortions due to fetal abnormalities and also requires aborted fetuses — and those from miscarriage — to be buried or cremated."
Because it wasn't already hard enough to be a woman in Indiana trying to control her own body and the health of her family. She needed to be officially shamed, too.
There's more, but if you're paying any attention to this current administration, you already know that. If you're not, let's acknowledge how lucky you are to live in a country that lets you be a citizen anyway.
At Notre Dame's commencement, 100 or so graduates walked out after Pence was introduced and started to speak. They exited silently and then locked arms and sang after they were outside.
What an interesting turn of events at Notre Dame.
Except that it's not. Hundreds of anti-abortion activists protested Notre Dame's 2009 commencement speaker, President Barack Obama. Vice President Joe Biden had his share of protesters, too, when he delivered the commencement address last year.
I understand why some people in attendance wish the protests hadn't happened. You want everything to be perfect for your graduate throughout the day — or at least for as long as you plan to sit there (ahem). For many, that means a few hours without any reminder of the trouble we're in right now in this country.
I'd be all for that, if everybody in America got that same respite from what Pence and this administration are trying to do to people.
This is why I love so many of these millennials. They have little patience with the notion that an invitation alone cloaks a speaker in respectability. They also know that the time to speak up, particularly for those who can't, is right now.
For many, this is bound to be uncomfortable.
Most growth spurts are.
Connie Schultz is a Pulitzer Prize-winning columnist and professional in residence at Kent State University's school of journalism. She is the author of two books, including "…and His Lovely Wife," which chronicled the successful race of her husband, Sherrod Brown, for the U.S. Senate from Ohio. To find out more about Connie Schultz (con.schultz@yahoo.com) and read her past columns, please visit the Creators Syndicate webpage at www.creators.com.