Cleveland Ordeal Dredges Up Trauma For Others, Too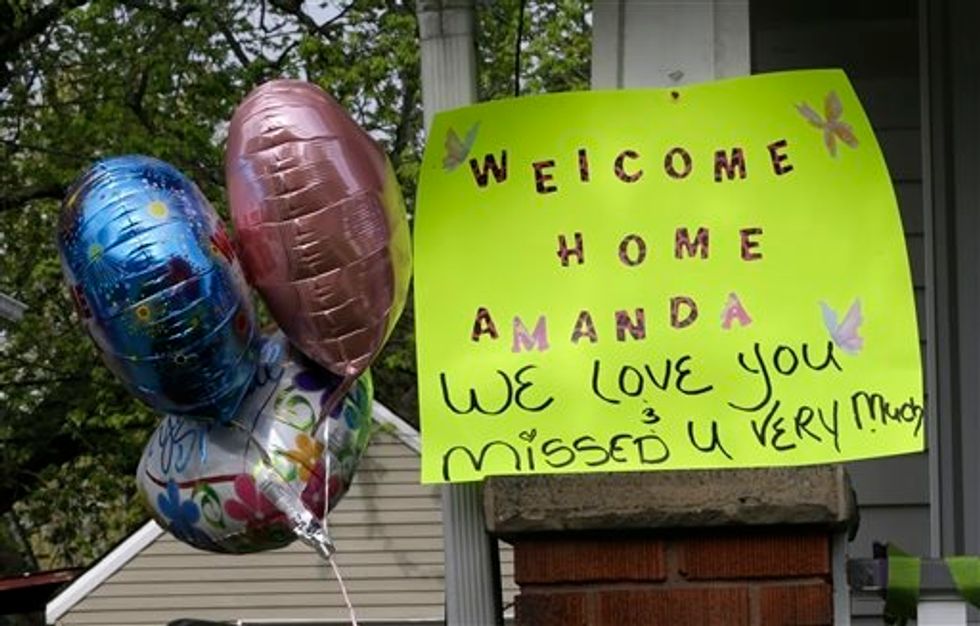 As I write this, not even 48 hours have passed since three young women escaped a decade-long nightmare of captivity in a house in Cleveland.
In this short time, speculation about them and their ordeal has reached stratospheric heights. Stories parse their 10-year-ago pasts. Headlines declare that "their nightmare is over" and that their escape is "a miracle." Worse, dark assumptions masquerading as questions are creeping into commentary and social media: Why didn't they run … try to escape … bang on windows … scream for help years ago?
Stop.
For the sake of Gina DeJesus, Amanda Berry and Michelle Knight: Stop.
For the millions of female survivors of sexual assault in this country: Stop.
Please.
The day after the women's rescue, the Cleveland Rape Crisis Center sent out a news release titled "Compassion for Survivors":
"Cleveland Rape Crisis Center expresses deep empathy and compassion for Gina DeJesus, Amanda Berry, Michelle Knight and their families. As the harrowing facts of this high-profile story unfold, we are aware the nature of this crime will likely have great impact on all rape survivors, their supporters, and the whole community.
"Healing from the wounds inflicted by sexual violence is a lifelong journey. Cleveland Rape Crisis Center is a compassionate resource for those who have experienced this kind of trauma. Support can be found at our 24-hour hotline, 216-619-6192, and more information can be found at www.clevelandrapecrisis.org. We stand ready to support those survivors who will reach out for help, some for the very first time, as they are impacted by the stories of Gina, Amanda and Michelle."
There is so much we do not yet know about the women's kidnapping and daily lives in captivity. What we do know, without a single detail, is that it will take years, maybe decades, for them to recover. And they are not alone.
"I got sad when I saw some of the news coverage," Meg O'Bryan told me Wednesday. She is the president and CEO of the Cleveland Rape Crisis Center. "Twice yesterday reporters asked me, 'What is the one thing these women need to heal?'"
Wrong question, she said.
"This is a lifelong journey for these women — and a different one for each of them. I don't see any miracle here. Their nightmare is not over, just as it isn't for millions of other survivors."
I asked O'Bryan what happens when survivors of sexual assault hear about stories like the one unfolding in Cleveland, which is my hometown.
"Think about your own reaction," she said. "And then think about being a survivor of sexual abuse. Think about how it feels to hear this news if you, too, sustained years of abuse. Think about how it feels if the abuse was in your own family. Thank about how you might feel if you were surrounded by neighbors who knew you but never knew about your abuse. For many of these women, they hear this news and the trauma comes back."
For survivors, the gruesome news in Cleveland will spark their first episode of post-traumatic stress, O'Bryan said. "If there's any good to come of this, it's that some survivors will seek help and tell their stories for the first time."
O'Bryan was a member of the independent commission that investigated police conduct and policies after 11 women's bodies were found buried in the Cleveland home of convicted murderer Anthony Sowell in 2009. The commission made a long list of recommended changes.
Still, like many of us here, she heard Monday's news and had the same question bubble up.
"It was like Groundhog Day," she said. "Again we're asking, 'How could this have happened and nobody knew?'"
This time, she's confident that Cleveland police care to find the answers. She's just as certain that we have a long way to go — as a country and a culture — when it comes to prioritizing the prevention of violence against women.
"We still marginalize this issue," she said. "Just like with the Sowell murders, we need time to process what has happened. We need time to figure out the best way to respond."
In the meantime, I implore fellow journalists to rein in the reckless speculations, which serve only to harm the very women we presume to champion. Only three women can tell the full story of Gina DeJesus, Amanda Berry and Michelle Knight. So far, they have been publicly silent. Let us celebrate that they are in control of their lives and their narratives.
Let us also be patient. Let us do no further harm.
Connie Schultz is a Pulitzer Prize-winning columnist and an essayist for Parade magazine. She is the author of two books, including …and His Lovely Wife, which chronicled the successful race of her husband, Sherrod Brown, for the U.S. Senate. To find out more about Connie Schultz (con.schultz@yahoo.com) and read her past columns, please visit the Creators Syndicate Web page at www.creators.com.
AP Photo/Tony Dejak