Climate Change Truther Marco Rubio Is Now A Scientist, Man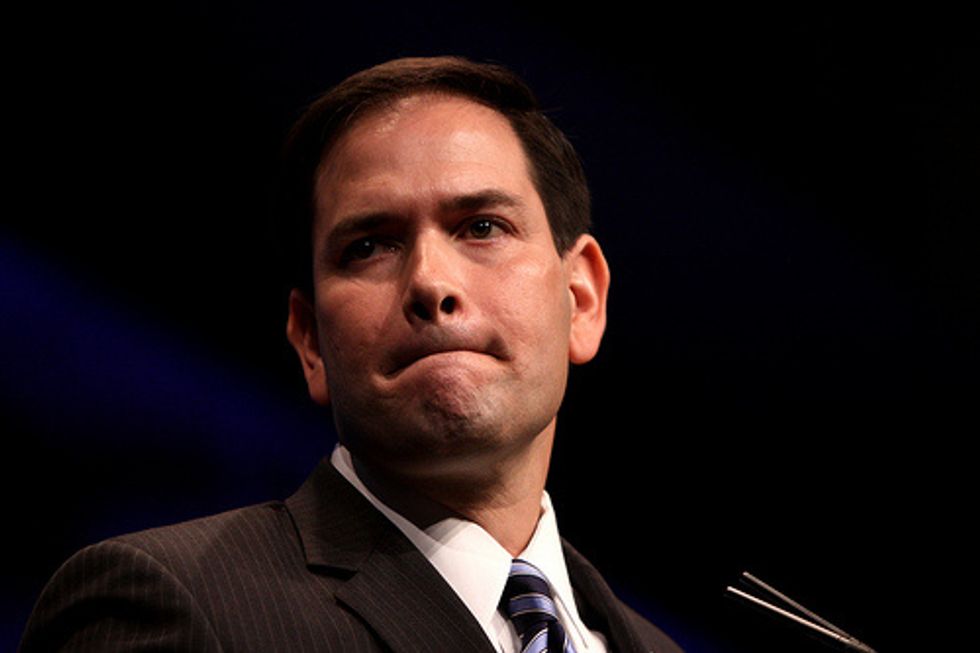 In a 2012 interview with GQ magazine, Senator Marco Rubio (R-FL) memorably declined to answer a straightforward question on the age of the Earth, telling reporter Michael Hainey, "I'm not a scientist, man."
"I can tell you what recorded history says, I can tell you what the Bible says, but I think that's a dispute amongst theologians and I think it has nothing to do with the gross domestic product or economic growth of the United States," the freshman senator continued. "I think the age of the universe has zero to do with how our economy is going to grow. I'm not a scientist. I don't think I'm qualified to answer a question like that."
In the 16 months since that interview, Rubio has apparently been taking night classes.
During a Sunday appearance on ABC's This Week, Rubio shared his thoughts on whether human activity is causing climate change.
"Our climate is always changing," Rubio told ABC's Jon Karl. "And what they have chosen to do is take a handful of decades of research and say that this is now evidence of a longer-term trend that's directly and almost solely attributable to manmade activity…I do not agree with that."
"I do not believe that human activity is causing these dramatic changes to our climate the way these scientists are portraying it," the senator added. "I do not believe that the laws that they propose we pass will do anything about it, except it will destroy our economy."
It seems that Rubio is a scientist now, and a pretty terrible one at that.
What's changed between 2012, when Rubio refused to answer science questions, and today? The answer lies in the very same interview with Karl, when Rubio acknowledged that he is considering a presidential run in 2016.
If Rubio does embark on a long-rumored White House bid, his first order of business would have to be repairing his standing with the right-wing voters who launched him to prominence in 2010, then turned on him when Rubio helped lead Senate efforts to pass a comprehensive immigration reform bill (efforts he later abandoned).
Absurd as it may seem, denying climate science is one way for Rubio to remind Republican primary voters that he is one of them. After all, as TheNew York Timesrecently illustrated, American Republicans are just about the only people in the entire world who don't believe that climate change is a major global threat.
Like Rubio's pivots from an advocate for immigration reform to a vehement opponent, and from a Paul Ryan acolyte to an anti-poverty warrior, his latest shift is just clunky 2016 politics at work.
One thing that hasn't changed, however, is the scientific consensus on climate change: 97 percent of climate scientists agree that Rubio is dead wrong, and human activity is causing the climate to warm.
And if Rubio sticks around Florida instead of moving to the White House, he may find that his constituents have a problem with his anti-science stance as well. The Sunshine State — and specificially, Rubio's home city of Miami — is one of the American regions most vulnerable to climate change's damaging effects.
Photo: Gage Skidmore via Flickr
Want more political analysis? Sign up for our daily email newsletter!