"Con Man." Former Union Leader Rips Trump As Carrier Announces 215 More Layoffs
@EricBoehlert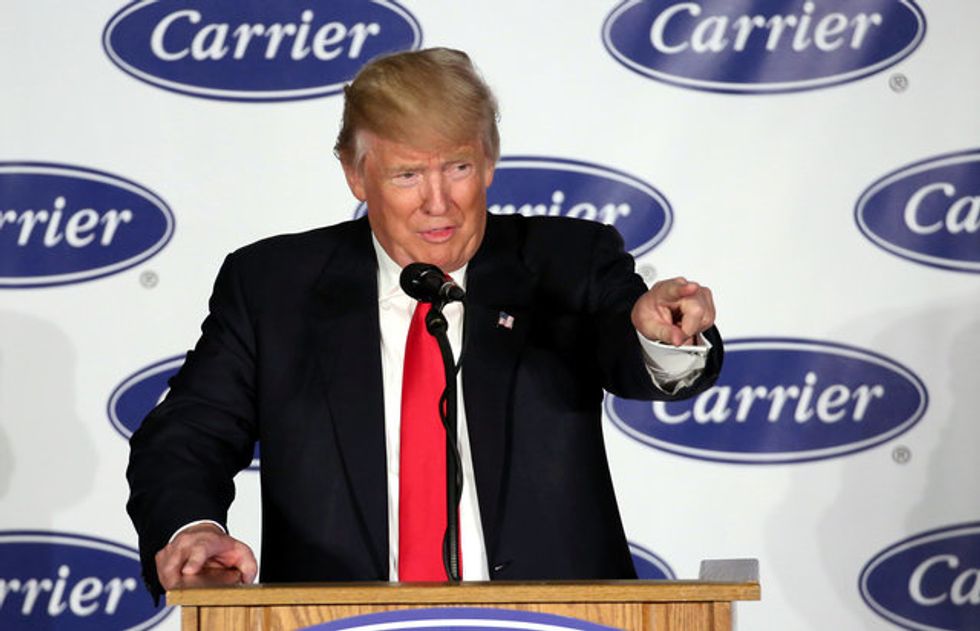 Reprinted with permission from Shareblue.com

Chuck Jones was one of the first worker reps to call out Donald Trump for being a complete fraud when he claimed he was personally saving American jobs by striking deals with big businesses.
Specifically, Jones debunked Trump's insistence, in December 2016, that he was saving more than a thousand jobs at a Carrier plant in Indianapolis and stemming the tide of globalization.
It didn't work.
Thirteen months later Jones, the former United Steelworkers 1999 president, has been proven right about Trump, as Carrier lays off hundreds more Hoosier workers this week.
"I think everybody ought to respect the president of the United States and the office he holds," said Jones Wednesday night as laid off workers gathered in a bar across the street from the Carrier heating and cooling plant on the west side of Indianapolis. "But Donald Trump is a liar and an idiot."
Jones' original truth-telling came back in 2016 when Trump was taking a TV victory lap for supposedly saving more than 1,000 manufacturing jobs at Carrier. Carrier, which posted $3 billion in operating profits in 2016, planned to move the jobs to Mexico.
Trump's heavy-handed foray was supposed to highlight what a savvy dealmaker he is.
But it was a GOP scam. In fact, Mike Pence, as Indiana's governor at the time, had lavished Carrier with $7 million in incentives — not to reward the company for creating new jobs, which is how states usually award incentives, but to send slightly fewer jobs to Mexico.
Meanwhile, the company layoffs kept coming.
"We believed in him here at Carrier. The vast majority of us. It was Trump deluxe in there," soon-to-be ex-Carrier employee Renee Elliott told a reporter Wednesday night. But instead of saving manufacturing jobs, Trump effectively helped save some Carrier back-office positions.
"He didn't save mine, but he did save some," she said. "Just don't bullshit us. We never thought the office personnel was going anywhere, anyway."
Jones used harsher language while addressing some of the assembled workers who had collected their Carrier pinks slips. "He's a pure and simple con man and I'm sorry people bought into his message," said Jones. "He sold us a bag of shit and now we're stuck with it."