Congressional Republicans Continue To Fight Over Homeland Security Funds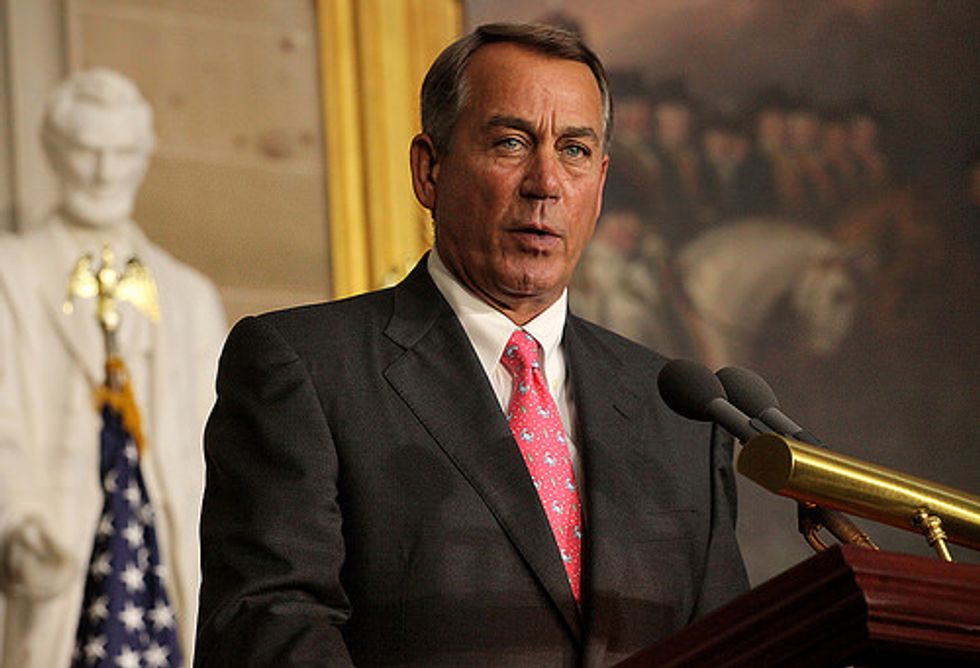 By Lisa Mascaro, Tribune Washington Bureau (TNS)
WASHINGTON — With money for the Department of Homeland Security set to run out at midnight Friday, Republican leaders in Congress struggled to convince their followers to fund the huge department now and fight President Barack Obama's immigration policies later.
Like most high-stakes showdowns in Washington, this one appears likely to go down to the wire.
The Senate was poised to vote late Thursday to advance a compromise plan pushed by Majority Leader Mitch McConnell (R-KY). It includes a straightforward bill to fund the department without the immigration restrictions that had been attached by House Republicans. In a nod to conservatives, McConnell promised a separate vote on immigration policy once the Homeland Security funds have been approved.
But the Senate's most conservative members are forcing the Republican leader to run out the clock with procedural steps that could delay passage of the money bill until Sunday — well after the midnight Friday deadline.
And even if the money clears the Senate this week as promised by McConnell, the bill still faces trouble in the House. More than 30 conservative members have called on Speaker John A. Boehner (R-OH) not to follow the Senate's approach.
Boehner refused Thursday to say what the House would do. Pressed by a reporter for answers, he responded by blowing kisses.
"I don't know what the Senate can produce or what they can't produce," he said. "If they produce something, we'll decide what we're going to do after we see it."
In the past, Boehner has reached across the aisle to secure Democratic votes on major issues when he could not find enough support from his own Republican majority.
But Boehner has been reluctant to compromise in this fight after his leadership was seriously challenged at the start of the new year by rank-and-file conservatives. Some of them view his actions now as a major test.
So far, conservatives have been heartened by Boehner's hard-line approach as much as they have expressed their disappointment over McConnell's compromise.
House Minority Leader Nancy Pelosi (D-CA) lambasted the new GOP-led Congress as "major amateur hour."
In a rare joint news conference Thursday morning with Senate Minority Leader Harry Reid (D-NV), the two Democrats, who have tangled in the past, stood united in their quest for a straightforward bill that would avert a funding crisis.
"It's about time for them to grow up and pass this bill," Pelosi said.
Reid noted that fighters of Islamic State and other such militant groups "appear to have money. Why shouldn't our homeland have the ability to protect itself?"
Meanwhile, Homeland Security Department officials began preparing to furlough several thousand employees and to inform the vast majority of their 230,000 workers — including those at the Coast Guard, Border Patrol, Immigration and Customs Enforcement, Transportation Security Administration and the Secret Service — that they will be expected to show up for work without pay.
The most conservative Republicans in Congress have downplayed the risk of a shutdown, saying government employees will still be required to come to work and protect the nation. Workers also will likely receive back pay once the stalemate is resolved, although that is not guaranteed.
Democrats, though, have noted that even a delayed paycheck will cause harm to many Homeland Security employees.
Republicans fighting Obama's plan to halt the deportation of several million immigrants who came to the U.S. illegally see this battle as the closest conservatives have come to reversing an administration policy since the 16-day government shutdown in 2013 that was aimed at blocking Obama's health care law.
If the Senate does pass the money bill, many conservatives want Boehner to again attach immigration provisions and force a legislative ping-pong match between the two chambers.
Reid said Thursday that such approach would be a "waste of time" because such a measure would face certain filibuster by Democrats in the Senate.
In stalemates like this, a temporary bill often can be quickly approved to avert a lapse in funds. But that also would require Boehner to buck his conservatives and rely on votes from Democrats.
Pelosi said she told Boehner this week that she was not prepared to help with a temporary measure, and pressed him for full funding to end the threat of further Homeland Security shutdowns.
Photo: Talk Radio News Service via Flickr