The Death Of 'Both Sides' Campaign Coverage
@EricBoehlert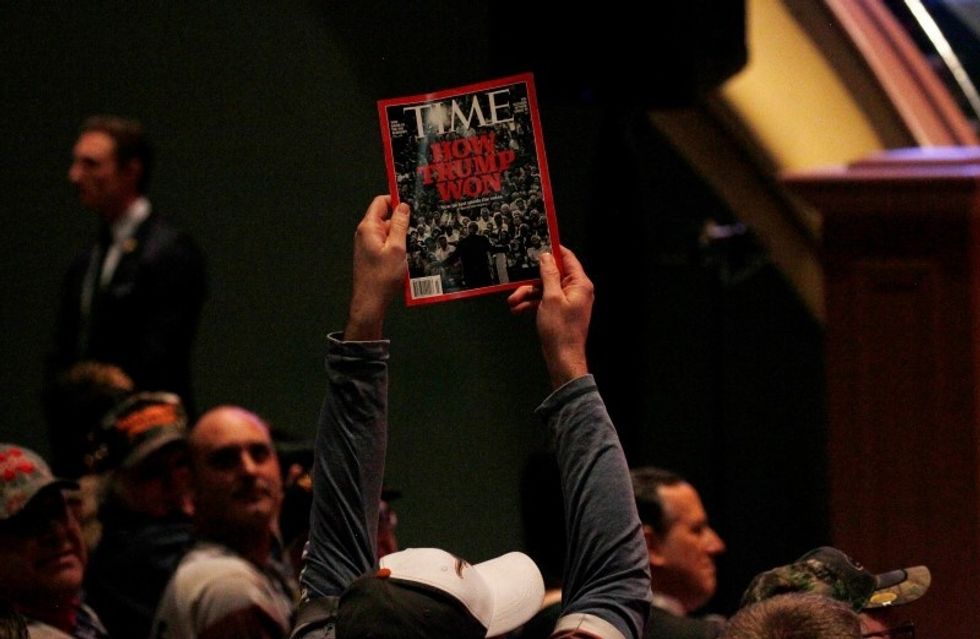 Published with permission from Media Matters for America.
It was buried near the bottom of yet another energetic Ron Fournier denunciation of Hillary Clinton's character, but close readers of his recent Atlantic column might have been surprised by this passage [emphasis added]:
And yet, in my mind, the case against Clinton is not as disturbing as Trump's mendacity, megalomania, intolerance, and intellectual slovenliness. With Clinton and Trump, the two most unpopular presidential candidates in the modern era, there is no equivalence.
That's right, Fournier, a champion of the persistent Both Sides brand of political commentary, which revolves around the core belief that Democrats and Republicans are always equally to blame, set aside two sentences to specifically announce that whatever Clinton's shortcomings, there was no comparison between her political sins and those of Donald Trump.
A small victory.
Both Sides reporting and commentary has represented a constant journalism failing for years, and it's always been especially bad in political journalism. But is it possible that Trump is killing off false equivalency journalism? Is it possible that in recent days and weeks, Trump's campaign has become such an inferno of incompetence that it's just not possible for the press to look at the GOP campaign wreckage on display and suggest Democrats are facing a similar type of blaze; that both sides are in disarray?
And has Trump's divisive and hateful rhetoric leaped so far out of the mainstream that pundits and reporters just aren't able to draw a false equivalency connection to Clinton? They simply cannot claim she's an equally divisive, hateful and controversial figure?
That may be one of the unintended, but welcomed, consequences of Trump's extraordinary campaign run in recent days.
Can anyone recall a single 7-10 day stretch quite like the last one in terms of the sheer number of monumental unforced errors made by a single presidential candidate? Trump in the span of about a week racked up more memorable miscues than most losing candidates tally in six or 12 months.
Among the lowlights that have Republicans scurrying:
*Trump attacked a Gold Star family whose son was killed in the Iraq War.
*Trump wouldn't commit to endorsing Rep. Paul Ryan or Sen. John McCain (he eventually endorsed themduring a Friday night event).
*Trump suggested women who were sexually harassed at work should go work somewhere else.
*Trump offered baffling remarks regarding Russia's annexation of Crimea.                       
*Trump invited Russia to interfere in an American presidential election.
*Trump announced the 2016 election would probably be "rigged."
*Trump implied the presidential debate process was also rigged.
*Trump claimed Clinton was a "founder" of ISIS.
Meanwhile, prominent Trump surrogates appeared on television and suggested President Obama might not have been an American citizen when he attended Harvard Law School, and that Clinton and Obama were responsible for the death of Capt. Humayun Khan. (The latter attack was later walked back.)
Observers on each side of the political aisle can't stop shaking their heads at the spectacle. Already known for his erratic, eccentric behavior, Trump has shifted into fifth gear and left all semblance of normalcy behind. And with it, he's badly damaged the Both Sides approach.
The long-running practice really has been weighing down journalism. President Obama himself reportedly points to the pattern of false equivalency as one of the key media failures during his presidency.
The problem? As Media Matters' Jamison Foser explained several years ago:
There's a tendency to think that saying "both sides do it" is the way to avoid taking sides in a dispute…..But when saying "both sides do it" requires drawing a false equivalence, the speaker is taking sides — on behalf of the people responsible for the greater sin. A journalist's imperative is telling the truth, not creating the false impression of neutrality by equating unequal things.
Whatever the cause, Both Sides journalism does a disservice to news consumers who are looking for clear, concise information and analysis about current events, and especially presidential campaigns.
Here's a good example of the problematic approach, from a New York Times tweet back in May:
It's a race to the bottom between "Dangerous Donald" and "Crooked Hillary." https://t.co/oDSGv4UPOz pic.twitter.com/spjRmSc1gu

— NYT Politics (@nytpolitics) May 11, 2016
See? Both Sides are in a "race to the bottom." Hillary Clinton — a former first lady, United States senator, and secretary of state — is just like Donald Trump, and they're both equally objectionable, seemed to be the message.
But again, I think there's been a clear shift in recent days and weeks. There's been a general, albeit belated, media realization that the Trump campaign is like no other, and that his allergic reaction to factual discussions is unprecedented. Therefore, Both Sides doesn't work, and Trump cannot be covered based on the idea that he's a GOP mirror image of the Democratic candidate, with the underlying assumption being they're similar, minus some adjustments around the edges.
"[T]he idea that they are even in the same league is preposterous," wrote The New York Times' Nicholas Kristof over the weekend. "If deception were a sport, Trump would be the Olympic gold medalist; Clinton would be an honorable mention at her local Y."
That's why we're seeing news channels use their on-screen graphics to instantly fact-check Trump.
We've never seen this practice before because we've never seen a major party nominee who willfully lies day after day on the campaign trail at the rate Trump does, even after those lies are dutifully debunked.
For the most part, there's been little attempt to frame the recent Trump meltdown with Both Sides language. There's been very little attempt to frame the past few days as bad news for Trump while also kind of bad news for Clinton.
Instead, the campaign press has been quite vivid and clear in its language regarding the purely Republican implosion.
And no, that's not piling on. That's not being "biased." It's being factual and accurate.
For the record, I'm completely aware that Both Sides journalism could return, and it might even storm back during this campaign cycle. But it's worth noting that there's currently something of a moratorium on the unpleasant newsroom trend.
Let's enjoy it while it lasts.