DeVos Demands Universities Revise Mideast Curricula To Favor Christians, Jews
@alexvhenderson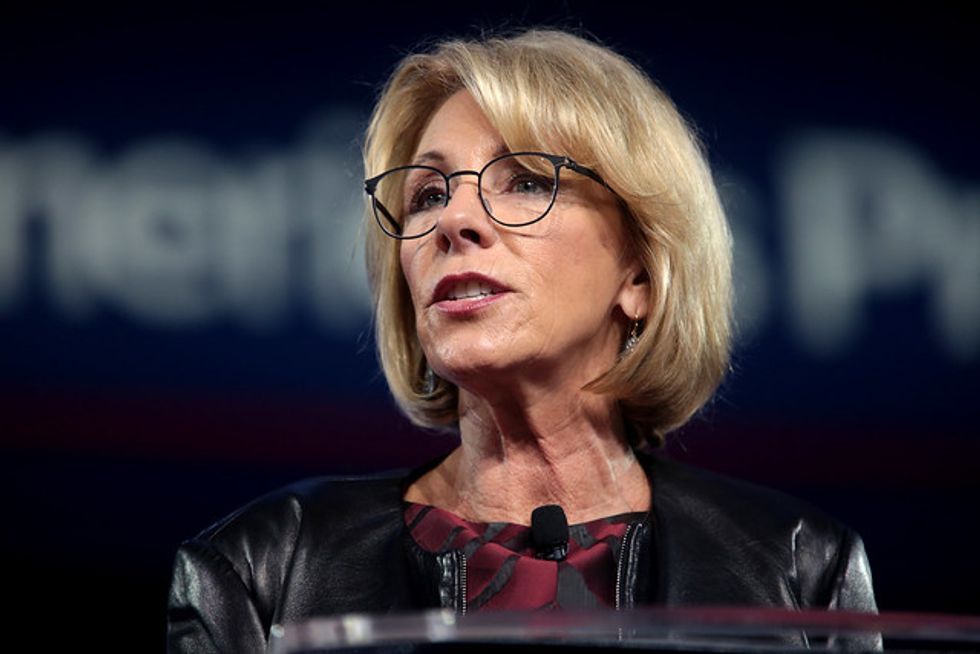 Reprinted with permission from Alternet
President Donald Trump, for all his isolationist tendencies, has repeatedly proclaimed himself to be a staunch and unwavering supporter of Israel. And Trump's secretary of education Betsy DeVos, according to the New York Times, has been forcefully cracking down on what she views as a bias against Israel in higher education.
The Times' Erica L. Green reported on Thursday that the Department of Education, under DeVos' direction, has ordered two major universities — Duke University and the University of North Carolina at Chapel Hill — to revise their Middle Eastern studies programs in a way that shows more "positive" images of Judaism and Christianity in the Middle East. The Department of Education is saying that the Middle Eastern studies programs at those universities didn't meet the standards of a federal program that gives funding to international studies and foreign language programs.
Miriam Elman, who is an associate professor at Syracuse University and an opponent of anti-Israel boycotts, told the Times, "What they're saying is, 'If you want to be biased and show an unbalanced view of the Middle East, you can do that. But you're not going to get federal and taxpayer money.'"
The Department of Education accused the Duke-UNC Consortium for Middle East Studies of highlighting Islam over Judaism and Christianity, complaining that there was "a considerable emphasis placed on understanding the positive aspects of Islam, while there is an absolute absence of any similar focus on the positive aspects of Christianity, Judaism or any other religion or belief system in the Middle East."
Zoha Khalili, staff attorney for the group Palestine Legal, was critical of the Department of Education's actions and told the Times, "They really want to send the message that if you want to criticize Israel, then the federal government is going to look very closely at your entire program and micromanage it to death."
As Khalili sees it, the Department of Education under the Trump Administration is sending "a message to Middle Eastern studies programs that their continued existence depends on their willingness to toe the government line on Israel."
This wasn't the first time the Department of Education, led by DeVos, has gone after Duke for its Middle Eastern studies activities. In June, DeVos said she had ordered an investigation into whether the Duke-UNC Consortium for Middle East Studies had misused any of the $235,000 it had received in Title VI grants. The Consortium had co-sponsored an event in March called "Conflict Over Gaza: People, Politics and Possibilities," which Republican Rep. George Holding of North Carolina accused of having an anti-Israel bias.
But Tallie Ben Daniel, research and education manager for  Jewish Voice for Peace, defended the Consortium's activities as "rich and diverse" and criticized the Trump Administration for trying to "enforce a neoconservative agenda onto spaces of academic inquiry and exploration."