Dinesh D'Souza Gets 'Four More Years' — Of Community Service!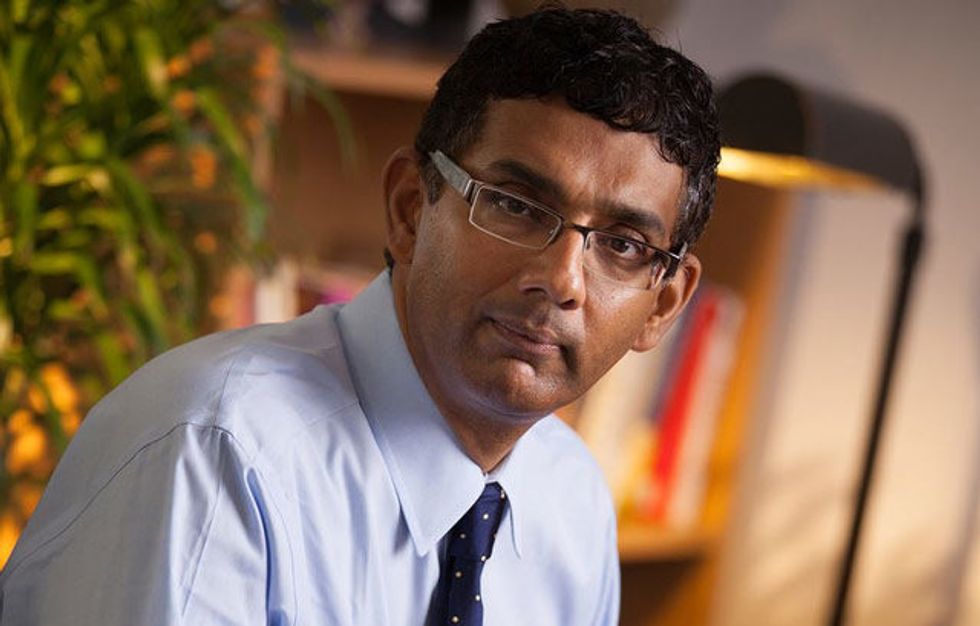 Bad news for right-wing gadfly Dinesh D'Souza: Even though he's been released from his confinement at a halfway house, he's still got a lot more community service ahead of him.
New York-based District Judge Richard Berman on Monday ordered D'Souza to put in eight hours of community service each week, for the next four years of his probation. Judge Berman also cited a court-appointed psychologist who said D'Souza was "arrogant" and "intolerant of others' feelings," the New York Post reports.
D'Souza pleaded guilty last year to having funneled $10,000 in campaign contributions to Wendy Long, an old friend of his who was running as the Republican nominee for U.S. Senate from New York in the 2012 election. Through a practice known as "straw donors," D'Souza reimbursed others to make donations in their own names, so D'Souza could circumvent the legal limit.
Newsweek also reports:
"I'm not singling out Mr. D'Souza to pick on him," Judge Berman said. "A requirement for psychological counseling often comes up in my hearings in cases where I find it hard to understand why someone did what they did."

He continued: "That Mr. D'Souza committed this crime involves a colossal failure of insight and introspection. The case notes also say Mr. D'Souza has weaknesses in controlling his own impulses and that he is prone to anger in reaction to criticism."
Indeed, the hardest thing to figure out about D'Souza's crime: The 2012 Senate race in New York was never even remotely competitive, with incumbent Senator Kirsten Gillibrand (D) winning 72 percent of the vote against Long's 26 percent.
D'Souza, a longtime fixture of conservative media and activism, has spent a considerable portion of the Obama years marketing books and films alleging that President Obama is an "anti-colonialist" animated by foreign ideology, and bent on taking down American power in the world. This was an interesting shift from his 2007 book, The Enemy At Home, in which he sympathized with radical Islamists around the world, and called upon conservatives to reach out to them as allies in the fight against feminism, gay rights, and other causes of cultural liberalism.