Donald Trump Rolls Out The Red Carpet For A Murderous Autocrat And Reveals His Inner Thug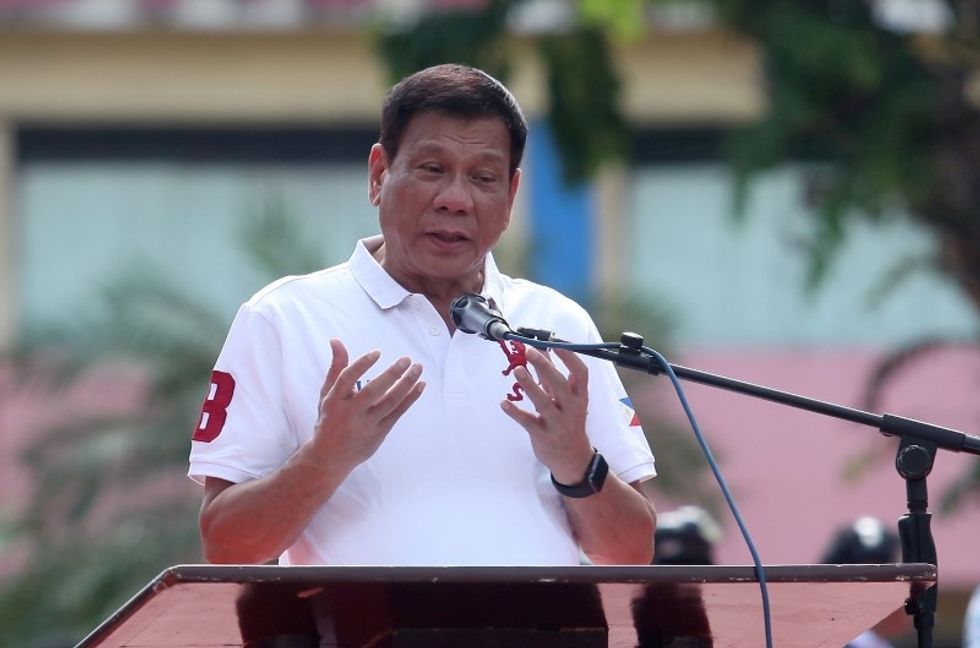 Reprinted with permission from Alternet.
Donald Trump's multifaceted admiration for autocrats reveals the strains in his own authoritarian character. His invitation to Philippines president Rodrigo Duterte to visit the White House, extended in a phone call this weekend, shows Trump getting in touch with his inner thug.
While the bullying impulse in Trump's personality has long been visible, his affection for other strongmen has more respectable sources, at least rhetorically.
Russia's Vladimir Putin is, in Trump's view, a strong leader who is rebuilding his "empire" while scorning the morality embodied in the phrase "American exceptionalism." Trump envisions himself in the same role.
Egyptian president Abdel Fattah al-Sisi is the strong silent type, who Trump said has "done a fantastic job in a very difficult situation." As the leader of the 2013 military takeover that removed an elected president, Sisi oversaw a vicious security operation in which hundreds of protesters were gunned down in the streets of Cairo. He has cemented his authority by filling prisons with his opponents while strangling the free press.
Trump sees himself leading such a titanic effort, albeit by more peaceful means.
While Trump declared he will not allow North Korea to obtain nuclear-armed intercontinental missiles, he also believes North Korea's dictator Kim Jong-un is a "smart cookie." Trump can appreciate that Kim's persona of an irrational madman has its virtues as a negotiating strategy.
Trump's invitation to Duterte reveals something perhaps even more disturbing: his admiration for the cruel and criminal, shorn of any ideological or geopolitical rationalization.
Duterte's tyranny is different from that of Putin, Sisi or Kim. Duterte's rhetoric has unleashed police to engage in an estimated 7,000 extrajudicial executions since he took office in June 2016. The police have taken credit for 2,717 of these killings, saying all were justified.
Research done by Human Rights Watch found a damning pattern of unlawful police conduct, designed to paint a veneer of legality over summary executions. Many of the 3,271 killings the police attribute to "vigilantes" were in fact death squad-style extrajudicial executions by police and police agents.
There's no mistaking that Trump is drawn to the glamour of brutality. The man he will welcome to 1600 Pennsylvania Avenue has boasted of throwing a criminal suspect out of a helicopter.
A Different Kind of Bromance
The decision to honor Duterte with a state visit was made by Trump in a phone call this weekend, according to news reports. He did not consult the "adults" on his national security team. Neither the National Security Adviser nor the State Department was asked about the wisdom of associating the U.S. government with a foreign leader who has the charm and the wit of a serial killer. (When told President Obama might raise objections to his rampage, Duterte called him a "son of a whore.")
This is not a superpower bromance like Trump's admiration for Putin. When the Russian president was accused of complicity in the murder of journalists, he denied involvement and Trump echoed his claim that there was no evidence. Duterte, by contrast, is proud of the assassinations he has inspired. Indeed, he has promised  "25,000 or 30,000" deaths to achieve his goals.
With Duterte, Trump is not making common cause in a struggle against "radical Islamic terrorism." The Philippines does have an Islamist insurgency, but unlike Egypt's Sisi, Duterte's popular appeal does not derive from being tough on terrorists. It comes from being tough on petty criminals, namely drug dealers and users.
Trump's invitation was first extended in December when the two men spoke by phone. Duterte said Trump had endorsed his brutal anti-drug campaign and invited him to visit Washington. "He said that, well, we are doing it as a sovereign nation, the right way," Duterte said in a summary of the call released by his office.
Trump's taste for intimidation was evident in his campaign rallies where he stoked hostility toward, and occasionally assaults on, anti-Trump protesters. But those events were mostly theatrical. They were ominous and full of menace, but staged for TV cameras and without lasting legal consequences. They were threatening, yet not frightening.
His immigration crackdown has displayed bureaucratic callousness and occasional viciousness in the deportation of several "dreamers," undocumented students brought to the United States as children. But the Trump administration has always claimed the authority of immigration laws.
Ominous Signal
Embracing Duterte is different. The invitation to the Filipino strongman suggests Trump is not bluffing when he talks about taking the law into his own hands. He wants to show Americans that he admires and welcomes leaders who act lawlessly, but "in the right way."
This makes emotional sense for Trump, and thus political sense. The invitation came on the same day that the president held a campaign-style rally filled with anger and resentment in which he touched on familiar themes of lawless immigrants, unfair trade deals and a corrupt Washington establishment.
At a time when Trump desperately wants to be taken more seriously, it is an ominous signal. One hundred days in office have left Trump embattled and frustrated. The job is more difficult than he expected. Health care, he has discovered, is "unbelievably complicated." He has held the loyalty of his supporters, according to polls, but he is more unpopular than ever with the general public. He hasn't established a functional relationship with Republicans in Congress, leaving him with fewer legislative accomplishments than any of his predecessors. So he responds in the way he often confronts his failures: by bullying ever more aggressively.
This is one of the lessons of Trump's first 100 days—and the next 100 days, too. The less successful Trump is, the more vicious he becomes.
This article was made possible by the readers and supporters of AlterNet.