Endorse This: What Finally Gets The GOP Offended By Trump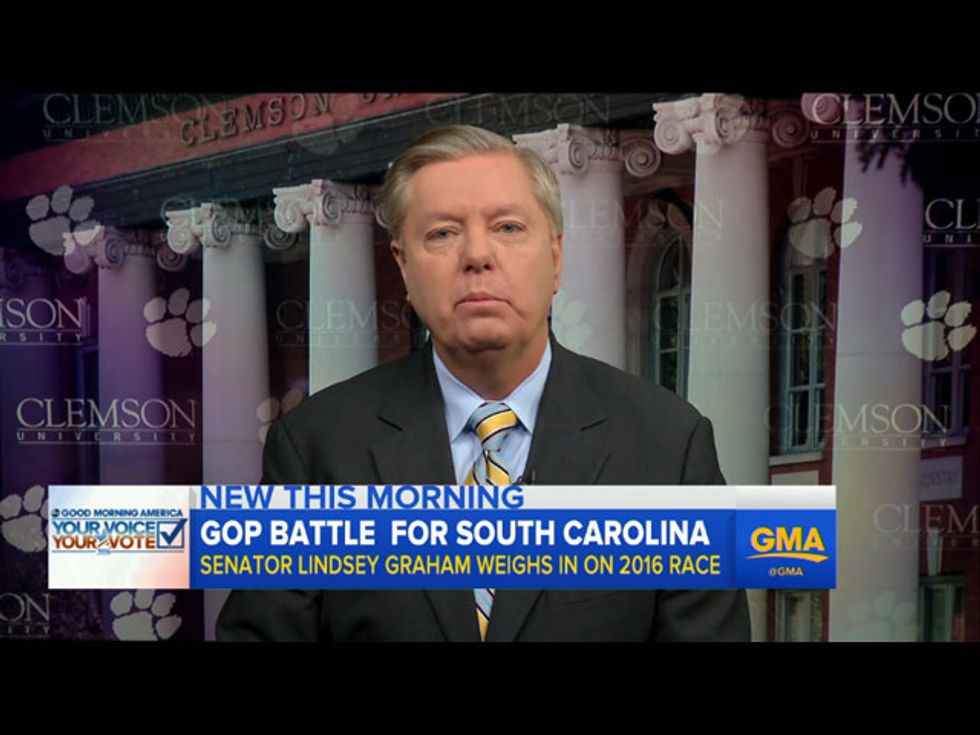 Donald Trump has finally crossed the lines of decency in Republican circles: By saying that George W. Bush was a failure on national security.
Indeed, this slaughtering of a sacred cow is so heinous that Sen. Lindsey Graham (R-SC), a former bottom-tier candidate who supports Jeb Bush, even declared this morning that he might have to violate his own pledge to support the eventual Republican nominee, should it be The Donald.
"I've gotta really re-evaluate that after what he said about President George W. Bush," he said. "There's just the kooky people in the world. The mainstream Democratic party opposition to Bush did not go where Donald Trump went. So I'll have to sit down and think about what it means to have somebody running as the nominee of the Republican Party that accused the past president of willfully lying about the facts and circumstances of Iraq, and being responsible for 9/11."
To be exact, Trump has not said that the Bush administration was "responsible" for 9/11 — that is, the "9/11 Truther" accusation that it was an inside job by the government. Instead, Trump simply said at the debate that George W. Bush failed to "keep us safe," as Jeb Bush insisted he did.
Just think: After years of Trump spreading lies and innuendo about President Obama's birthplace, Republicans are now outraged at Trump for the one conspiracy theory he hasn't actually been pushing. And that's without even taking into consideration everything that Trump has already said during this election about Mexicans, women, and Muslims.
But at the same time, Graham did have a point here, when he said: "The mainstream Democratic party opposition to Bush did not go where Donald Trump went." Um, no, they didn't!
The question is: Why did it take almost 15 years, and a candidacy by Donald Trump, to get a presidential campaign that openly slammed George W. Bush for his handling of 9/11?
Video via Good Morning America/ABC News.
Get More to Endorse Delivered to Your Inbox