#EndorseThis: Jimmy Fallon Imitates Trump Imitating A President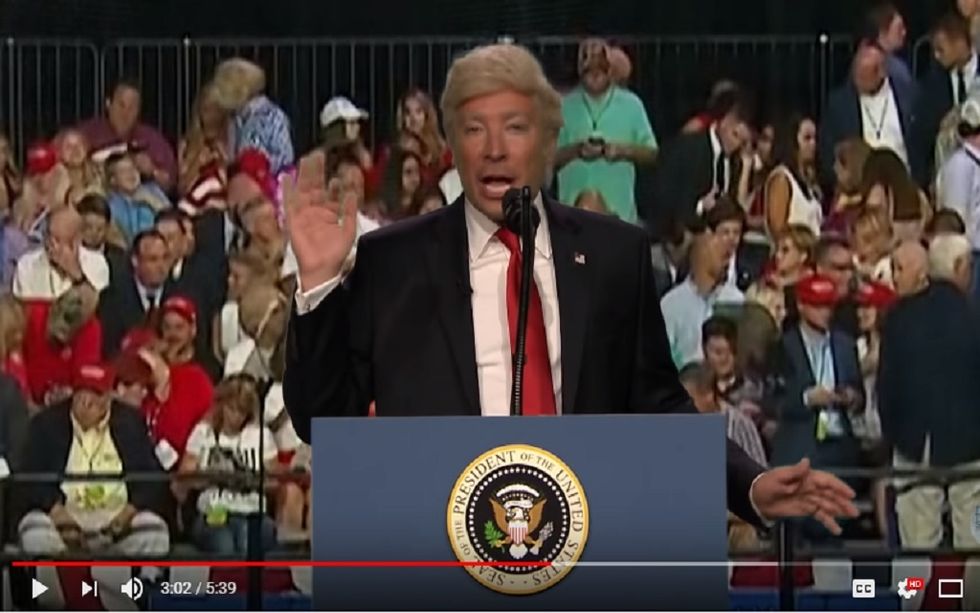 It is possible to get a Trump rally crowd to cheer for many strange things. Cheers for a border wall! Cheers for the death of CNN! Cheers for tax cuts, even when others are getting way bigger cuts than they are!
But can you get them to cheer for a bona-fide Hollywood liberal? No way, you say? Just leave it to Jimmy Fallon.
The comic is cracking wise about Trump's "incoherent" rant-and-rave routine when he finds himself bemused by 45's ridiculous "Presidential" act at this week's Florida rally. Since Trump is a man mocking the Presidency in more ways than one, Fallon creates an infinite regress by mocking the Orange One mocking his own mockery. Jimmy also manages to insert himself into the rally footage, drawing cheers for various stunts that aren't nearly as insane as the gathering itself.
Stay tuned for a hilarious bit in which the host sends-up priceless works of art with Trump as the centerpiece.
Click for MAGA malfeasance.