#EndorseThis: Trevor Noah Compares Trump's Foreign Policy To A Cheesy 80s Sitcom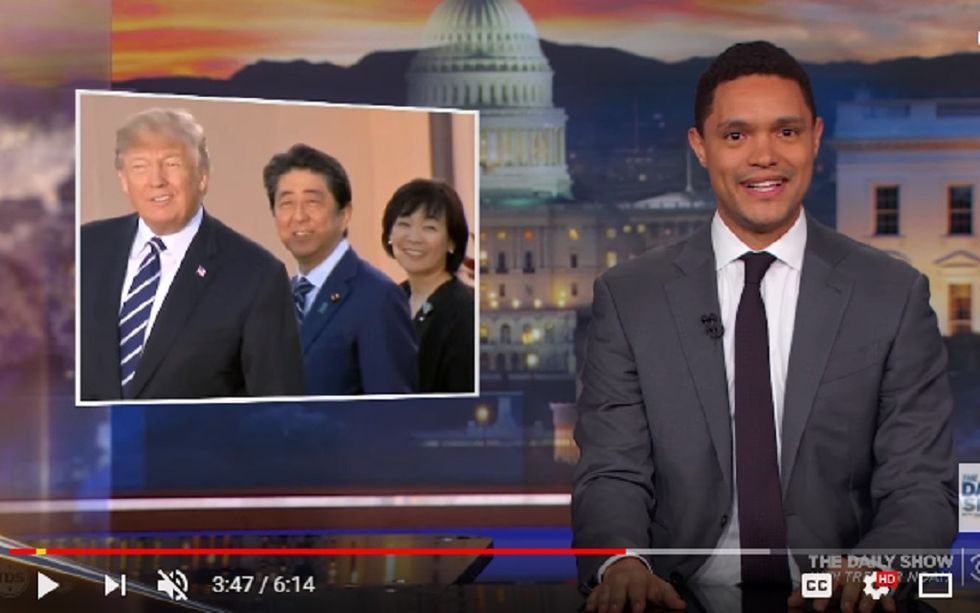 They say a blind hog still finds an acorn. But even a hog couldn't be quite as hammy as President Donald J. Trump.
Today's priceless clip shows comic Trevor Noah unable to control his mirth when Trump, finally granted a lone success story with CIA chief Mike Pompeo's "secret" trip to visit DPRK dictator Kim Jong-un, breathlessly spills the beans in front of Prime Minister Shinzo Abe and a stunned media contingent. That's after 45 had already tweeted about it, of course.
Trevor nails Trump for putting showmanship above White House protocol, comparing the President's handling of foreign affairs to a cheesy sitcom from the 1980s. Unfortunately for Pompao, Melania Trump, and visitors like Abe, they've all been cast in Donny's World…and we're only 10 minutes into the half-hour episode.
Press play…and don't mind the VHS tracking.