#EndorseThis: U.S. Army Colonel Tricks Fox Host Into Admitting Trump Parade Is Authoritarian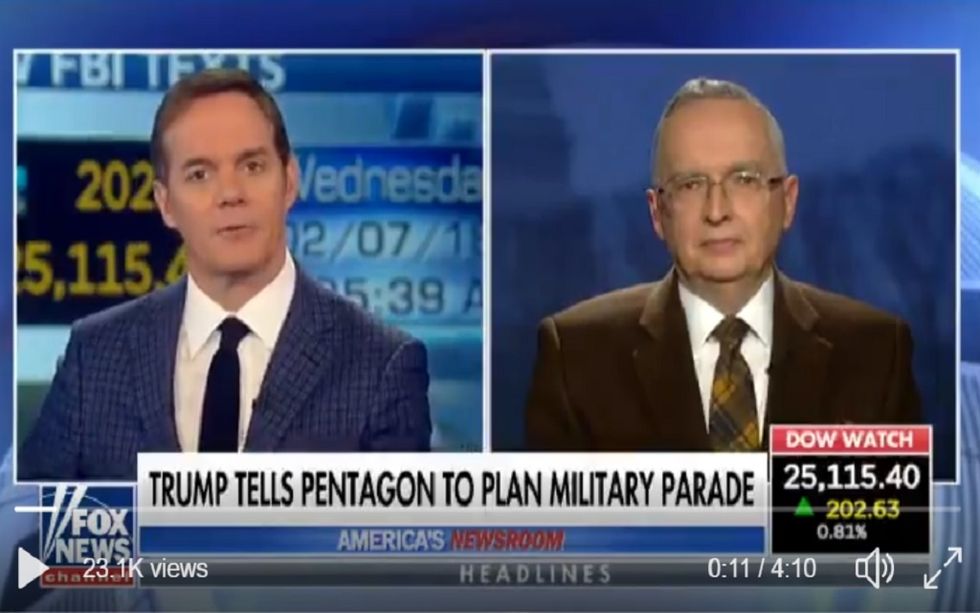 When authoritarian regimes take hold, there's a phenomenon that philosophers call the "blank-out," the moment when cognitive dissonance clashes with sanity. A dictator's subjects refuse to use reason and begin spouting slogans instead…even when a child could see the folly in their arguments.
In today's clip, U.S. Army Lieutenant Colonel Ralph Peters surprises Fox News host Bill Hemmer by calling President Trump's proposed military parade a total waste of money. Peters adds that public displays of force with military officers showing-off weapons is a bad habit of fascist states like North Korea.
But Trumpers may perceive little difference between their POTUS and Supreme Leader Kim Jong-un, except that the former stands for Team America. In short order, Hemmer melts down and babbles to the Colonel on air, admitting that good ol' blind American exceptionalism lies at the heart of Fox's right-wing fantasies.
Lt. Col. Ralph Peters: "The French march well. We fight well. Take your pick." pic.twitter.com/XxLV7CtYAY

— Fox News (@FoxNews) February 7, 2018