FBI Director 'Documented' Kavanaugh Probe
@alexvhenderson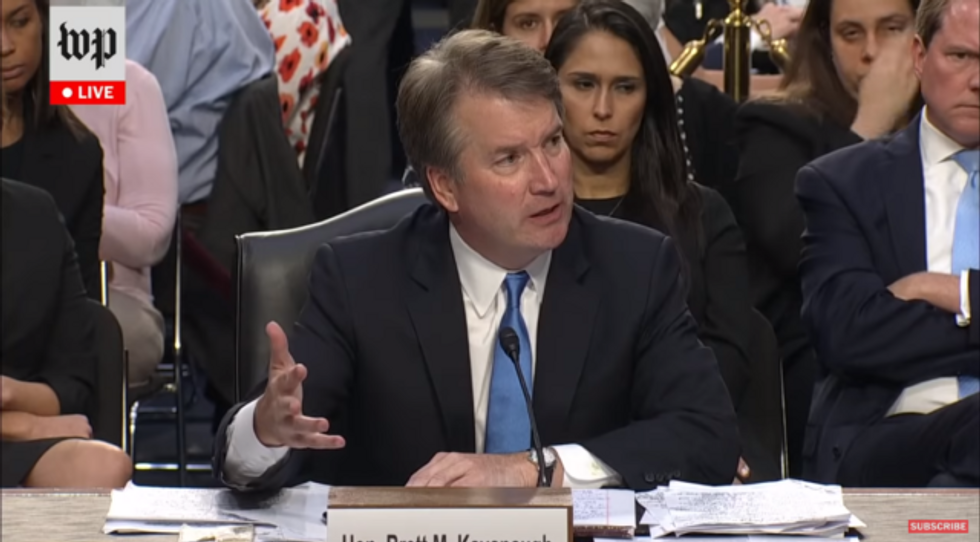 Reprinted with permission from AlterNet.
The Federal Bureau of Investigation (FBI) has officially concluded its limited investigation of Dr. Christine Blasey Ford's sexual abuse allegations against President Donald Trump's second Supreme Court nominee, Judge Brett M. Kavanaugh. And with a Senate test vote on Kavanaugh's nomination set for this Friday, October 5, Bloomberg.com's Mike Dorning is reporting that FBI director Christopher A. Wray "is documenting what's happening behind the scenes in order to help ensure the bureau's activities in the Kavanaugh investigation are captured and perhaps made public one day."
The FBI has been criticized by some Ford supporters for conducting an investigation they consider to be superficial and much too short. In an October 3 piece for Politico, journalist Matthew Miller stressed that Democrats needed to be aggressive and proactive in demanding a more comprehensive investigation of Kavanaugh. And Miller has suggested that Wray should have recused himself from the FBI's investigation of Kavanaugh, given his ties to Trump's nominee during the George W. Bush Administration.
Republican Sen. Chuck Grassley, chairman of the Senate Judiciary Committee and a strident Kavanaugh supporter, has officially stated that the FBI probe of Kavanaugh "found no hint of misconduct."
But Robert Anderson, a former executive assistant director for the FBI, has told Vanity Fair, "I could very well see this becoming a test of Chris Wray's integrity—not because of what these interviews find or don't find. The agents will do a great job of whatever they are allowed to do. But at the end of the week, if there are unanswered questions, will the director push to do more?"
Anderson is among those who has asserted that the FBI's Kavanaugh-related investigation didn't go far enough, telling Vanity Fair that as he sees it, Wray is in a "tough spot."
"Part of why this investigation was asked for was it gets the burden off of the Senate and drops it into the FBI's lap," Anderson asserted. "Anybody handing the bureau an investigation and saying you only have seven days is not looking for a real investigation. So I think Director Wray is in a tough spot."
The 51-year-old Wray, like Kavanaugh, attended Yale Law School in the 1980s—he was two years behind him—and joined the Federalist Society while attending. And when Wray was serving in the deputy attorney general's office under President George W. Bush, Kavanaugh was a deputy White House counsel. Wray left the U.S. Justice Department in 2005.
President Trump, after firing James Comey as director of the FBI in 2017, appointed Wray to replace him. However, there has been tension between Trump and Wray in recent months, with Wray publicly objecting after the president criticized the FBI and said that its reputation was in "tatters."
Alex Henderson is a news writer at AlterNet and veteran political journalist. His work has also appeared in Salon, Raw Story, Truthdig, National Memo, Philadelphia Weekly, Democratic Underground, L.A. Weekly, MintPress News and many other publications. Follow him on Twitter @alexvhenderson.