Florida Governor With A+ NRA Rating Goes Into Hiding After Massacre
@EricBoehlert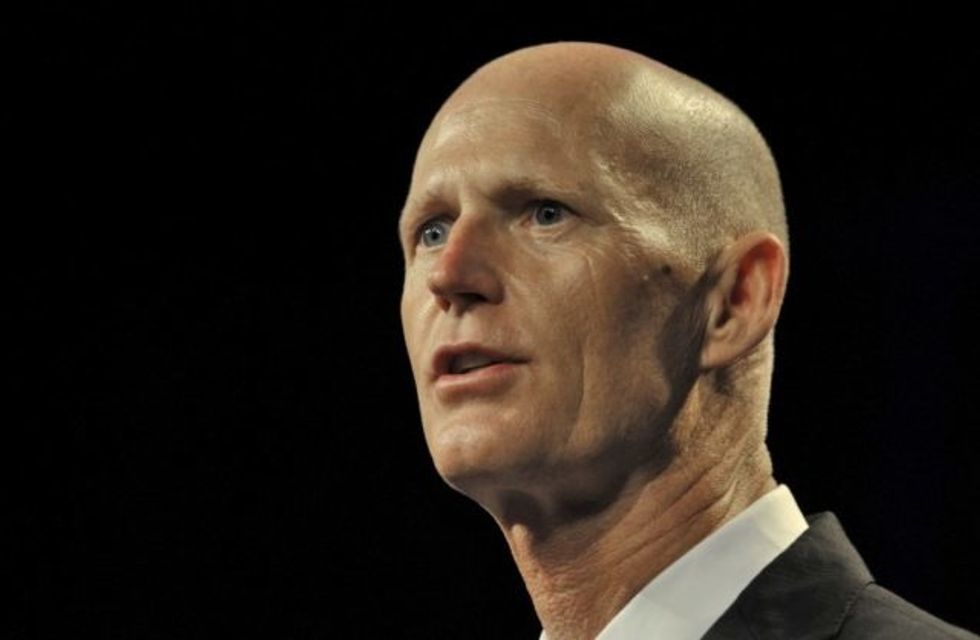 Reprinted with permission from Shareblue.com
Following the third horrific mass shooting in Florida in less than 18 months, and specifically in the wake of the grassroots gun-safety movement born in Parkland, Florida, the governor with the A+ NRA rating has gone into hiding.
Not only Florida's Republican Gov. Rick Scott skipping Wednesday's night's nationally televised town hall meeting on gun violence, where he was invited but declined to participate, but it appears he's quietly scrubbed himself from a speaker role at the NRA's upcoming national convention in May. The high-profile event is a must for someone like Scott, who's expected to run for the U.S. Senate.
Indeed, the NRA's website had previously listed Scott as a featured speaker:
Rick Scott is a main speaker at the NRA Leadership Forum in May. #NeverAgain #NRABloodOnYourHands #RickScott #MSDStrong #VoteThemOut2018 pic.twitter.com/Mu3FpluYqp

— Nicole C. Morris (@rockstaresquire) February 20, 2018
But no more. All mention of Scott has been removed.
Suddenly being an NRA poster boy isn't good politics for Scott, and he doesn't want to talk about it.
And for good reason.
Scott's radical gun agenda has included "lifting restrictions on guns, preventing doctors from asking patients about their weapons, opposing stricter background checks and cutting the cost of getting a concealed weapon license," according to the Miami Herald.
And over the strenuous objections of the Florida Sheriffs Association, Scott made it legal for people without concealed weapon licenses to carry guns in emergencies, such as hurricane evacuations.
Today, when Scott does appear in public, he stresses "mental health" over gun restrictions as a way to combat mass shootings. Yet "during his seven years as governor, Florida's per-capita spending on mental health has fallen to 50th in the nation," the Washington Post recently noted.
For years, Scott basked in the glow of NRA adulation, as the radical gun group showered him with praise and donations.
The NRA backed Scott's election bid in 2014, awarding him with an "A+" rating. Since he took office, the NRA has marveled at how many laws Scott has been able to pass that weakened gun laws in the state of Florida.
"Rick has signed more pro-gun bills into law in one term than any other governor in Florida history," the organization cheered.
Suddenly, Scott doesn't want to answer for his NRA agenda.