Former Fox News President Tipped For White House Communications Post
@existentialfish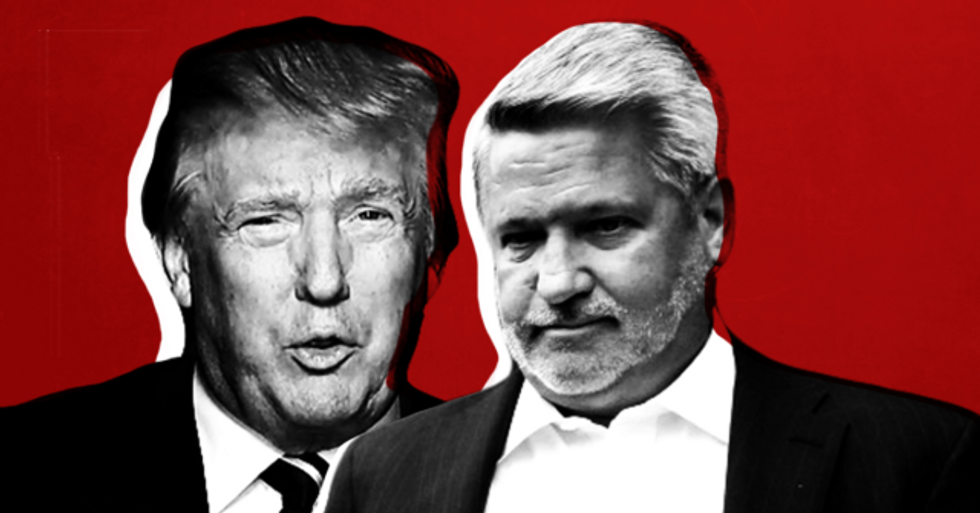 Reprinted with permission from MediaMatters.
Donald Trump is reportedly close to bringing aboard Bill Shine, Sean Hannity's former producer and the former president of Fox News, as the next White House communications director.
This makes perfect sense.
Shine has been repeatedly implicated in the rampant sexual misconduct at Fox News. He played a similar role inside of Roger Ailes' Fox News that Michael Cohen played for Donald Trump. As the senior executive vice president at the network, Shine reportedly retaliated against women who reported sexual harassment by then-CEO Roger Ailes and helped participate in covering up the reports that eventually led to Ailes' ouster.
Former Fox News reporter Rudi Bakhtiar was reportedly fired from the network following her complaint that Brian Wilson, a former Fox News Washington bureau chief, had "made unwanted sexual advances toward her." Bakhtiar reported the harassment, which Wilson denied, to Shine through her agent in 2007. Even though Shine reportedly promised to investigate, Bakhtiar was fired and eventually settled with the network for $670,000 through mediation after signing a nondisclosure agreement.
Shine reportedly helped Ailes interact with Laurie Luhn, a former Fox booker who eventually reported Ailes for harassment. Luhn had a nervous breakdown after Ailes "psychologically tortured" her. Shine reportedly checked her into hotels in different cities to keep her from reporting her circumstances and started reviewing her outgoing emails. A spokesperson for Shine told reporter Gabriel Sherman, who is now with Vanity Fair, that Shine denied reviewing the emails.
In July 2016, Sherman described how Shine "played an integral role in the cover-up" of Ailes' reported misconduct. Sherman said that Shine "pushed women into confidential mediation, signing nondisclosure agreements in exchange for their contracts to be paid."
The New York Times' Emily Steel and Michael Schmidt reported in 2017 that Shine refused to intervene when it became clear that then-host Bill O'Reilly would air a segment lecturing women about sexual harassment. While Shine was co-president of Fox News, 21st Century Fox reportedly made multiple payments to women who reported that Bill O'Reilly sexually harassed them.
Fox News contributor Julie Roginsky filed a sexual harassment lawsuit against Ailes that also named Shine as being complicit in Ailes harassment and "punishing her for raising the issue."
Shine was also tied a racial discrimination and harassment lawsuit. A group of Black employees at Fox News sued the network for racial discrimination and harassment. The lawsuit explained that Shine "has demonstrated an obsession with race when it comes to discussions with [then-Fox News anchor Kelly] Wright, including regularly asking him, 'how do Black people react to you' and 'how do you think White viewers look at you?'"
Also, Shine is close friends with Sean Hannity, whose now-defunct show Hannity & Colmes he used to produce. When Shine left Fox News, rumors swirled about whether Hannity would invoke a clause in his contract to leave as well.
This should all sound familiar.
Over 20 women have spoken out about Trump engaging in sexual misconduct, including 12 nonconsensual physical encounters. The media has for the most part repeatedly forgotten about them, even though there is audio of Trump bragging about sexual assault. And oh yeah, Sean Hannity and Fox News led the charge to discredit the women in the first place.
Trump's racism is obvious, and yet it frequently gets papered over. Right-wing media defend it, mainstream outlets dance around it, and everyone just forgets it ever happened as soon as the next news tsunami hits.
So yeah, Bill Shine is a perfect fit for the Trump White House.
Trump bringing in Fox News people is now just a regular thing. It's commonplace to see Fox host Jeanine Pirro in the Oval Office one day, and hear about host Lou Dobbs phoning in White House meetings the next. Fox & Friends weekend host Pete Hegseth is rumored to be the next Secretary of Veterans Affairs one week and is being considered for a communications job a few weeks later. Former Fox & Friends anchor Heather Nauert was installed at a top position in the Department of State. Former Fox contributor John Bolton became the national security adviser. Former Fox commentator Mercedes Schlapp is the director of strategic communications at the White House. Former Fox commentator Tony Sayegh is a Treasury Department's spokesperson. Former Fox commentator Richard Grenell is now ambassador to Germany.
There are also those who didn't make it: former contributor K.T. McFarland resigned as deputy national security adviser and later withdrew her nomination to become ambassador to Singapore due to controversy over work for disgraced former national security adviser Michael Flynn; and contributor Monica Crowley was never hired after it was reported that she plagiarized parts of her Ph.D. dissertation. And there've been rumors at various times that Trump is considering hiring Laura Ingraham and Sean Hannity.
Fox News has spent its entire existence as the mouthpiece of a revanchist, faux-populist oligarchy. Thanks to Donald Trump, that infrastructure is now in the White House.
It took decades and a number of brave women and men speaking out to reveal the full scale of the horrors of Roger Ailes and Bill Shine's Fox News.
One wonders what we will find in the future about Trump's White House.
Header image by Sarah Wasko / Media Matters