Georgia State Students Publicly Burn Latina Author's Book
@alexvhenderson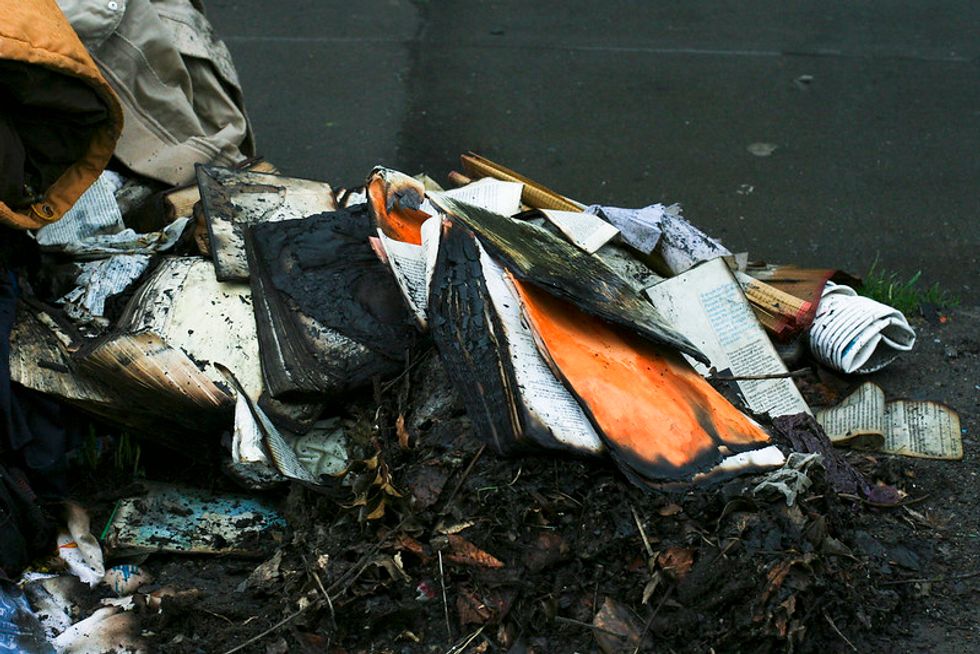 Reprinted with permission from Alternet
so after our FYE book's author came to my school to talk about it… these people decide to burn her book because "it's bad and that race is bad to talk about". white people need to realize that they are the problem and that their privilege is toxic. author is a woman of color. pic.twitter.com/HiX4lGT7Ci

— elaina⭐️ (@elainaaan) October 10, 2019
Much has been written in right-wing publications about liberal and progressive students having angry reactions to conservative speakers who visit college campuses. Students, the argument typically goes, need to be exposed to a variety of viewpoints — including those they disagree with. But Latina author Jennine Capó Crucet, during a visit to Georgia Southern University earlier this week, found out the hard way that some right-wing students have zero tolerance for opposing viewpoints — and will even respond with a book burning, according to student newspaper The George Anne.
Crucet, who teaches at the University of Nebraska-Lincoln, appeared at Georgia State University in Statesboro on Wednesday night to discuss her book, "Make Your Home Among Strangers" — which is a novel about a poor Latina who is accepted to an upscale college in New York. During a Q&A session, some students objected to her use of the term "white privilege."
One of the students, according to the report, told Crucet, "I noticed that you made a lot of generalizations about the majority of white people being privileged." Another reportedly asked her why she was critical of white people. And Crucet responded, "I came here because I was invited, and I talked about white privilege because it's a real thing that you are actually benefiting from right now in even asking this question."
Some of the students who attended the event  apparently didn't like that comment and, after the event, they responded by burning copies of "Make Your Home Among Strangers." A video of the burning was posted on Twitter.
After learning about the burning, Crucet tweeted, "Students at @GeorgiaSouthern literally burning my novel. This is where we are, America."
Students at @GeorgiaSouthern literally burning my novel. This is where we are, America. https://t.co/CxhjuaBYcX

— Jennine Capó Crucet (@crucet) October 10, 2019
John Lester, vice president of communications at Georgia Southern, said in a statement quoted by the report, "Book burning does not align with Georgia Southern's values. Nor does it encourage the civil discourse and debate of ideas."