Giuliani Claims Trump Can Pardon Himself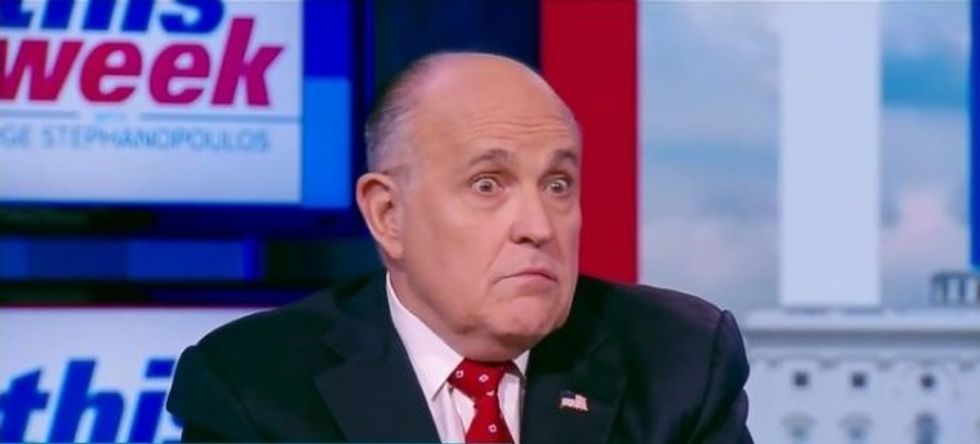 Reprinted with permission from Shareblue.com
Trump has repeatedly tried to obstruct the Mueller investigation, but on Sunday, Trump lawyer Rudy Giuliani revealed that his client believes he has a final ace in the hole if Mueller comes for him.
On Sunday morning's edition of "This Week," host George Stephanopoulos asked Giuliani, "Do you and the president's attorneys believe he has the power to pardon himself?"
"He probably — he's not. But he probably does," Giuliani replied. "He has no intention of pardoning himself, but he probably has, doesn't say he can't, I mean this is another really interesting constitutional argument, can the president pardon himself? I used to run the pardon attorney."
"Is it an open question?" Stephanopoulos asked.
"It would be an open question, I think it would probably get answered by 'Gosh, that's what the Constitution says, and if you want to change it, change it,'" Giuliani said. "But yeah, I think the political ramifications of that would be tough."
He went on to falsely claim that "other presidents have pardoned people in circumstances like" Robert Mueller's investigation.
Giuliani also confirmed much of the contents of a newly-released Trump legal memo that, among other things, says Trump has the absolute power to terminate the Russia investigation.
Trump's alleged power to pardon himself has been on the minds of the American people since just days into his administration. And this isn't the first time the subject has come up. During his brief stint as communications director, Anthony Scaramucci also revealed that Trump thinks he can self-pardon.
Giuliani is correct that nothing in the Constitution prevents Trump from pardoning himself. But it does explicitly say that the pardon power cannot be used to shield anyone "in cases of impeachment."
That's what he has a Republican Congress for.