GOP Presidential Rival Bill Weld Accuses Trump Of 'Treason'
@alexvhenderson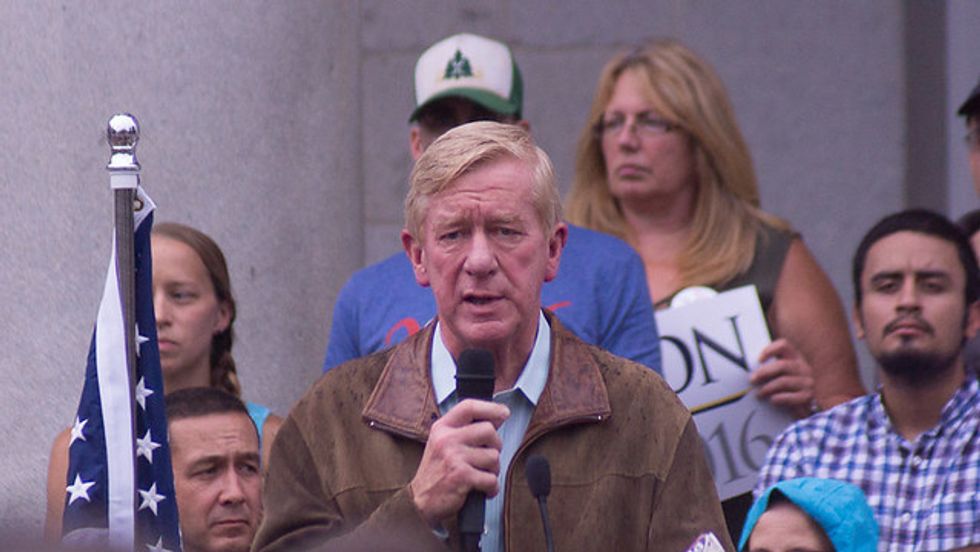 Reprinted with permission from Alternet
Former Massachusetts Gov. Bill Weld, one of the three Republicans who is challenging President Donald Trump via a 2020 GOP presidential primary, has been vehemently critical of Trump on foreign policy. And Weld is now accusing Trump of "treason" in response to reports that he urged Ukrainian President Volodymyr Zelensky to investigate former Vice President Joe Biden's son, Hunter Biden.
Appearing on MSNBC's "Morning Joe" on Monday morning, Weld told hosts Joe Scarborough and Mika Brzezinski, "Talk about pressuring a foreign country to interfere with and control a U.S. election. It couldn't be clearer, and that's not just undermining democratic institutions — that is treason. It's treason, pure and simple, and the penalty for treason under the U.S. code is death. That's the only penalty."
Weld added, "The penalty under the Constitution is removal from office, and that might look like a pretty good alternative to the president if he could work out a plea deal."
Simultaneously, Scarborough and Brzezinski spoke to all three of the Republicans who are running against Trump in the 2020 GOP presidential primary: the others are former Illinois Rep. Joe Walsh and former South Carolina Rep. Mark Sanford.
Speaking to reporters on Sunday, Trump seemed to acknowledge that he had mentioned Joe Biden and Hunter Biden during a phone conservation with Zelensky in July. But Trump maintained that he hadn't done anything wrong, implying that the Bidens were the ones who had been unethical. Hunter Biden was on the board of a Ukrainian gas company that Trump, according to the Washington Post, urged Zelensky to investigate.
Weld told Scarborough and Brzezinski, "We don't have to worry about bribery any more, although I think he's committed that. We don't have to worry about other high crimes and misdemeanors, although I think he's committed many. He's such a lawless man. We've got treason, and we don't have to dribble around the court. We can go right for the hoop."