GOP Senator Blackburn Attacks Vindman As 'Vindictive'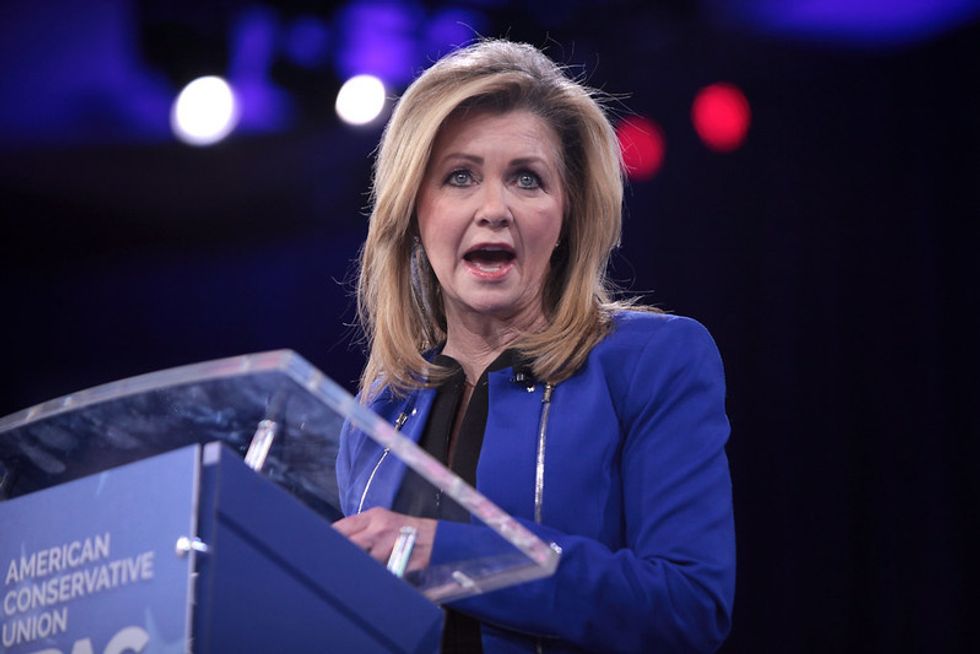 Sen. Marsha Blackburn (R-TN) lashed out Friday morning, attacking top National Security Council adviser Lt. Col. Alexander Vindman, who testified at a public House impeachment hearing earlier this week.
Vindman is the NSC's top expert on Ukraine. He received a Purple Heart after being wounded by an IED in Iraq in 2004.
"Vindictive Vindman is the 'whistleblower's' handler," Blackburn tweeted Friday, mirroring Donald Trump's habit of alliterative name-calling.
Blackburn is a member of the Senate Veterans' Affairs Committee. On her official Senate website, she writes that "veterans rank as the bravest among us," and that she "takes seriously her duty to fight for them and their families, who have sacrificed so much in the defense of our nation."
Blackburn's office did not immediately respond to a request for comment about the tweet.
Vindman has come under fire from Republicans unhappy with his deposition in the House impeachment inquiry into Trump.
On Tuesday, he testified in a public impeachment hearing that he was alarmed after listening in on Trump's July 25 phone call with Ukrainian President Volodymyr Zelensky, saying Trump's request for a "favor" from Ukraine — an investigation into Trump's political rivals — was "improper."
Vindman made similar statements in his earlier closed-door deposition with the House committees leading the impeachment inquiry.
Vindman said Tuesday he took his concerns to the appropriate legal counsel following that July 25 call. In the course of his testimony, Vindman was asked who else he may have shared his concerns with; his attorney subsequently advised him not answer with a name in order to protect the identity of the person who may be the whistleblower who alerted officials to Trump's troubling conduct earlier this year.
Republicans have repeatedly attacked Vindman, an immigrant whose Jewish family fled persecution in the former Soviet Union when he was a young child, in the days since his first closed-door testimony, claiming he is more loyal to Ukraine than to the United States.
Charges of "dual loyalty" are typically seen as anti-Semitic.
The U.S. Army has defended Vindman amid those attacks, issuing a statement to Task & Purpose last month that said Vindman had "served this country honorably for 20+ years, is fully supported by the Army like every Soldier, having earned a Purple Heart after being wounded in Iraq in 2004."
"As his career assignments reflect, Lt. Col. Vindman has a long history of selfless service to his country, including combat. Lt. Col. Vindman is afforded all protections anyone would be provided in his circumstances," a spokesperson said.
In addition to defending Vindman's honor from smears, the Army is also looking into security measures to protect Vindman from threats stemming from right-wing attacks against him.
Published with permission of The American Independent Foundation.
Photo Credit: Gage Skidmore