The GOP's Religious Head Count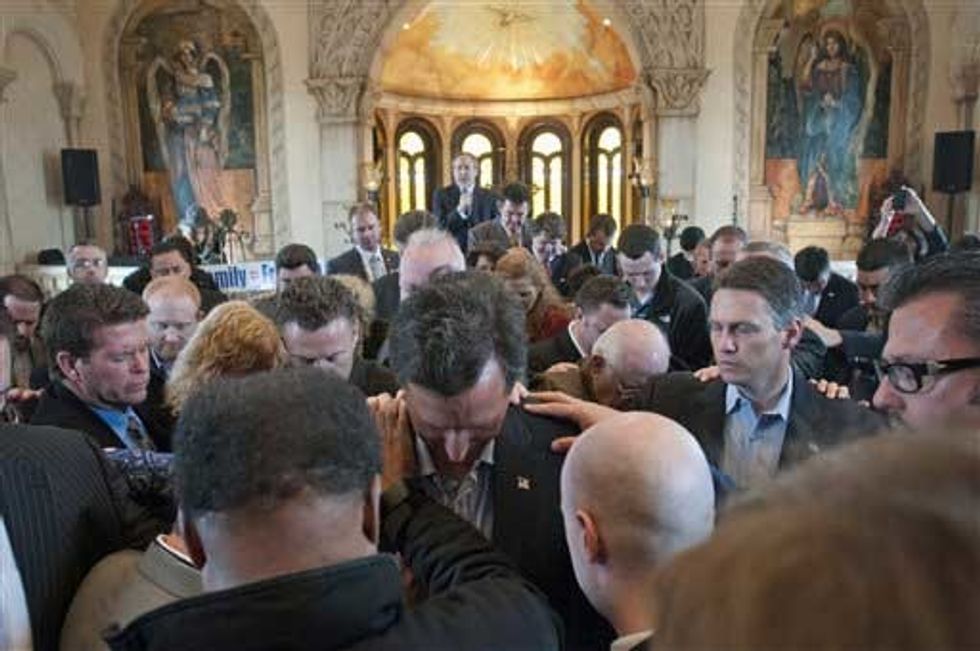 MOSCOW, Idaho — The Republican presidential primaries this year have turned into a religious census. There is little precedent in modern politics for the extent to which a state's choice for a nominee has coincided so closely with how many of its ballots were cast by white evangelical voters.
Where evangelicals cast a minority of the ballots, Mitt Romney has won. Where evangelical voters predominated, Romney has lost, in most cases to Rick Santorum.
Romney's victory Tuesday in Illinois fit snugly within this pattern. The result pointed to a continuing problem for Santorum: He has yet to break through in places where evangelicals were not the principal force.
While the exit polls did not question voters directly about their attitudes toward the Church of Jesus Christ of Latter-day Saints, there is indirect evidence that Romney's faith may be holding down his vote among non-Mormons for whom a candidate's religion matters.
But it's also true that Romney's Mormonism has had a positive electoral side. Solidarity among Mormon voters, eager to break a historical barrier, helped Romney win Arizona, Nevada and Idaho. Romney won 96 percent among self-identified Mormons in Arizona and 88 percent in Nevada. In Idaho, Romney carried counties in the southern part of this state where the bulk of its Mormon population resides, even as he lost most of the state's northern counties to Santorum or Ron Paul.
But outside of Mormon strongholds, voters most concerned about a candidate's religious views are rejecting Romney. In 10 states that had voted before Illinois, exit pollsters asked voters how important it was for a candidate to share their religious beliefs.
On average, Romney received only 23 percent from voters who said a candidate's religious views mattered a "great deal" to them. If one excludes Virginia (where Romney faced only Paul) and Arizona (with its substantial Mormon population), Romney's average among these voters drops to 17 percent. By contrast, Santorum averaged 46 percent among voters who said a candidate's religious views mattered a great deal.
The religious factor is also obvious in the role played by evangelicals. In 16 of the states that had voted before Illinois, exit pollsters asked whether voters were white evangelical or born-again Christians. In the states that went for Santorum, evangelicals averaged 71 percent of the electorate. In the states Romney won, they averaged only 33 percent of the electorate (and only 31 percent if Virginia is excluded). In both states Newt Gingrich carried, evangelicals made up 64 percent of the vote.
Illinois may thus have been a turning point for Romney. Evangelicals, who made up 42 percent of the Illinois electorate, again went for Santorum, but relatively narrowly, by 46 percent to 39 percent. And voters who said a candidate's religious beliefs mattered a great deal gave Romney 31 percent, well above his average in the earlier primaries.
And there is this irony: Santorum, a devout and conservative Roman Catholic, has become the evangelical choice even as he has regularly lost the Catholic vote to Romney. Santorum's weakness among Catholics hurt him particularly in the key states of Michigan and Ohio, and again on Tuesday in Illinois.
This is less surprising than it seems. Catholics tend to be a moderating force in both political parties, and Santorum stands well to the right of the political and theological Catholic spectrum. Santorum's failure to rally the Catholic vote might give pause to conservative Catholic bishops whose public pronouncements often overlap with Santorum's.
Would Romney's difficulties in connecting with evangelicals hurt him in a contest with President Obama? Richard Land, president of the Southern Baptist Ethics and Religious Liberty Commission, says that Romney's Mormon faith is unlikely to be a central concern for evangelicals, including Baptists, given the strong opposition to the president among religious conservatives.
Only in those states with large Mormon populations — Utah, along with Idaho, Nevada and Arizona — has Land noticed particularly strong feelings among Baptists against Mormons. In heavily Mormon areas, he said, members of his denomination often see themselves as "a discriminated-against minority." But Land still thinks Romney could usefully rally evangelicals who have resisted him so far by naming a running mate who would appeal to them. Santorum was at the top of his list.
And this may be Romney's political dilemma: His continuing need to reassure non-Mormon religious conservatives could complicate his efforts to move toward the political center. Winning against the wishes of a substantial part of the Republican base would thus be a real but also problematic achievement.
     E.J. Dionne's email address is ejdionne(at)washpost.com.