Houston Top Cop Slams Lawmakers Who 'Do Absolutely Nothing' On Guns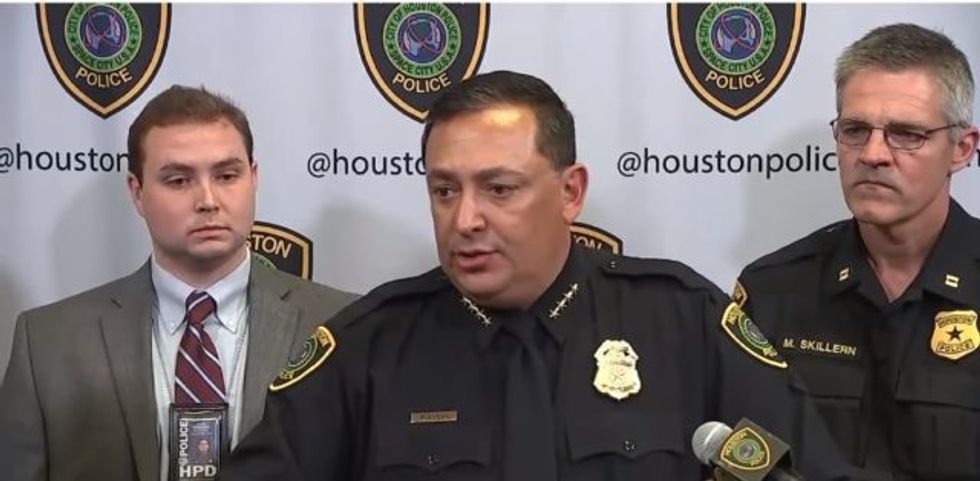 Reprinted with permission from Shareblue.com
After the shooting at Santa Fe High School in Texas, Houston police chief Art Acevedo called out politicians who "do absolutely nothing" to reduce gun violence.
Ten people were killed, most of them children, in the 22nd campus shooting of 2018.
Acevedo, writing on Facebook, was blunt in his appraisal of the refusal to pass gun safety measures.
"I know some have strong feelings about gun rights but I want you to know I've hit rock bottom and I am not interested in your views as it pertains to this issue. Please do not post anything about guns aren't the problem and there's little we can do," he wrote.
"The hatred being spewed in our country and the new norms we, so-called people of faith are accepting, is as much to blame for so much of the violence in our once pragmatic Nation."
And in response to the usual offering of "thoughts and prayers," Acevedo was clear.
"This isn't a time for prayers, and study and Inaction, it's a time for prayers, action and the asking of God's forgiveness for our inaction (especially the elected officials that ran to the cameras today, acted in a solemn manner, called for prayers, and will once again do absolutely nothing)."
The Trump administration, in concert with congressional leaders like Speaker Paul Ryan and Majority Leader Mitch McConnell, has refused to take up wildly popular measures to reduce gun violence. And that refusal has put the onus to protect kids from violence on frightened parents, instead.
Trump and company have done the bidding of the NRA instead of listening to the public. They have even ignored the pleas from survivors and families of shootings like the one in Parkland, Florida.
In fact, just two weeks before the Santa Fe shooting, Trump and Pence were the featured guests at the NRA's annual conference, which was held in Texas.
At that event, Pence told the group they had "two friends in the White House." And he echoed the radical organization's inaccurate message: "The quickest way to stop a bad guy with a gun is a good guy with a gun."
The NRA has opposed any solutions that would address mass shootings. It has even suppressed research into causes and remedies for the epidemic of gun violence. And so the death toll increases from coast to coast.
Republicans in thrall to the NRA's money and political influence have gone so far overboard that they are now aligned against law enforcement officials like Acevedo.
And so Acevedo has issued a warning to them. To make his city and the country safe, the NRA and its pet politicians will have to be defeated.