'Illegal And Unconstitutional': George Conway Blasts Whitaker Appointment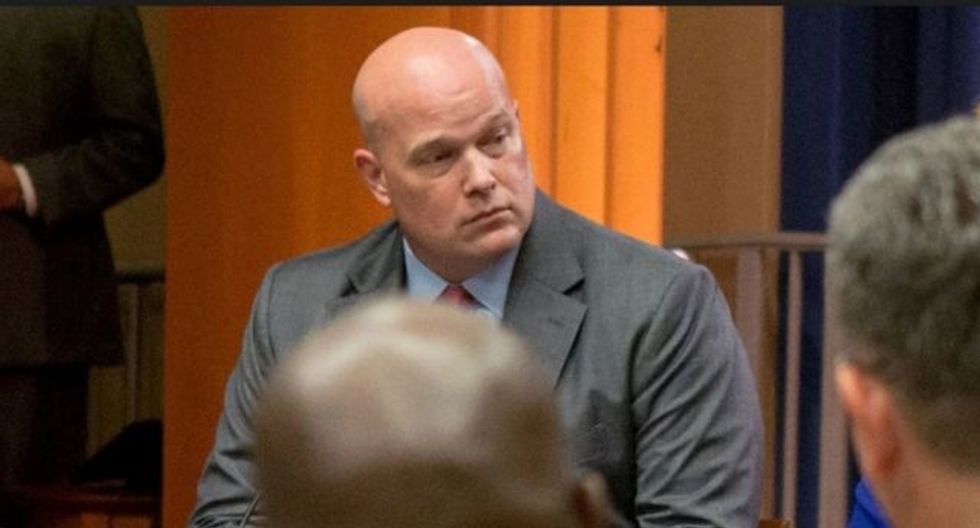 Reprinted with permission from AlterNet.
This has been a week of political bombshells in the United States. No sooner had Republicans lost the House of Representatives to Democrats and increased their majority in the U.S. Senate on November 6 has President Donald Trump, the following day, fired Attorney General Jeff Sessions and replaced him with Matthew Whitaker—who was Sessions' chief of staff in the Justice Department.
And according to a Nov. 8 New York Times op-ed by attorneys Neal K. Katyal and George T. Conway Trump's action is both "illegal" and "unconstitutional."
Katyal and Conway have very different political views. While Katyal was acting solicitor general under President Barack Obama, Conway is a right-wing Washington, DC attorney who is married to Trump advisor and GOP operative Kellyanne Conway. But Katyal and George Conway have found enough common ground politically to write articles together in the past—and George Conway isn't nearly the Trump sycophant that his wife is. In fact, his latest New York Times piece with Katyal is quite critical of Trump's Whitaker appointment.
With Whitaker taking over as acting attorney general, reporters are wondering what will become of Special Counsel Robert Mueller's Russia-related investigation—which Sessions, much to Trump's dismay, recused himself from (and which Whitaker has been quite critical of). And in their New York Times piece, Katyal and George Conway argue that because "a principal officer must be confirmed by the Senate," Trump's "installation of Matthew Whitaker as acting attorney general of the United States after forcing the resignation of Jeff Sessions is unconstitutional. It's illegal. And it means that anything Mr. Whitaker does, or tries to do, in that position is invalid."
The attorneys go on to explain that Whitaker's appointment by Trump "defies one of the explicit checks and balances set out in the Constitution, a provision designed to protect us all against the centralization of government power."
Illustrating their point, Katyal and Conway cite a Supreme Court assertion by Supreme Court Justice Clarence Thomas. In 2017, they note, the U.S. Supreme Court tried to determine whether or not the appointment of the National Labor Relations Board's general counsel was lawful without the confirmation of the United States Senate—and the Court, including Thomas, declared the appointment to be invalid.
Thomas, writing separately from the other justices, asserted that the officer in question was a principal officer and that the appointment was a violation of the U.S. Constitution's Appointments Clause.
Katyal and Conway assert, "What goes for a mere lawyer at the NLRB goes in spades for the attorney general of the United States, the head of the Justice Department and one of the most important people in the federal government…. Mr. Whitaker has not been named to some junior post one or two levels below the Justice Department's top job. He has now been vested with the law enforcement authority of the entire United States government, including the power to supervise Senate-confirmed officials like the deputy attorney general, the solicitor general and all United States attorneys."
Katyal and Conway go on to conclude, "We cannot tolerate such an evasion of the Constitution's very explicit, textually precise design. Senate confirmation exists for a simple, and good, reason…. For the president to install Mr. Whitaker as our chief law enforcement officer is to betray the entire structure of our charter document."
Cody Fenwick is a reporter and editor. Follow him on Twitter @codytfenwick.