As Impeachment Talk Hits The Mainstream, Over A Dozen Nervous House Republicans Have Flipped On Trump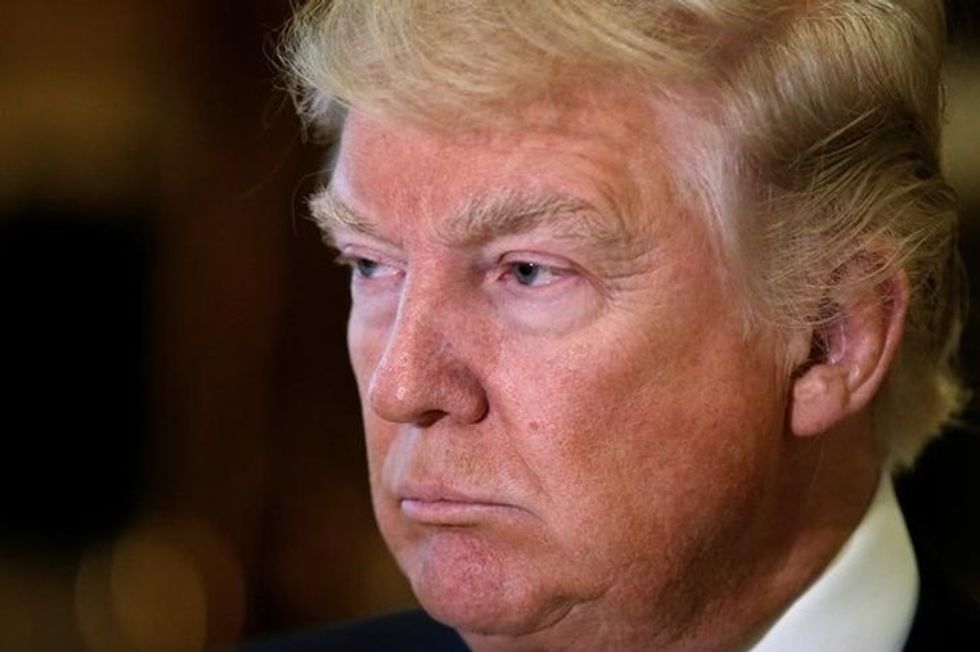 Reprinted with permission from Alternet.
The surprise appointment of former FBI director Robert Mueller as an independent counsel to investigate the Trump campaign's ties to Russia came as Washington was already undergoing a sea-change in thinking about President Trump's future. Impeachment is in the air and on the airwaves—cable TV, radio, newspapers, and all over social media. A recent national poll puts public support for impeachment seven percent over Americans who aren't there yet.
Even before Mueller's appointment, David Gergen, a former adviser to President Ronald Reagan, said Trump was in "impeachment territory." While a chorus of House Democrats called for impeachment, House Speaker Paul Ryan tried to bolster the Republican Party line that there was no need for a special counsel or to investigate Trump. "I don't think that's a good idea," Ryan maintained.
The announcement of Mueller's appointment undercuts Ryan's defense and gives cover to the growing number of Republicans who were already deviating from the party line.
Before Mueller's appointment, at least a dozen House Republican had spurned Ryan's talking points in favor of positions the Republican leadership opposes. While these GOP representatives did not issue bold calls for action, they did display an unwillingness to go along with White House officials and Republican leaders who are losing credibility in the face of President Trump's false statements and self-incriminating actions. The representatives either called for a special prosecutor, or said they were open to the idea of one, or supported the idea of forming a joint House-Senate investigating committee.
Now that a special prosecutor has been named, these Republicans have gained political traction for the first time. They are not rebelling against Trump, not yet. But they have declared independence. For a president hemorrhaging political support, that is not good news.
Here are the Republican dissenters.
1. Rep. Walter Jones, North Carolina
This maverick conservative is fond of breaking ranks. In March, Jones was the first Republican to call on Rep. Devin Nunes, chair of the House Intelligence Committee, to recuse himself from the Russia investigation.
In February, Jones was the first Republican to co-sponsor the Protecting Our Democracy Act, which would create a bipartisan-appointed investigatory commission similar to the one Congress authorized after the September 2001 terror attacks.
And a decade ago, Jones was one of the first House Republicans to break with the Bush White House and call for withdrawal from Iraq. As AlterNet reported in 2005, Jones "grew a conscience."
Jones represents North Carolina's Third District, home to the U.S. Marine Corps' Camp Lejeune and other military installations. He is known to his constituents as a staunchly conservative Christian, which makes him an especially credible Trump critic.
2. Rep. Erik Paulsen, Minnesota
"The extraordinary decision to fire Director Comey definitely raises questions which must be answered," said this suburban Minneapolis moderate in a statement. "I believe these circumstances call for an independent investigation that the American people can trust with confidence."
3. Rep. Barbara Comstock, Virginia
"I can't defend or explain… the firing of FBI director James Comey," Comstock said last week. "The FBI investigation into the Russian impact on the 2016 election must continue. There must be an independent investigation that the American people can trust."
4. Rep. Carlos Curbelo, Florida
"We must pursue the facts wherever they may lead," Curbelo said after Comey's firing. "Today I reiterate the need for Congress to establish a Select Committee with full investigatory powers to thoroughly examine this matter."
5. Rep. Lloyd Smucker, Pennsylvania
At a Rotary Club meeting last week, the first-term congressman hinted he would support a new congressional investigation. The dismissal of Comey "raises serious and legitimate questions about timing, intent and the integrity of ongoing investigation," he said. "I believe we need a fresh start. It's time for Congress to fully examine all circumstances surrounding Russia's involvement, and to look at ways to ensure a fair and straightforward investigation."
6. Rep. Tom McClintock, California
"Because of the highly politicized circumstances involving the Russia inquiry, I think an independent prosecutor would be advisable to place the inquiry above reproach," McClintock said in a statement. "I believe it is equally important to appoint an independent prosecutor to pursue the investigations that were swept under the rug during the Obama administration."
7. Rep. Fred Upton, Michigan
After Comey's firing, Upton said he was open to the idea of a special prosecutor. He said he was "hopeful that the existing bipartisan congressional committees in the House and Senate can find answers for the many questions. If need be, I would support a special prosecutor at the appropriate time. We must continue to follow the facts wherever they lead."
8. Rep. Pat Tiberi, Ohio
Tiberi said he supported the ongoing investigations of the House and Senate intelligence committees, but added, "If the leaders of these committees together determine that a special prosecutor is warranted, I would support that decision."
9. Rep. Charlie Dent, Pennsylvania 
The six-term representative from central Pennsylvania called Comey's firing "confounding and troubling," adding, "it is now harder to resist calls for an independent investigation or Select Committee."
10. Rep. John Faso, New York
In the wake of Comey's firing, Faso called for appointment of a new FBI director "who will be someone of unquestioned integrity and experience, acceptable to both Republicans and Democrats in the Senate…. If the nominee does not pass that test, then the only alternative in my view would be the selection of an independent investigator to get to the bottom of this matter once and for all."
11. Rep. Scott Taylor, Virginia
Taylor echoed Faso, saying, "The president has a duty to put forth an independent and non-political leader at the FBI to achieve the aforementioned goals. Anything less is unacceptable and may be cause for a select committee or special prosecutor."
12. Rep. Trey Gowdy, South Carolina
Gowdy made a name for himself as a Benghazi conspiracy theorist and Republican hardliner, but in a Fox News interview he broke with Ryan about the need for an investigation. A former prosecutor himself, Gowdy said there was "sufficient evidentiary basis for a crime" and expressed the hope that the Justice Department could bring charges. If not, he said he was "open-minded" about a special prosecutor. He also took pains to praise the reporting of the New York Times.
If Gowdy turns on Trump, it will be a sign the president's prospects are growing ever more dire.
This article was made possible by the readers and supporters of AlterNet.