Iran Leader Offers To Broker Syria Talks
@AFP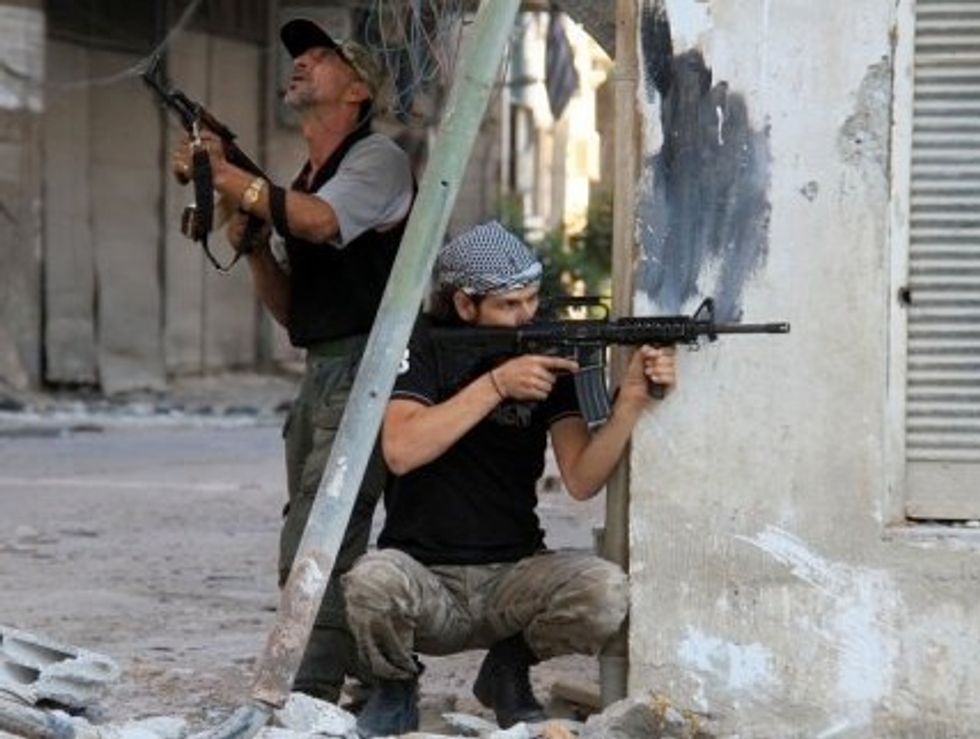 WASHINGTON (AFP) – Iranian President Hassan Rowhani offered to broker talks between the Syrian government and the opposition Thursday, as the United States called for a binding U.N. resolution on the regime's chemical weapons.
A "definitive" U.N. report has proved that the Syrian regime was behind an August chemical weapons attack, U.S. Secretary of State John Kerry said.
"Now the test comes. The (U.N.) Security Council must be prepared to act next week. It is vital for the international community to stand up and speak out," he added.
Syria's deputy premier said Damascus believes the conflict has reached a stalemate and would call for a ceasefire if long-delayed peace talks in Geneva were to take place.
"Neither the armed opposition nor the regime is capable of defeating the other side," Qadri Jamil told Britain's Guardian newspaper.
When asked what his government would propose at the stalled Geneva-2 summit, he replied: "An end to external intervention, a ceasefire and the launching of a peaceful political process."
In his latest bid to reach out to the international community since becoming Iran's president in August, Rowhani announced Tehran's "readiness" to facilitate dialogue between the Syrian government and the opposition.
Rowhani, writing in The Washington Post, said he wanted to pursue a policy of "constructive engagement."
Speaking on NBC television, the Iranian leader also refused to rule out what would be a historic first meeting with U.S. President Barack Obama, saying "anything is possible."
Rowhani has separately asked to meet with French President Francois Hollande, on the sidelines of next week's U.N. General Assembly meeting.
U.N. envoys are debating a draft resolution that would enshrine a joint U.S.-Russian plan to secure and neutralize Syrian President Bashar al-Assad's banned chemical weapons.
Assad insisted in an interview Wednesday with U.S. television Fox News that his forces had not been behind an August 21 gas attack on the Damascus suburbs that killed hundreds of civilians, but vowed nevertheless to hand over his deadly arsenal.
After last month's barrage of sarin-loaded rockets, which the West says was clearly launched by the regime, U.S. President Barack Obama moved to the brink of punitive military strikes. However, military action was put on hold after an agreement between the United States and Russia aimed at neutralizing Syria's chemical stockpile.
That plan will face its first big test on Saturday, the one-week deadline announced by Moscow and the United States for Assad to provide a list of his chemical facilities.
Russian President Vladimir Putin said he was confident but not entirely sure that Syria would carry out its commitments.
"Will we manage to carry it through? I can't say 100 percent, but all that we have seen recently, in the last few days, inspires confidence that it is possible and that it will be done," Putin said at a meeting in the Novgorod region.
Meanwhile, Kerry urged China to play a "positive, constructive" role at the United Nations on the planned resolution.
He acknowledged at the start of talks with Chinese Foreign Minister Wang Yi that the two sides have "disagreed sharply" over the Syrian conflict.
But Wang said he was ready for "in-depth" talks on all issues, including Syria, "with an open mind."
Away from the diplomatic front, fighters allied to Al-Qaeda tightened their grip Thursday on a town on the border with Turkey.
And a bomb attack on a bus in the central province of Homs killed 14 civilians, the Syrian Observatory for Human Rights said, adding to the more than 110,000 casualties of the 30-month conflict.
Residents said members of Al-Qaeda front group Islamic State of Iraq and the Levant (ISIS) overran the border toen of Azaz on Wednesday after an hours-long firefight with Free Syrian Army rebels.
Residents reached by Skype said ISIS men controlled all the checkpoints in the town and that FSA fighters appeared to have left.
Azaz, on the Turkish border, was one of the first towns to be overrun, in July 2012, by FSA rebels, who set up their own administration.
Syria's opposition National Coalition on Friday condemned attacks by ISIS.
"The Coalition condemns the aggressions against the forces of the Syrian revolution and the repeated disregard for the lives of Syrians, and considers that this behaviour runs contrary to the Syrian revolution and the principles it is striving to achieve," a statement said.
The group denounced in particular ISIS's seizure of the town of Azaz and its attempt to take control of the Bab as-Salameh border crossing.
It accused ISIS of "repeated repressive practices against the freedom of civilians, doctors, journalists and political activists in recent months".
Tensions between some opposition groups and ISIS have spiraled in recent months, especially in northern Syria, where the opposition controls vast swaths of territory.
Hollande, meanwhile, said France was in favor of sending weapons to the FSA, but only "in a controlled environment" and "with a number of countries" so that the arms do not end up in the hands of violent extremists.
Photo Credit: AFP/Ward al-Keswani